How to place more candidates with Connected Recruiting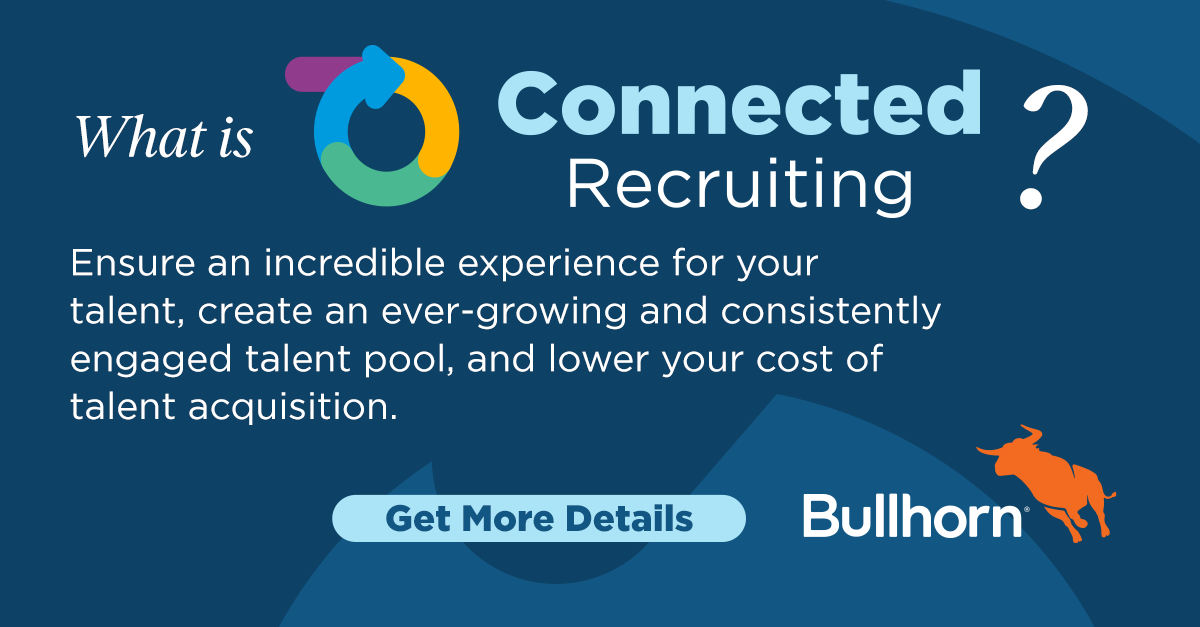 The competition for candidates is fierce. With a limited talent pool and increasing client competition, how can agencies leverage new technologies to win more talent? At Bullhorn Engage London, Bullhorn introduced Connected Recruiting to combine your team's expertise, technology, and talent engagement best practices to meet – and exceed – the expectations of today's talent.
To dive into Connected Recruiting, Bullhorn's Andre Mileti, Product Evangelist, Talent Experience, spoke with David Mercer, Head of Sales at Daxtra, Alex Roberts, Solutions Consultant at Kyloe, Sarah Gibson, Operations Director at Cherry Professional, and John Russell, EMEA Managing Director at Staffing Future. 
Watch the recording of their conversation, or read our recap below for key takeaways of their conversation.
Factors driving change in our industry
The value system for talent has changed. While talent used to be primarily interested in stability and longevity, they now prioritise speed, flexibility, choice, and happiness. 
Why the shift? There are several factors, but first and foremost, talent is getting younger, and everything in this younger talent pool's life has been made simpler through the digital experience. "I believe this transcends the generational barriers between Gen Z, Millennials, and Baby Boomers," said Mileti. "There is not one decision that is made on a day-to-day basis that isn't augmented through digital." 
Other industries, like retail, travel, and finance, have spent decades perfecting the digital experience. It's time for the recruitment industry to catch up. "Tech-first" employment models built on omnichannel engagement vs. static talent pools already fulfill this value system.
"The user expectation is so high, and the technology needs to match that," said Russell. "If you have a static website that's not integrated and not working seamlessly with all of your processes and tech stack, then you're not going to be competitive within your talent acquisition, talent engagement, and fulfilling the mandates you're being asked to for clients."
Added Mercer, "How companies like Apple and Amazon engage with their consumers is how agencies should engage with their candidates."
Insights into the talent perspective
Last year, we surveyed 2,000+ global temp workers as part of our GRID Talent Trends Report to learn more about their perspective on the recruitment industry. The results were illuminating:
66%

of workers have abandoned a promising opportunity because it took too long

36%

said their recruiter didn't reach out about future opportunities before their assignment end date

3 out of 5

candidates want recruiters to reach out at least once a week with opportunities while they're on assignment

1 out of 3

say responsiveness declined once an assignment began

1 out of 3

say their recruiter wasn't proactive about opportunities when one fell through

Only 8%

cited "positive recruiter interaction" as the reason they chose to work for an agency
"Looking at these numbers, the good thing is, we do have tech and automation to help," said Gibson. "Whether it's notifications and reminders that people need speaking to, or direct, personalised communication with the candidates or clients, we can get the tech doing a lot of that leg work to free up our recruiters to be doing their proper job – which is building relationships."
"In the tech world, slow is the new broken, and it's the same with the application process," added Mercer. Having information auto-populate or suggesting relevant jobs for candidates are just a few ways recruitment agencies can provide a consumer-grade experience for talent. 
"Recruitment agencies are already generating so much content, whether that's a new role or a new blog. Why can't they be reaching out more frequently?" asked Roberts. "That's a very quick win." 
The flywheel effect
We know there's been a paradigm shift in the industry, we know talent experience matters, and we know agencies need to evolve to create those meaningful moments that impact candidates. But how should agencies go about creating this change?
Transformational organizations in other sectors like retail, finance, and travel have built flywheels centered around the consumer experience. Every decision is made with the user experience in mind. For recruitment businesses, candidates are the consumer, meaning decisions must be made with the candidate in mind.
The flywheel effect begins with creating small wins for candidates by creating seamless, personalised experiences. These small wins for your business build on each other over time and ultimately gain so much momentum that growth almost seems to happen by itself. 
What does the flywheel for recruitment businesses include? A better talent experience leads to positive outcomes and referrals, which result in more leads – and more talent. None of this would be possible without leveraging a modern tech stack that includes analytics, automation, and an optimised UI.
"Once you have these processes in place, you can really start to see success being driven and a lot of productivity being gained by the teams – and a lot of time saved," said Russell.
Connected Recruiting
What would a flywheel to empower recruitment agencies and improve the talent experience look like? Say hello to Connected Recruiting.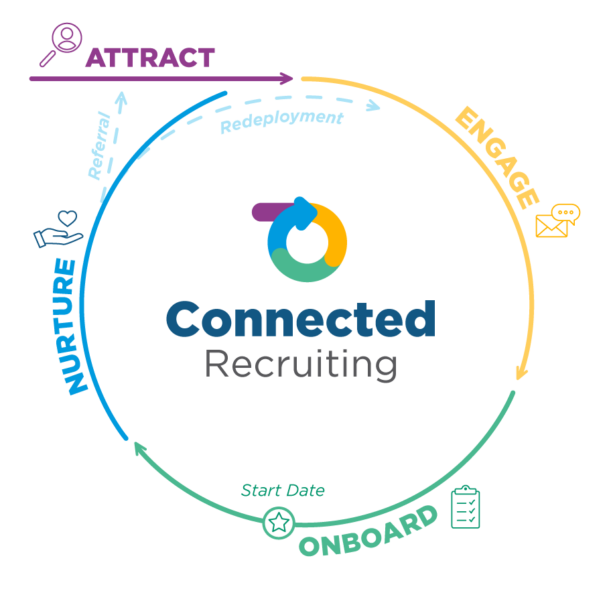 Connected Recruiting was built to help recruitment agencies better attract talent, engage them when they're in your pipeline, seamlessly onboard them, and continue to nurture that relationship to ready them for redeployment.
Attract
On attracting candidates, Russell advises, "It's about making sure that your content is accessible, you're sharing content, and your consultants and your team are driving traffic back to your site through all their channels – be it email, social media, broadcast campaigns, or more." 
Once candidates visit your website, you'll need to be able to convert candidates. This means gathering enough data for your consultants to inform their initial outreach: "It's really about making sure the data's there."
Engage
Once you have these leads, it's time to engage talent. "This is where you can start building that trust," said Roberts. Content is key in this stage: you can send them, for example, blogs, surveys, even simple communications on key dates like birthdays. Two key takeaways for the Engage phase, said Roberts, are personalisation and segmentation.
Onboard
It's crucial to make sure talent stays in the pipeline during onboarding, and automation can help eliminate that dropoff, said Gibson. "Whether that's reminding a consultant that they need to do a post-placement check-in with a candidate, or sending a personalised text to the candidate on day one, simple automations are key in this part of the process."
Nurture
With the right candidate nurturing, you can boost your redeployment rate and build a true talent community. Content and thought leadership are helpful here as well, said Mercer, but candidates are with your business in the first because they want jobs. Mercer advises leveraging matching technology to get the right jobs in front of the right candidates at the righ time. He added, "It's crazy how much time and energy agencies spend trying to attract new talent that was already sitting there in the first place."
Using the Connected Recruiting flywheel, agencies can begin to give their candidates the consumer-level experience they want – and keep talent coming back to work with them again and again. Learn more about Connected Recruiting here.

Thank you to our partners:
Kyloe Partners: Recruitment platform experts with 100+ years of Bullhorn experience. We offer pre-built products and custom solutions to help our clients get the most out of their Bullhorn platform.
Staffing Future: Your web engagement platform to drive, qualify, and convert leads. Staffing Future's website technology fully integrated with Bullhorn offers an elite candidate experience.
Daxtra: Automate the whole employment application process by sourcing the most relevant candidates quickly and easily through semantic search, powered by machine learning technologies.
Subscribe to the Recruitment Blog
Subscribe for trends, tips, and insights delivered straight to your inbox.