The Recruitment Bounceback of 2021 Is Underway. Is Your Workflow Ready?
It's March 2021, and there is hope on the horizon. This time last year, we wondered what the potential impacts of a short lockdown would be, though today, we know things turned out differently. Rather than rehashing the instability and uncertainty of the last 12 months, let's look at the positive: the industry is already recovering.
Based on our data from Jobfeed, the lead generation and analytics platform that tracks over 1 billion current and historical job postings across North America and Europe, we see a slow but steady increase in the number of job postings month on month. This bodes well for agencies who have survived the pandemic so far and can give them the ability to build long-term resilience.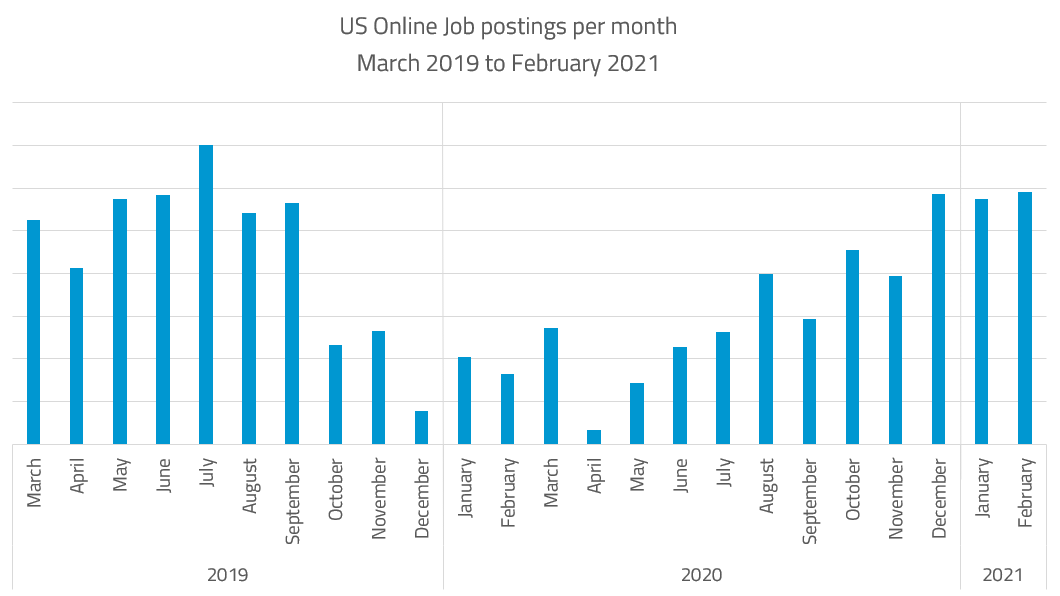 The number of job postings per month shows not only are we trending upwards, and we're making up for the lost time.
[Source: Jobfeed by Textkernel]
And that same data is reflected in Bullhorn's latest Global Recruitment Trends (GRID survey), where 70 percent of respondents expect revenue to increase in 2021. Does this mean the agencies that have made it this far can go back to their pre-pandemic workflow? Perhaps, but the smart ones have learned much from the last 12 months about productivity and workflow optimisation and would do well to apply these learnings through 2021 and beyond.
Pre-pandemic pressures pose productivity problems
If we look at the GRID survey again, we'll see that "after the impact of COVID-19, tight talent pools (skills shortage/gap) are still the main concern among agencies". And this makes sense. While the influx of new resumes to market has helped pad out agency databases, sourcing ready-made, perfect-fit talent remains difficult.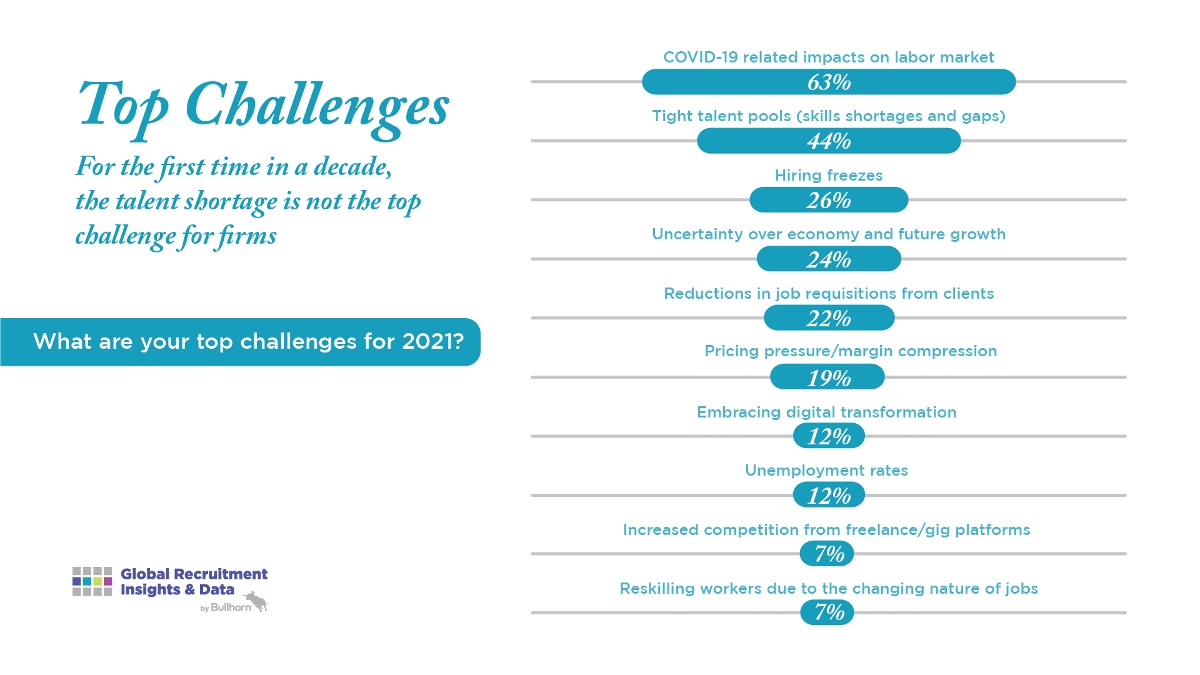 But, while GRID respondents report sourcing as the most challenging part of the recruitment lifecycle, "it's also the process that recruitment professionals say they're most likely to automate." 
This is fantastic news as agencies recognise the benefits of automating the most difficult part of their workflow to boost productivity. Rather than expecting recruiters to work harder, we're getting technology in to help them work smarter.
"Can a robot really shortlist better than me?"
No. Not today, and not a year from now; fully automated sourcing that cuts the recruiter out of the loop is still far off. As with any industry that has embraced automation, blending "machine intelligence" with "human intelligence" is key. 
A quality automated search can take your job description and search based on its entire context, rather than just keywords or phrases. It knows many (if not all) synonyms and related terms to bridge the language gap between how hiring managers write job descriptions and how candidates write resumes. It can work across languages and regions and never gets sick, never needs a coffee break, and never needs to pick the kids up from school. 
But that's not the entire process. With an automated shortlist in hand, recruiters can then tackle the far more difficult job of assigning importance to the various parts of the search and discover the nuance of the position from both the Hiring Manager and potential candidates. After all, the machine won't know the Hiring Manager's preference for "Big 4" experience, nor the LA-based candidate's preference for working early hours with Mountain Time companies.
One reason for the slow adoption of automation and new technology is because, as our CEO Gerard Mulder put it in a recent Bullhorn blog, "People felt left out of the process and didn't connect with these candidates applying. This remains the same today. Organisations need to take their teams with them on the AI journey and help them to understand how new technology can help them do their jobs better and connect better with candidates and customers."
Automated shortlisting has the primary goal of saving recruiters time, with bonus points for finding candidates recruiters may have missed. But "recruiters" is still the most important word in that sentence.
It's worth noting that the best part about automation is that it's not limited to only a single part of the recruiter workflow. Saving up to 2 hours per recruiter per day with Textkernel's automated shortlisting is great, but even better would be applying those savings across the entire recruiter workflow. This is where the Bullhorn Marketplace comes in, and we've personally partnered with CloudCall, Herefish, Kyloe, Mya, Sense, and TextUs to keep recruiters as productive as possible.
Can you remain productive through a changing business strategy?
For now, we've focussed on the area where automation has the greatest potential to save time,  but this is only one part of a greater story. The global pandemic has businesses evaluating their strategy and considering questions such as:
Is now the time to expand into new regions/markets/verticals?

Do we need to sustain pre-pandemic headcount levels?

Are we getting the most out of our tech stack?

How do we ramp up junior recruiters quicker and protect against high turnover?

Are we diversifying revenue streams beyond the commodity of placements?
Answers to these will significantly impact recruiter and overall workflow optimisation. They can be helped (or hindered) by technology. So it's no wonder that GRID respondents view the industry's digital transformation as both a positive development and an essential one.
Tough times don't last; people-focussed agencies do
Recruitment is still about people, and technology won't unseat recruiters just yet. We can't automate human connection and the nuanced understanding of the people behind resumes or job descriptions. We can improve workflow optimisation for mundane tasks that steal productive hours away from recruiters – productive hours that are better spent working with people.
---
About Chris Conrad
Chris Conrad is Textkernel's Vice President of Sales for North America. With over 15 years in the recruitment industry, Chris specialises in working with recruiting leaders to tailor technology that powers business growth.
Subscribe to the Recruitment Blog
Subscribe for trends, tips, and insights delivered straight to your inbox.