Top recruitment trends to consider in 2023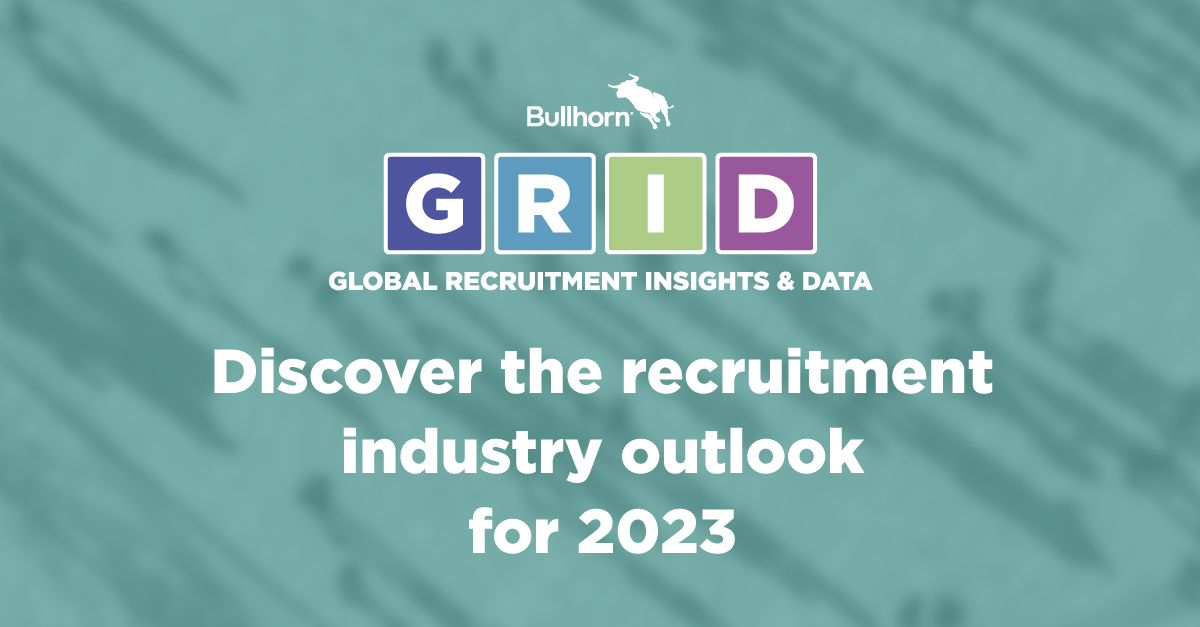 After a banner year of growth, what do recruiting professionals care about in 2023? With a renewed focus on winning new business and leveraging technology, more than 2,000 industry professionals worldwide weighed in with their thoughts on the key insights, challenges, and recruitment trends that will be top of mind in the coming year.
Read on to uncover the insights you need from the 13th annual GRID Industry Trends Report. You can also explore the top recruiting trends in detail on the Global Recruitment Insights and Data (GRID) report page. Find everything you want to know about recruiting in the year ahead in one easy place.
Discover top recruitment trends for 2023
We've curated some of the top recruitment trends and takeaways from the GRID site here. Read on below for some of the top insights from this year's survey.
The recruitment industry grew 11% in 2022, and many recruitment agencies made the most of the opportunities in front of them. What did the top performers do differently to beat the competition? And how are they using technology to get ahead in 2023 and beyond?
In order to help recruitment professionals prioritise their efforts, we examined the practices of last year's top performers (who saw year-over-year revenue gains greater than 10%) and those with major losses (who suffered year-over-year revenue losses greater than 10%) to help you navigate the challenges and opportunities ahead. 
Winning firms are employing four key strategies to stand out in 2023 and beyond:
Leveraging technology
High-performing agencies leveraged technology to succeed in a challenging environment. 
Agencies that continue to invest in their technology and talent pools will be well-positioned for 2023 and beyond. While last year's biggest winners demonstrated greater technology adoption across the board, three key practices emerged as especially significant.
Digitise: High performers digitised data throughout their business.
Automate: The big winners are twice as likely to use automation heavily throughout their business, an insight consistent with findings about how our own customers use automation.
Redeploy talent at higher rates: For temp agencies, lining up talent for a role before an assignment ended was a major factor for success. The most frequent redeployers were twice as likely to be high performers in revenue growth.
Focusing on digital transformation
Top performers are doubling down on digital transformation and technology in 2023.
Digital transformation comes in as the #2 overall priority for agencies for the first time ever. Automation is no longer a question—agencies that don't keep up risk falling behind. Those who do step up their efforts may enjoy a significant competitive advantage moving forward.
Rather than feeling overwhelmed by the digital transformation process, leaders in the industry are tackling the challenge head-on. The first, broadest step is to employ a digital system of record that will help your organisation deliver better customer service, reduce mistakes and redeploy headcount. Next is implementing automation to reduce manual activity and outrun the competition. Finally, improve your talent experience through self-service tools that empower candidates in their career search. 
Developing new clients
After a hiatus, developing new clients is again the number one priority for 2023.
Last year, client development wasn't the top priority for recruitment agencies for the first time in the survey's 13-year span. Increased skills shortages and unprecedented demand led to a decisive talent-first approach. This year, winning new business makes its return to the top.
Why is this year different? In short, changes to the recruitment landscape have led agencies to reprioritise winning new clients, driven by the major considerations of pricing pressure, reductions in job requisitions, and economic uncertainty.
Last year's top performers were all in on technology and talent. Consider investing in digital transformation and building a loyal talent pool to achieve all three top priorities in the years ahead.
Navigating the tight labour market
The labour market remains tight, and agencies are developing talent pools in response.
As agencies cite sourcing as their top talent lifecycle challenge and continue to look for any edge in the competition for qualified talent, it's the firms that build loyal talent pools that are seeing the most success in 2023 and beyond.
Tight talent pools have been the top challenge for recruitment agencies for six of the last seven years (the impact of COVID-19 in 2021 is the one exception), and the findings suggest that the shortage may be getting even worse in 2023.
The two biggest talent pool factors correlated with success last year? Redeployment and candidate database utilisation. Agencies that outperformed their peers when it came to lining up talent for new roles before the end of the assignment and agencies that utilised their existing database to fill a position were twice as likely to report revenue gains last year and 50% more likely to expect gains in 2023.
Find more UK recruitment industry trends
How do UK and Ireland agencies differ in their outlook from their global peers in 2023?
Now that you've absorbed the key insights from our global report, find more localised trends shaping the UK recruitment industry in the year ahead in our full GRID Industry Trends Report.
Subscribe to the Recruitment Blog
Subscribe for trends, tips, and insights delivered straight to your inbox.