What Does It Mean for a Temporary Recruiting Agency to Meet the Moment?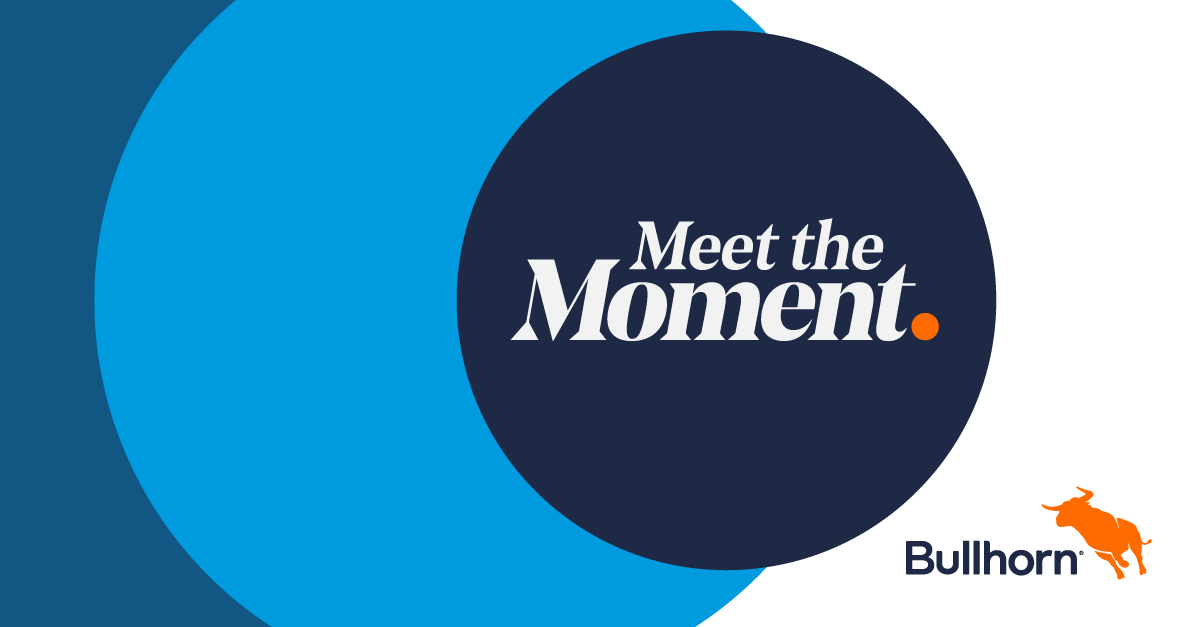 Prior to Bullhorn's acquisition of Sirenum, we spent our days fully immersed in the challenges of workforce management for hourly workers. For the most part, that was temporary recruiting agencies. In the last five years, market dynamics, particularly in high-volume or high-compliance recruitment, have evolved tremendously, and the pandemic has accelerated those changes on nearly every front. 
More agencies have adopted a hybrid workplace, making a cloud-based, single source of truth that much more critical to everyday operations. Plus, the pressure to place the right frontline workers has never been greater. Combined with historically low levels of unemployment, we're seeing unprecedented levels of pressure on recruiters to meet client demands. 
That's precisely why it's time for temporary recruiting agencies to meet the moment: 
Magnify recruiters' strengths by streamlining operations 
Sources say that recruiters can spend up to 30 hours a week on administrative tasks that provide neither tangible value nor job satisfaction to recruiters. So, what if your temp agency had the power to remove the bulk of that from your recruiters so they could spend their time more productively?
There are many tools out there that can help recruiters speed up their process of sourcing, reviewing, interviewing, and evaluating their temp workers, but what if we gave the worker the power to help the recruiter?
By empowering the worker to do more, you give them control of their work-life balance and take some of the menial and time-consuming tasks off the recruiters. 
Let's say your worker has a busy week with some personal time off on Monday and a doctor's appointment on Tuesday morning but can work a later shift on Thursday. Instead of communicating that directly to the recruiter, who then has to follow a series of tasks to ensure this has been understood, processed, and dealt with correctly, the worker simply uses their mobile device to select their preferred working hours that week. Over and done within seconds, and all the recruiter needs to do is accept another suitable worker to cover the unfilled hours.
To meet the moment for temp agencies here means encouraging and enabling your talent to engage in self-service. Put the power back in their hands, and give your recruiters the time back to do what they're best at—and why they got into recruitment in the first place—helping people.
Automate manual tasks so recruiters can reinvest in relationships
We know how much time recruiters can spend on administrative activities. It's frustrating when this is work that needs to be done, but there are no noticeable rewards for doing these activities. Some processes can be given back to the worker, as we've mentioned, but what about those internal tasks that must be done in-house?
Sometimes, it's not always obvious that some tasks recruiters do are taking up a lot of time. But let's say we have something that is considered a small or quick task, like confirming the start and end times of a worker's shift patterns for the following week. This takes just three minutes. But in a temp setting, the math gets trickier. Let's say you're confirming 20 workers a day, five days a week. It's not going to seem like much in isolation, but that's going to total around 20 hours per month!
When recruiter activities are crucial to the bottom line, it's understandable to accept how long something takes to do. Well, you have to do it like that, because if you don't, your shifts may be left unfilled, your clients will be unhappy, and you leave revenue on the table—right?
Not quite, because there are other ways that save time, reduce manual processes, and improve efficiency. Using automation tools built specifically for the recruitment industry will help you ditch the manual and automate the essential to outrun the competition and free up time for recruiters to positively impact the bottom line. 
Meeting the moment for temp agencies here means identifying the manual tasks that can be automated with the right tools and allowing recruiters to get back to tasks only they can do.
Engage with talent on their terms and throughout their journey
As a temp agency, you have a huge pool of workers to communicate with on an ongoing basis to keep them engaged and coming back to you for more shifts, assignments, and placements. One recruiter is not going to be able to do this in an effective way en masse without an efficient, integrated technology stack. 
Let's say a teacher is on maternity leave cover, and they're coming to the end of their placement. If the recruiter knows this and is able to start sending them their next assignment 2 weeks out, everyone's a winner. This allows the recruiter to get the documentation complete and availability in advance to ensure they're both prepared for the new assignment.
When a temp recruitment agency is proactive in these kinds of situations instead of reactive, it's a win-win scenario. The worker is happy, and the agency is able to utilise its workforce more effectively, reducing the likelihood of leaving money on the table or facing unhappy clients. 
By digitising and having a robust, effective, and integrated technology stack, the recruiter can engage with their workers when and how they require, making redeployment of talent more seamless. 
So, what does it mean for temporary recruiting agencies to Meet the Moment? 
Empower

your workers to take control of their work-life with self-service experiences that save recruiters time and keep workers invested. 

Automate

to reduce manual processes and improve efficiency, so recruiters can spend more time doing activities that effect the bottom line

Digitise

to deliver better service and redeploy talent proactively using an integrated tech stack with a single source of truth.
---
Are you ready to meet the moment? Speak to the team here.
About the Authors:
Joshua Pines is VP of International Alliances at Bullhorn. He joined Bullhorn after its acquisition of Sirenum, which he co-founded. He brings nearly 25 years of experience in technology marketing and strategy including nearly a decade in the recruitment industry. A Miami native, Josh lives in NW London with his wife and twin teenage daughters.
Milly Morris is the Partner Manager for all UK&I Bullhorn technology integrated partners. Her background includes seven years in B2B SaaS marketing teams of all shapes and sizes, and joined Bullhorn after the Sirenum acquisition in the summer of 2021.
Subscribe to the Recruitment Blog
Subscribe for trends, tips, and insights delivered straight to your inbox.