What is Bullhorn For Salesforce?
Bullhorn for Salesforce delivers staffing and recruitment software the way it should be: simple, mobile, and devoted to increasing efficiency and profitability across the entire workflow.
Bullhorn for Salesforce combines sales, recruitment, and operations in one cloud-based solution. It gives firms a competitive edge with powerful search and match capabilities, actionable dashboards, recruitment-specific integrations, and the global capabilities of the Force.com platform. The ecosystem is second to none, offering the flexibility to tailor the platform to your needs and leverage all the major Force.com applications thanks to the App Exchange.
Why This Matters to You
Purpose-built tools, to build stronger candidate and client relationships
Best-practice workflows, to create more efficient and productive teams
A community of recruitment leaders, to provide learning and networking opportunities
Why Partnering with Bullhorn is a Winning Combination
If you have an in-house development team or have a close collaboration with a strong application development team, it may be appealing to try to build out a proprietary solution that only you will use and will be fully scoped to your needs.
But many agencies have chosen Bullhorn for Salesforce instead of building their own applications, because it gives them a faster time to value while still giving them the flexibility to extend and customise the platform to create a competitive advantage and differentiate their services on the market. We also continuously invest in the development of the platform, unearthing new use cases and bringing new best practices to market that we design with the wealth of experience in the industry.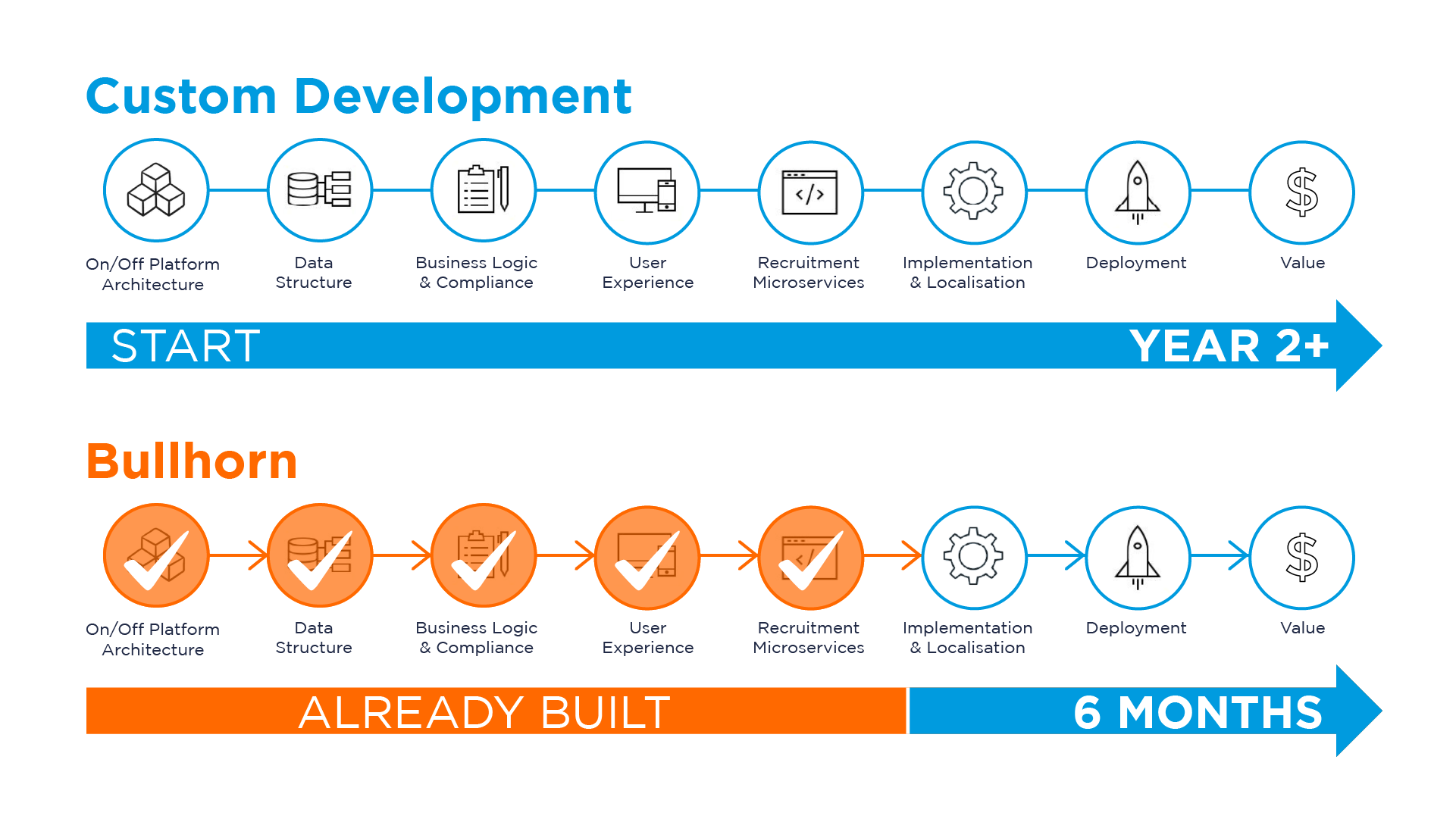 Innovative firms know that automating aspects of their recruiting business is the best way to cut down on manual tasks and provide better experiences for both candidates and clients.
With Herefish by Bullhorn, a recruitment-specific automation layer, you can improve:
Productivity
Reduce busywork by automating repetitive, often-forgotten tasks and ensure the right things are happening at the right time
Data Health
Improve the accuracy of your data by identifying inaccurate or incomplete records and automating the cleanup process
Communication
Engage with candidates, clients and contractors throughout the recruiting process and never let communication slip through the cracks
Platform Extensibility
We work with a network of partners that help you customise and extend the Bullhorn for Salesforce platform. Our partners are both other software vendors that can connect to our system, and systems integrators that can extend and customise the solution and make it yours. Browse our list of partners here.
And of course, you have the ability to grow your tech stack within the Salesforce ecosystem – whether within the Salesforce product catalog or the Salesforce AppExchange.
How Do We Help You Succeed?
We're with you every step of the way. Adopting a new technology can be daunting. But with an incredible customer experience, it doesn't have to be. With a dedicated core project team and a full-coverage support staff, we've got you covered. From implementation through go-live, we guarantee your project will get the attention it needs, giving you confidence every step of the way.
Here when you need it. 24/7. Our core purpose is creating an incredible customer experience. After you are set up, you can rest assured that we will be available to give you the answers you need, when you need them.
200+ support staff responding in <60 seconds to resolve 97% of tickets with 95% customer satisfaction
Full business hours coverage and an emergency weekend hotline