Leverage data to supercharge productivity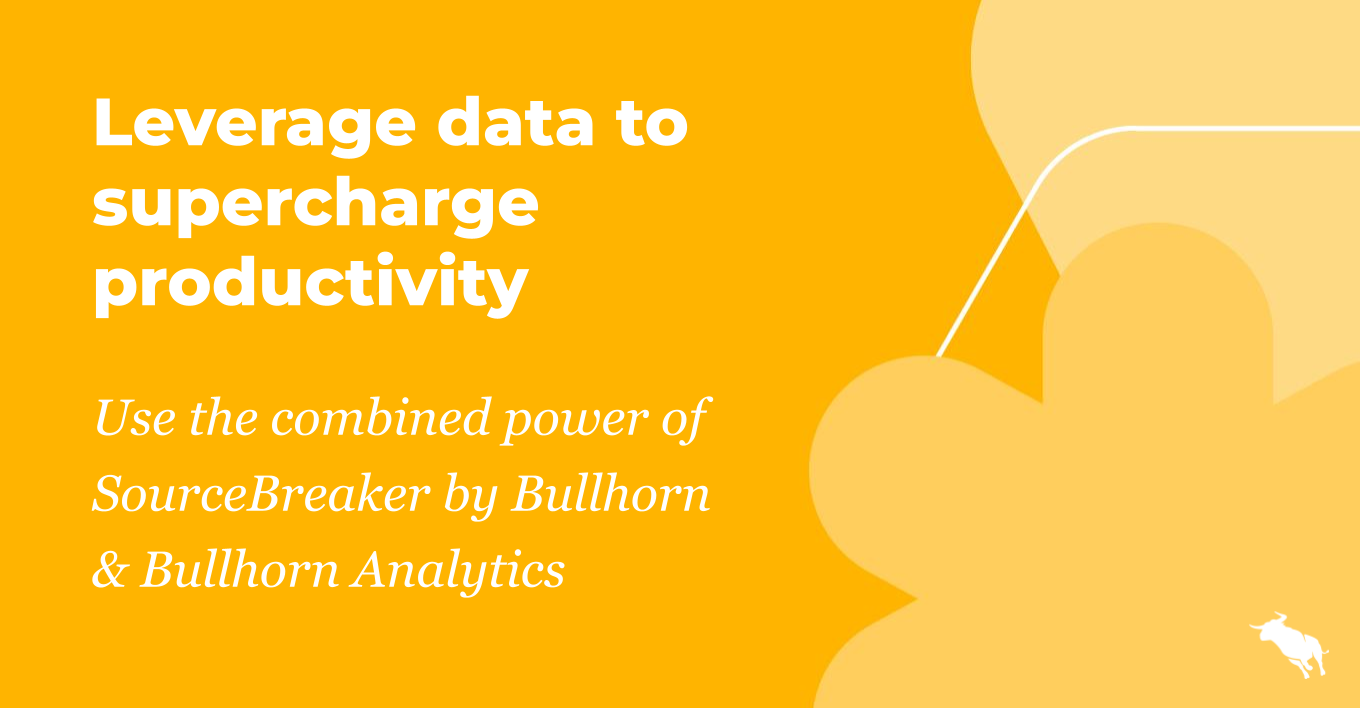 All over the industry, recruiters are saying it's harder than ever to find qualified talent. With so many of your competitors dealing with the same challenges that you are—how do you help your business take the lead? 
SourceBreaker's Adam Dale and Bullhorn's Joe McGuire recently teamed up for a webinar on all things data and sourcing. Missed the session? Check out the full recording.
Read on to learn how recruiters can drive more placements from your existing database, improve time to fill and job fill rates, and ensure an optimal candidate and lead experience through some simple yet powerful tips and tricks that any recruiter can implement. 
Learn how your recruiters can maximise productivity, improve time to fill and job fill rates, and provide an optimal candidate and lead experience.

See how the combined power of SourceBreaker by Bullhorn and Bullhorn Analytics will boost recruiter productivity and maximise ROI within both platforms.
Maximise productivity
Data has historically had a negative connotation in the recruitment industry due to being poorly utilised. The old KPIs simply do not work anymore. But as Bullhorn has demonstrated, recruiters applying the right attention to the right data points are having the biggest gains in a strained industry. 
Companies that combine broad analytics and SourceBreaker place 11% more of the candidates they work with because they are submitting candidates to jobs faster and often in higher volumes. It's a new, value-driven world of actionable insights and higher success rates. 
Personalised insights
Recruiters combining SourceBreaker with Bullhorn Analytics are ultimately spending less time searching externally and more time building relationships with candidates. They are empowered with real-time dashboards that prompt the relevant action with the support of associated technology. 
Let's look at one workflow: A financial manager in London has been sent to one interview. The recruiter has spent considerable time, effort, and cost in acquiring that candidate. Why not get them across multiple opportunities? Using Bullhorn, we can reverse engineer that candidate's profile into SourceBreaker and be served jobs that are an exact match for that candidate. The recruiter can even set up automation to receive any new roles that are a match for the candidate. 
They stand a higher chance of placing if they arrange more interviews for the candidate—there's a one in four chance of placing a candidate that sees just one client, however, present them to one more client, and the likelihood of placement improves to one in three. Get them to a third client, and you have a one-in-two chance of placing the candidate. 
Here's how database utilisation works:
Bullhorn Analytics identifies candidates that are not sent to a job or contact. The recruiter can then discover actionable insights with a click. 

Bullhorn Analytics highlights all candidates not sent to jobs or contacts, along with details on their employment background. 

The recruiter can apply specific details to run a business development search using SourceBreaker—this will unlock all possible opportunities for their candidate. 
Not only does the platform enable less effort in having to find candidates every single time, but recruiters are also able to deliver a better client experience because more of the candidates that they are working with are ultimately getting placed—at a 19% higher job fill rate. 
---
Ready to learn more? Watch this on-demand webinar to see the platform in action and get a better understanding of how each product can be leveraged together for additional added value and maximised performance.
Subscribe to the Customer Blog
Subscribe for trends, tips, and insights delivered straight to your inbox.