Marketplace 101: Working from Home with Marketplace Partners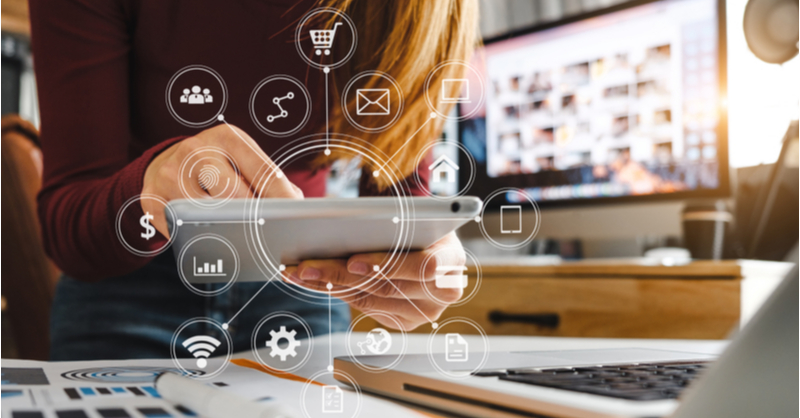 While staffing firms across the globe are forced to re-examine the way they do business in light of the recent global events, we understand that you still have a commitment to your clients and candidates to be as effective as possible. With that in mind, here is everything you need to know about working from home with Bullhorn Marketplace Partners
---
Creating an atmosphere of collaboration, even when you don't share the same physical space, is integral to motivation and output. So how can you empower your team to stay connected, expand relationships, and maintain visibility in today's changed landscape?
Transcend Physical Barriers and Virtualise Your Office
Just because you and your team are working from your respective "home offices," doesn't mean you can't make the most of your interactions. VoIP solutions like CloudCall, or video interviewing platforms like Hinterview and Spark Hire can enhance and maintain your communications, no matter where you are. 
CloudCall offers recording and "whisper" features that empower your teams to work together more effectively, from your respective homes. The "whisper" feature is great for call shadowing and training and allows a "supervisor" to share live tips and feedback with the person on the call. 
If you're feeling overwhelmed by the challenges of interviewing candidates and finding new jobs to fill while working from home, look no further than Hinterview, Odro, Spark Hire, or Interviewstream. 
These video interviewing solutions can help you to create opportunities for facetime with candidates, and in some cases, optimise your business development efforts with unique ways to present candidates. 
Motivate and Enable Your Teams
Ensuring that your teams are engaged and motivated—from home and in-office—can feel like a challenge. 
Using cube19's growth analytics platform, you can dig into almost any performance metric to create actionable insights that will make your entire team successful. Cube19 offers well-designed leaderboards, gamification for recruiters, trend graphs, and custom incentives, all of which offer a great baseline for building best practices amongst your teams.
While performance metrics and benchmarking often come first and foremost, digital adoption platforms like Whatfix can take those metrics to the next level. Whatfix offers training and workflow guidance so that recruiters know exactly what to do, how to navigate certain applications, and ultimately, make the most out of their tech stacks.
Build and Maintain Relationships
When you're working from home, it can be easy to lose sight of the importance of nurturing relationships with clients and candidates. Creating a marketing & communications strategy is not only essential to creating a relatable, lasting brand, but also a great way to get to know your clients and candidates on a deeper, more personal level. 
A partner like TextUs allows you to meet candidates where they are, and communicate with them in real-time. Using a texting platform like TextUs puts the power into the hands of the candidate, making your recruiters easier to work with, and positioning your business as approachable, personalised, and millennial-focused. 
Let your candidates and clients know you're still dedicated to their success, even though you aren't in the office. A partner like Haley Marketing can help you to create more website traffic, build a strong social media strategy and presence, create engaging content, and/or polish your firm's messaging & identity. 
Take Action
Yes, working from home can feel disconnected, overwhelming, and different from what you're used to. But, with 100+ partner technologies and services at your fingertips, you can alleviate some of these pain points, and make working from home more manageable.
Make sure to check out our Marketplace Partner Listing as you begin your quest for the technologies that will bring connection, ease, and normalcy to your work-from-home operations. 
---

Subscribe to the Customer Blog
Subscribe for trends, tips, and insights delivered straight to your inbox.