Quarterly Release Roundup: Q1 2020
While staffing firms across the globe are forced to re-examine the way they do business in light of the recent global events, we understand that you still have a commitment to your clients and candidates to be as effective as possible. With that in mind, here is everything you need to know about our Bullhorn product updates from Q1 2020.
---
With product updates happening each month, it can be difficult to keep up with what's new inside Bullhorn. To make sure you're up-to-date with the most recent enhancements, we've compiled a list of the top product updates from the last quarter so you can make the most out of your investment in Bullhorn. 
Read on for a roundup of the product updates and enhancements that we released in Q1 2020. 
Advanced Note Searching Support on Contact and Lead Lists [Bullhorn Novo]: Advanced Note Searching is now supported on the Contact and Lead lists. Advanced Note Searching makes searching notes via list views easier by pulling all note-related search fields into their own area on your search box.

View Activity Tracking [Bullhorn VMS Sync]

: Users can now see who has edited an account or credentials, including a list of the fields updated which will display both the old and new values for added visibility. 
New Mobile Functionality [Bullhorn Mobile]

Bullhorn Mobile now supports Single Sign-On (SSO) for those using ADFS or Okta. This update allows users to log-in easily using their SSO credentials. We will soon be adding SSO support for Azure, OneLogin, and G Suite, so keep an eye out for future product updates.
We enhanced functionality in the mobile app and added the ability to make adding a note on a record even easier. This new functionality utilises native mobile gestures to add a note with fewer clicks. Instead of clicking into the record and then selecting Menu > Add a Note, the user can swipe on the record from within a list view to add a note using the Add Note icon that appears.
Open Submissions Card [Bullhorn Novo]: There is a new card available on the overview of Candidate and Contact records that allows you to quickly see which open Submissions are associated with the record you're viewing. This card can be added to the overview of your records from 'Layout' > 'Cards' when on the overview of a Contact or Candidate record.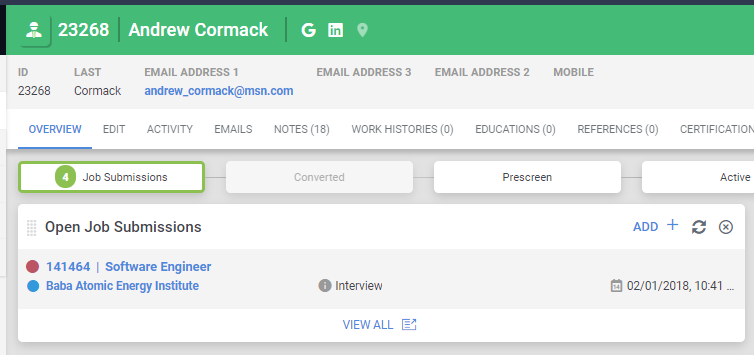 Add Opportunites from Mobile App [Bullhorn Mobile]: We added the ability to add Opportunities from the Company Activity tab, which closes another gap between the experience on Bullhorn Mobile and the web application.
If you have additional questions about our recent updates or enhancements, make sure to explore our full product updates on the Bullhorn Customer Portal.
Interested in additional Bullhorn product updates? Check out our Q3 2019 Quarterly Release Roundup.  You can also explore product tips, tricks, release highlights, and more on the Bullhorn Customer Blog.
---

Subscribe to the Customer Blog
Subscribe for trends, tips, and insights delivered straight to your inbox.