Recruiting Automation and Marketing Automation: How Both Can Propel Your Business in 2021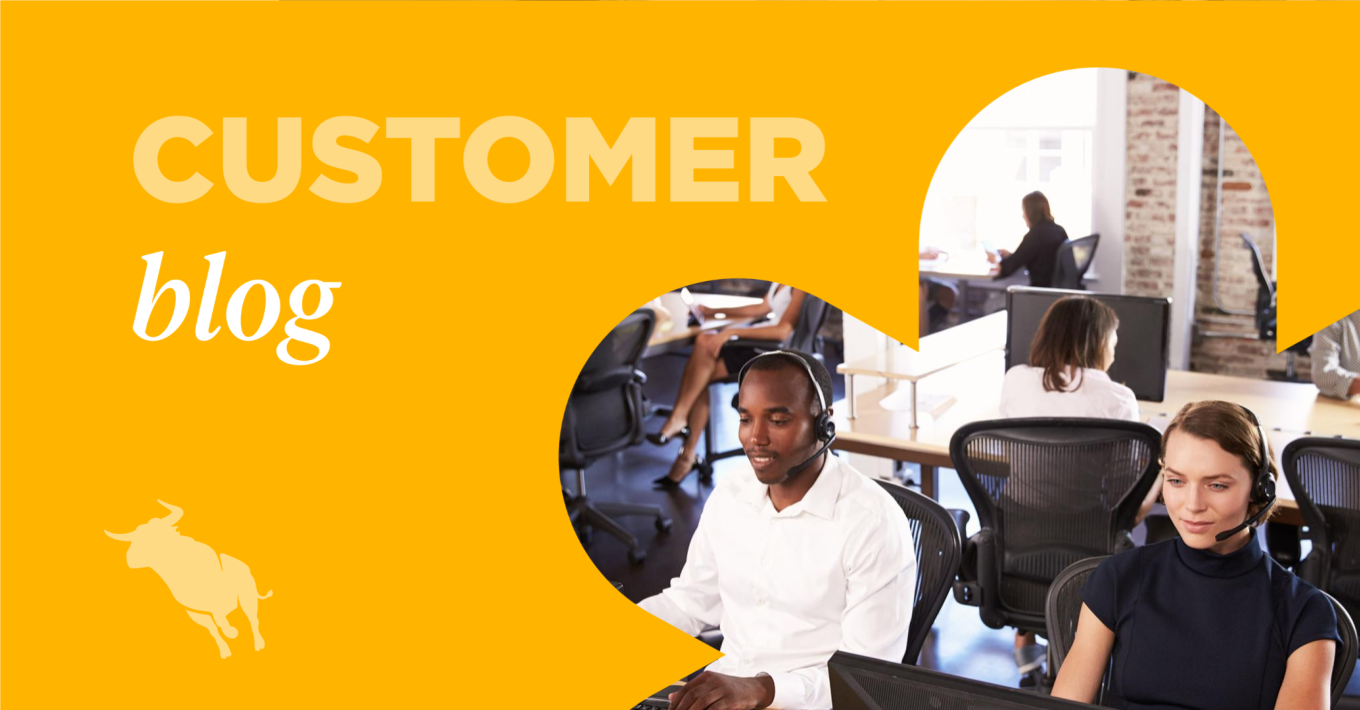 It's no secret that automation can transform your business and provide your team with more time to build relationships, win new business, and place candidates in their new roles. But with so much information available about which automation tools can most impact your business, how can you be sure you're using the right automations in the best possible way?
Two key types of automation can impact a recruitment firm in 2021 and beyond: marketing automation and recruiting automation. Both are powerful tools that work together, not against each other, to power your business.
Below, we've broken down what marketing automation and recruiting automation are, how they are similar, how they differ, and how both, along with Bullhorn for Salesforce, can help propel your business forward this year and beyond.
Marketing Automation and Recruiting Automation Defined
Both recruiting automation and marketing automation can transform your recruitment processes, but they cover different but equally important aspects of your overall marketing and recruitment strategy.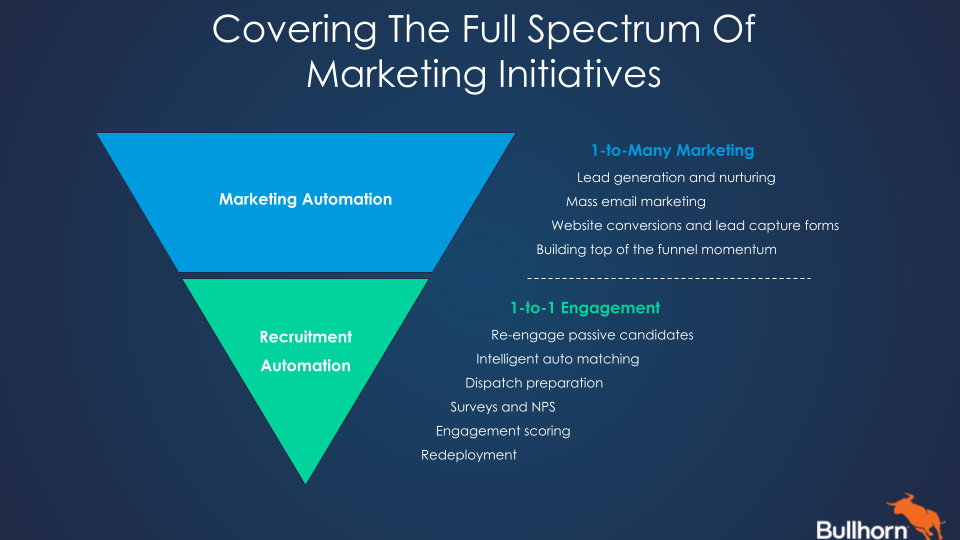 Marketing Automation:
Marketing automation is the technology that manages marketing processes and multifunctional campaigns across multiple channels automatically. Marketing automation focuses on the one-to-many marketing initiatives that seek to build your funnel and pipeline of qualified leads, contacts, and candidates.
With marketing automation in Salesforce, businesses can target individuals and companies with automated messages across email, web, social, and text. Messages are sent automatically, according to sets of instructions called workflows. Workflows may be defined by templates, custom-built from scratch, or modified mid-campaign to achieve better results.
Recruiting Automation
Recruiting automation describes recruitment-specific tools that enable you to streamline repetitive workflows, processes, and communication throughout the entire recruiting cycle, replacing tasks that recruiters would previously complete manually.
With recruiting automation, you can:
Automate recruiting busywork in a few clicks: Quickly automate key activities throughout your recruiting workflow, freeing up your team to focus on building relationships, not completing manual tasks. Easily create processes that fit your business and standardise interactions with candidates, contractors, and sales contacts.
Personalise communication via email and text: From new applicants to submission status changes to scheduled interviews to placements, automate all the "in-between" moments and ensure the right people are sent the correct information at the right time. Automatically engage via email or text and put your outreach on autopilot.
Improve the health of your ATS data overnight: Quickly clean up bad data in minutes and set up automations that continuously ensure your ATS is filled with high-quality data.  Better data = better results from your data. Go figure.
Capture feedback from key stakeholders: Leverage surveys throughout the recruiting process to effortlessly capture actionable feedback from your clients, candidates, and contractors.
Gather intelligent insights: Get a deeper view of your candidate, client, and contractor activity throughout the recruiting cycle. View a contact's complete history directly in the ATS and understand how they're interacting with your messaging and automation.
Deliver Intelligent Jobs: Using machine learning, we intelligently match candidates with current job openings from your ATS for use in any outbound communication or automation. This helps engage candidates with relevant jobs and build a better talent pool directly in your ATS.
Recruiting automation falls under two camps: Automation Platforms and Automation Products:
Automation Platforms provide core functionality and provide an integration point for other applications. They 'talk' with complementary solutions and are foundational to a recruitment firm's technology stack.
Automation Products integrate with platforms to help mutual customers solve their business problems. Products have a specialized focus that can limit their scopes, such as VMS or onboarding automation, but they are valuable stand-alone or connected with a platform.
Why Marketing Automation Is Crucial To Gaining Top-of-the-Funnel Momentum
To have a pipeline of candidates and clients to engage with using recruiting automation, you must first build up your database of qualified candidates and clients with lead generating and funnel-building initiatives. This is where marketing automation within Salesforce, such as Pardot, comes into play.
Since recruiting automation focuses on one-to-one engagement, marketing automation is most impactful for one-to-many marketing activities, such as nurture campaigns, mass email marketing, website conversions, and lead capture forms.
In essence, marketing automation helps your team build the funnel and pipeline of qualified contacts that your team would then feed into a recruiting automation tool to continue to the recruitment process. 
Marketing automation is crucial in building a library of contacts to continuously have candidates and clients fuel your business. Without marketing automation, your team must rely heavily on manual methods of building a candidate database, such as adding candidates from a job board or LinkedIn, before feeding the data into a recruiting automation platform, where automation can unlock even higher levels of productivity and efficiency.
How Recruiting Automation Unlocks New Levels of Productivity within Bullhorn for Salesforce
Once you have built a qualified contacts and candidates database, recruiting automation helps your team efficiently engage with those individuals. Herefish by Bullhorn is a recruiting automation platform designed specifically for the modern recruitment firm's workflows and one-to-one communication needs. Herefish focuses on candidate and client engagement to unlock new productivity levels, improve the quality and richness of ATS data, and ensure a consistent candidate experience throughout the recruiting lifecycle.
While gains from recruiting automation can, to a degree, be achieved through native Salesforce tools like Process Builder, Herefish enables you to get started with automation more quickly with recruitment-specific blueprints, reducing the amount of manual work needed to set up the automation rules. And with recruitment experts on the Herefish implementation team, you can rest assured that your team is using the best automations for your business.
Herefish is different because they understand the unique needs of the recruitment industry. There are no workarounds needed. This product is made just for us.
Brian Cunningham, Managing Director Allen Recruitment
Herefish by Bullhorn helps agencies get more value out of their Bullhorn for Salesforce investment, with sales, recruiting, and operations running their business on a purpose-built recruitment application powered by the Salesforce platform.
With recruiting automation, recruitment firms can:
Engage with candidates, clients, and contractors throughout the recruiting process and never let communication slip through the cracks.
Reduce busywork by automating repetitive, often-forgotten recruitment tasks and ensure the right processes happen at the right time
Improve the accuracy of ATS data by identifying inaccurate or incomplete candidate records and automating the cleanup process.
How Recruiting Automation and Marketing Automation Work Together
While a powerful automation solution that offers value to recruitment agencies from day one, Herefish by Bullhorn, like many vertical-based solutions, is not designed for every use case. When Herefish is combined with the power of Salesforce offerings for marketing and process automation, Bullhorn for Salesforce can offer our clients an efficient end-to-end engagement solution to drive their business transformation.
Herefish is explicitly designed for candidate and client engagement on a one-to-one basis to drive a tailored experience that builds long-term relationships. Users can automate many of their day-to-day engagements, including gathering candidate credentials, matching candidates to jobs they're a fit for, ensuring candidates are prepared for interviews and arriving on time, and collecting feedback from both candidates and clients after an interview – all with a personal touch.
This one-to-one engagement complements the broader Marketing Automation offerings from Salesforce, with Pardot and Marketing Cloud providing robust solutions at scale for client acquisition, lead generation, and driving new business through content and digital channels.
Together, Herefish and Salesforce marketing applications provide the modern recruitment firm with powerful end-to-end marketing automation that wins clients and builds strong relationships.
We're just at the tip of the iceberg in terms of what could be done. The value that we see in Herefish is the blueprint workflows. It takes a long time to gather requirements and work out best practices when designing a process. With Herefish, all that's been done for you—someone's gathered that expertise and designed the process in a way that will drive maximum value. It's been a great partnership with Salesforce and Bullhorn. You can always say it's a great team between buyer and seller, but in this case, we do work hand in hand with this group. The support group has been fantastic!
Ron Seibert, CEO & President SSi People
---
To learn more about how recruiting automation can unlock new productivity levels within Bullhorn for Salesforce, click here.
Subscribe to the Customer Blog
Subscribe for trends, tips, and insights delivered straight to your inbox.