The Four Cs of Recruitment Automation: Candidates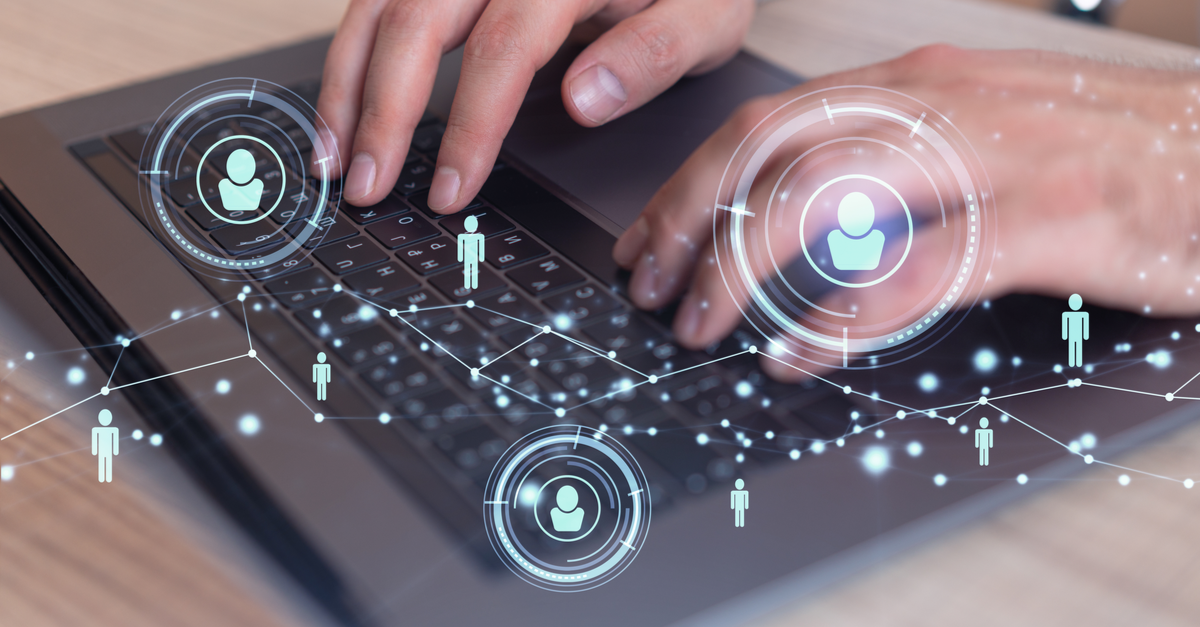 It's no secret that recruitment automation can increase productivity and streamline operations. But how can automation enable recruiters to use data more effectively to deliver positive candidate, client, and colleague experiences? 
We recently hosted the first session in a webinar series centered around recruitment automation and how Herefish by Bullhorn can help you deliver a best-in-class experience. Herefish by Bullhorn helps recruitment companies automate processes and engagement throughout the entire recruiting cycle and across the ecosystem.
This webinar series, led by Lisa Jones, Founder of Barclay Jones, and Ben Carter, Sales and Strategy Director, Automation at Bullhorn, includes four sessions highlighting how automation can improve your recruitment process with the four Cs of recruitment automation: candidates, clients, and colleagues – plus the coolest recruiting automations that you should be using.
Read on for a recap of the first session in this series. To view a recording of this webinar session, click here.
2020: The Year of Recruitment Automation
Before we look forward to 2021, let's review why 2020 was the year of automation. We saw a considerable uptick in customers implementing recruitment automation through the Herefish platform or improving their processes. We saw a 138% increase in automations run from Q1 2020 to Q4 2020, proving that automation enables you to do as much as possible, as efficiently as possible.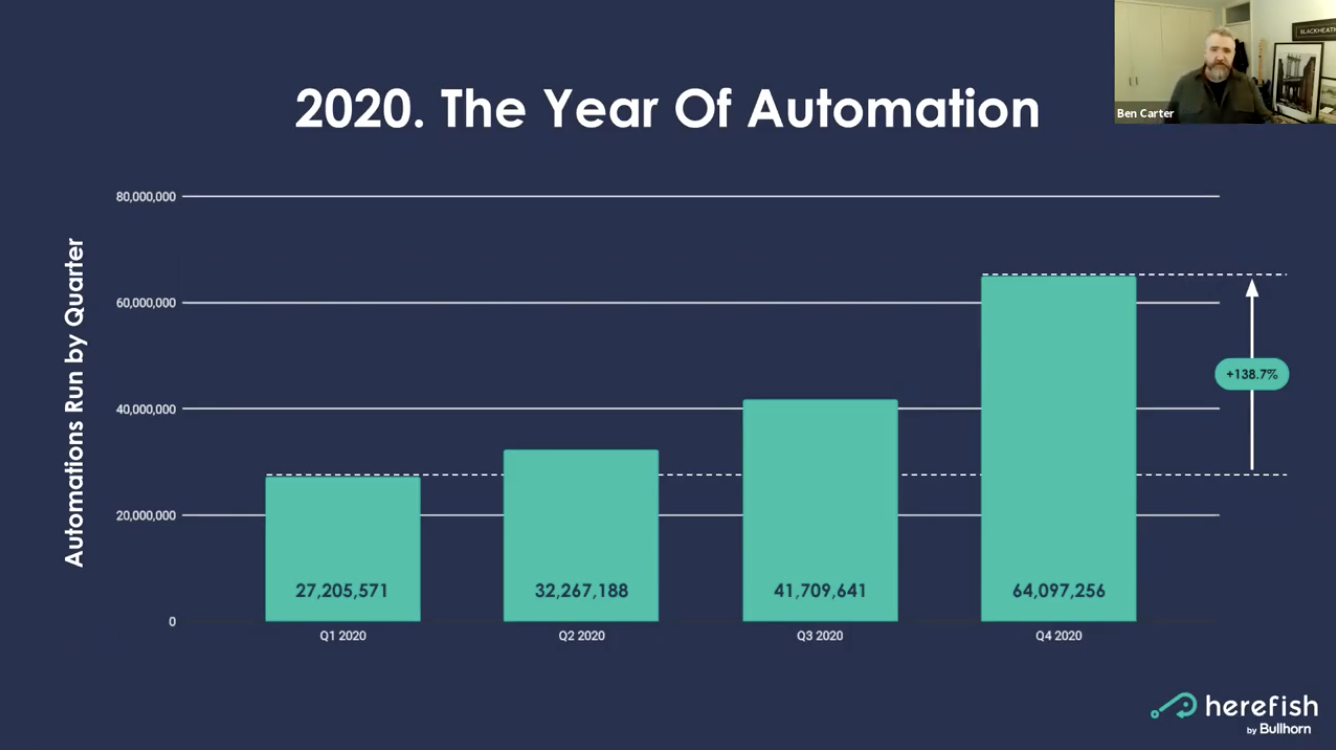 Candidate Automation From Start to Finish
From talent pooling to lead generation to candidate attraction, as soon as a candidate enters the ATS/CRM, Herefish by Bullhorn can take candidates on an automated journey through the recruitment process into employment and then redeployment. 
With recruitment automation, you can drive efficiency across the entire business. Automation ensures everyone can concentrate on revenue-generating activities: speaking with clients, qualifying interested candidates, and building relationships. Candidate experience is consistently a top priority for recruiting firms, and automation can enable your team to deliver a positive experience to candidates through things like automated communications and outreach reminders.
The good news? Your team can use automation to improve the candidate experience through clicks, not code, meaning your team doesn't need to rebuild your internal systems or devote resources to software engineering to implement recruitment automation in your tech stack. With Herefish by Bullhorn, your team can adapt quickly to changing situations, solidify processes by building workflows to reduce human error, and accelerate value by deploying automation in minutes instead of days or months.
Four Things You Should Start Automating Immediately
Candidate: Status Management
One thing is for sure, sifting through lists of candidates when you're running searches and understanding what status they are at the moment is impossible. Recruiters must make hundreds of calls a day to dig out the available candidates, interested and ready for a new role. It's all about knowing your candidate database at a glance.
Are you tracking net new candidates added to your system within a specific time frame? Do you know which candidates are actively looking for new roles? Is your team aware of candidates that you no longer want to work with?
With recruitment automation, you can identify what type of candidates are in your system based on activity that happens, even if that activity happens outside of your ATS/CRM, such as if a note has been recently added to the candidate record or if a candidate interacts with your marketing materials. 
Your team can put automations in place to proactively change or update the candidate status based on criteria that makes sense for your business to ensure your automations work for you, not against you.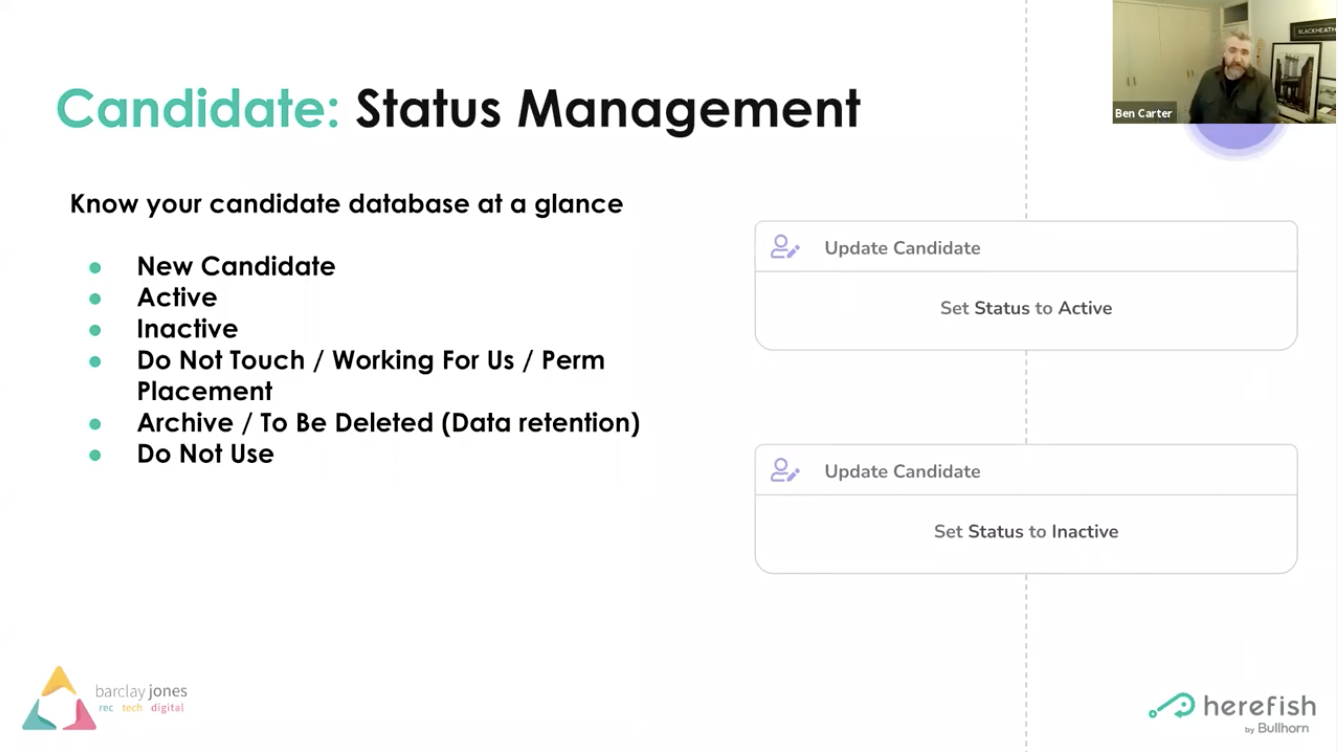 Candidate: Refresh Data (Surveys)
Key functionality of Herefish by Bullhorn is the ability to send surveys to your candidates. Surveys not only capture information about the candidate's experience but can also improve the data health of your ATS/CRM. Surveys help capture updated candidate information and recruitment preferences to ensure your database remains accurate. From dates of availability to skill and industry preferences, surveys are essential to better understanding your candidates while keeping your database clean and up to date.
Further, surveys can assist with your GDPR compliance strategy and provide your team with information about communication preferences and new information on a candidate's CV/resume.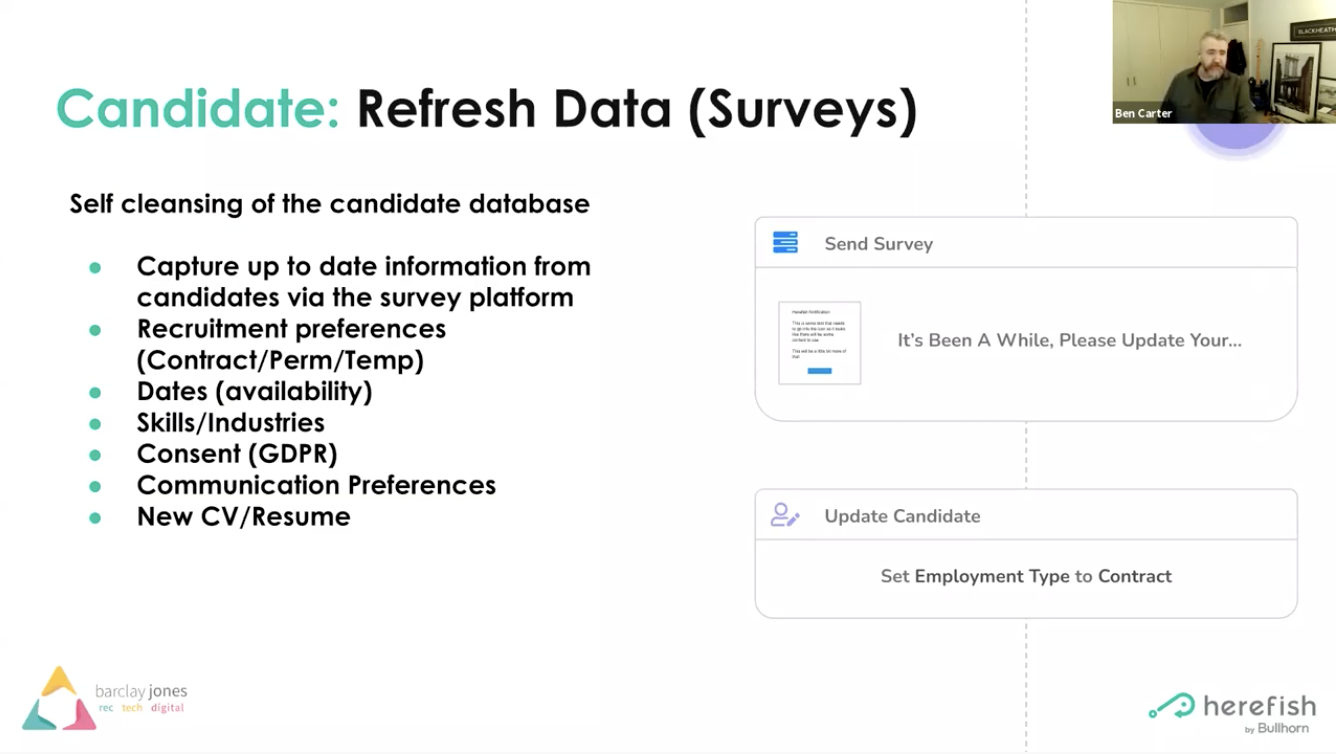 Candidate: Communication
Herefish by Bullhorn enables your team to improve the candidate experience for good. You can set up automations to send welcome emails and application notifications, including sending an update to a candidate when you've sent their CV to the client or, even more importantly, if their application has been rejected. 
Simplify the candidate recruitment process by having automated communications sent out if you close a position or to notify other candidates that the role has closed while inviting them to apply for different roles with your team. 
NPS surveys are integral in better understanding where you can improve the candidate and client experience. Sending NPS surveys at crucial stages of the recruitment process – including during the interview stage, after the placement has been made, or when the candidate has finished their assignment – helps capture valuable feedback and insights into how your team performs.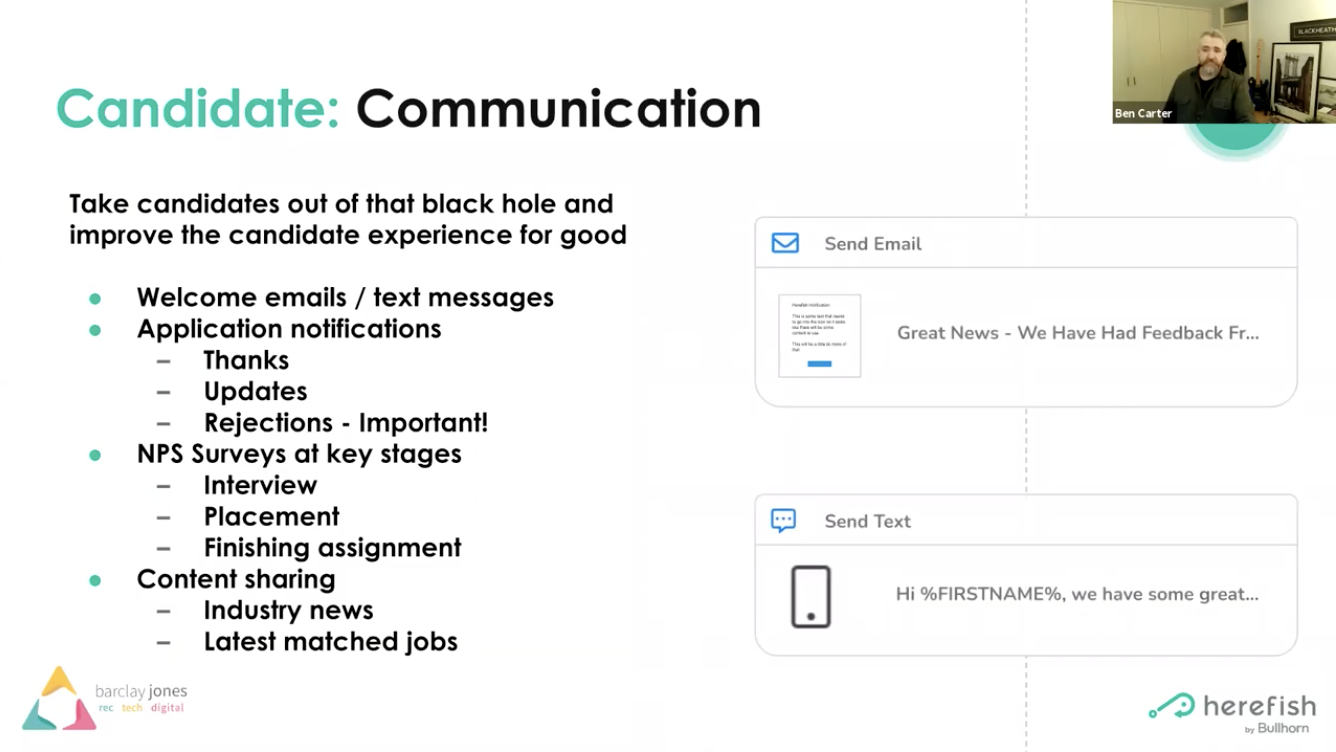 Candidate: Know When to Engage
Turn your database into a well-oiled candidate management system using recruitment automation to engage with candidates throughout the recruitment process proactively. For example, you can set an automation to notify you if a candidate has engaged with a marketing email or updated their data via a survey you sent. This helps improve your overall communication strategy and ensures your candidates are receiving regular outreach to keep them engaged. 
To take it one step further, you can implement recruitment automation to alert recruiters of a new candidate application or get an alert if a candidate submits a negative response to an NPS survey. Keeping recruiters updated on these important candidate actions increases visibility while reducing time spent on manual data entry or administrative tasks.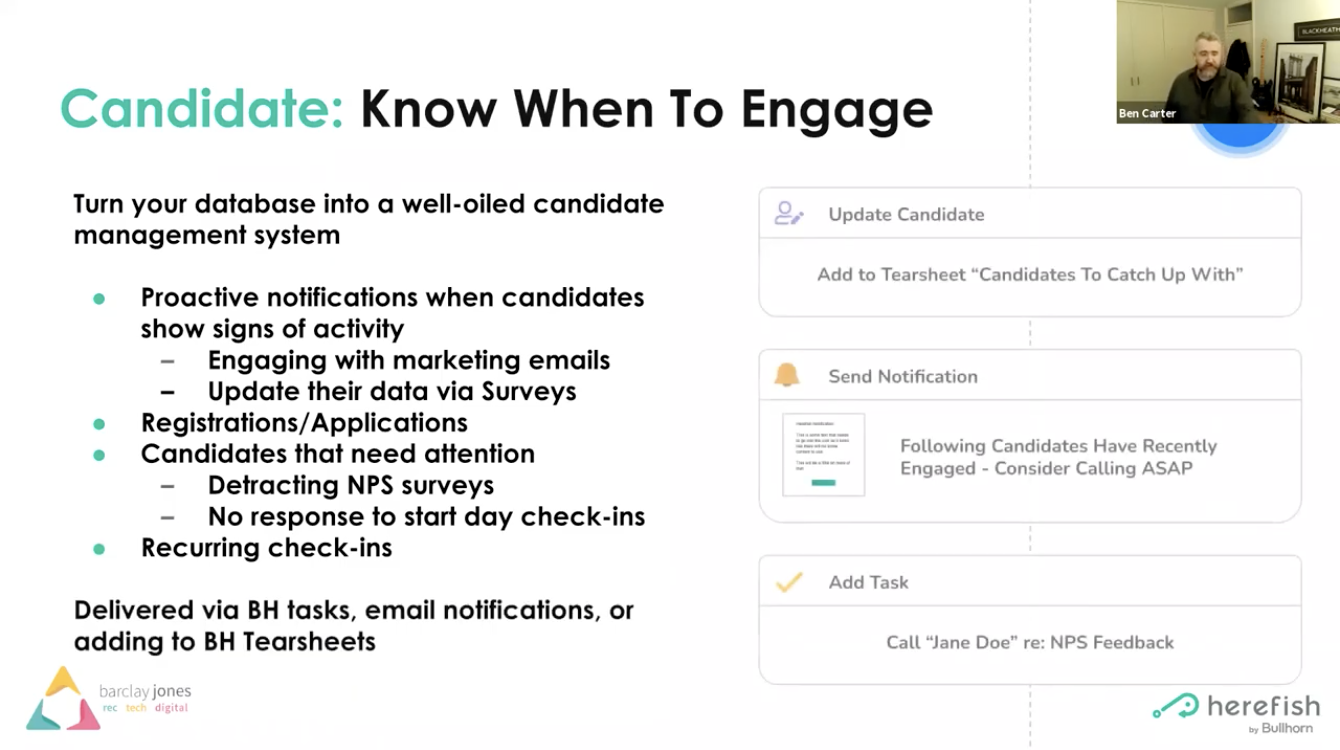 To learn more about this webinar series, watch previously recorded sessions, or sign up for the next session in this series, click here. 
---
To learn more about how Herefish by Bullhorn can transform your candidate sourcing and recruitment process, click here.

Subscribe to the Customer Blog
Subscribe for trends, tips, and insights delivered straight to your inbox.