Become a Modern Agency Talent Wants to Work With – Hung Lee Special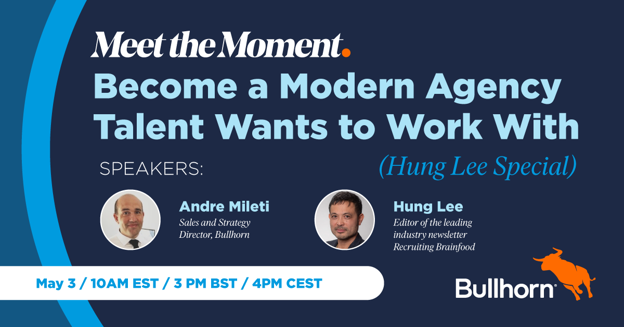 Recruitment agencies face a tremendous opportunity today to grow their business as the demand for talent reaches new heights. To take advantage of this opportunity, agencies must navigate through the obstacles of a historic talent shortage, evolving candidate expectations, and fierce competition, all of which have raised the stakes of providing an incredible experience for your team, your talent, and your clients.
Join us in this Hung Lee special webinar and learn how you can elevate your recruiters and unlock your teams' true power and potential.
During this webinar, find out how you can:
Build a strategy that delivers the experience candidates want NOW
Efficiently tackle the talent shortage
Become a modern agency talent wants to work with
Watch the full recording below!
Stay in the know with the latest recruitment news and insights
Subscribe and get trends, tips and insights delivered straight to your inbox