How to Make a Four-Day Workweek a Reality for Your Recruitment Business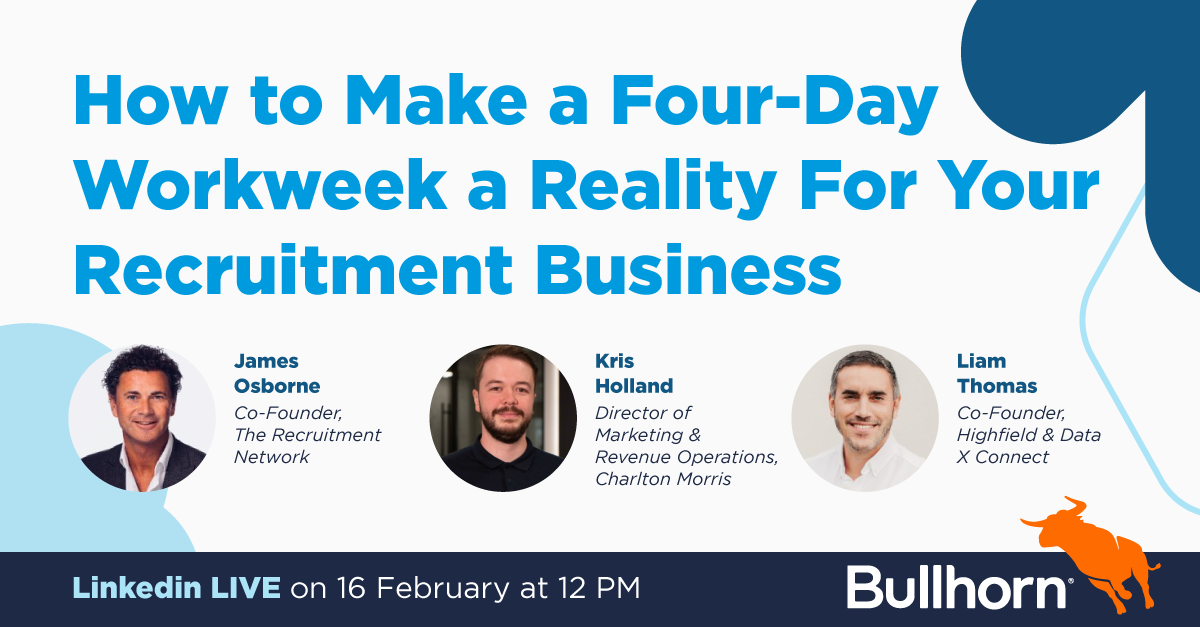 Everyone wants to do a four-day week, but in reality, is it actually feasible? And how exactly do you implement it while maintaining (or even increasing) productivity?
Join James Osborne in this LinkedIn Live where he will interview two recruitment leaders about how they have successfully implemented a four-day week by using cube19 by Bullhorn.
Register for the event here, and all you have to do is be online on LinkedIn at the time of the event (February 16 at 12 PM). 

If you're a recruitment leader interested in how your agency can become more productive even with less time, this is THE event for you.
Let more about cube19 by Bullhorn here.
About the Panel
James Osborne – Chairman of The Recruitment Network
James is a business consultant, advisor, and entrepreneur with an international board-level staffing and recruitment background.
For the past 17 years, James has worked with recruitment business leaders, helping them achieve significant growth, performance improvement and competitive advantages acting as a Non-Executive Director, consultant and strategist for numerous fast-growth recruitment businesses.
James is a passionate speaker on behalf of the staffing and recruitment sector and is the Chairman of The Recruitment Network, the fastest-growing global support and advisory club for recruitment business leaders.
W. www.therecruitmentnetwork.com
LI. https://www.linkedin.com/in/innergy
T. @osborne_tweets / @TheRecNetwork1
Kris Holland, Director of Marketing & Revenue Operations, Charlton Morris
Kris Holland is Director of Marketing & Revenue Operations at talent solutions firm Charlton Morris. During his eight years with the business, he has worked both as a recruiter and marketer and led the implementation of the four day week by leveraging data generated from Charlton Morris.
W. https://www.charltonmorris.com
LI. https://www.linkedin.com/in/kris-holland
Liam Thomas, Co-Founder, Highfield & Data X Connect
Liam Thomas is the Co-Founder of DataX Connect & Highfield Professional Solutions. Both are Global Recruitment firms. DataX focuses on the Data Centre sector, and Highfield focuses on Engineering Infrastructure. The group's vision is to become the most trusted built environment recruiter globally.
He is responsible for leading the business setting the vision, goals, and strategy. He has a keen focus on marketing, automation and business efficiency.
Liam has been in the Technical Engineering Recruitment Sector all his professional career, spanning 19 years. Outside of the office, he is an active STEM Ambassador promoting science, technology, engineering and mathematics career paths at local schools and colleges.
W. https://highfieldps.co.uk and https://dataxconnect.com
Stay in the know with the latest recruitment news and insights
Subscribe and get trends, tips and insights delivered straight to your inbox