4 Key Takeaways from Australia's Top Recruitment Leaders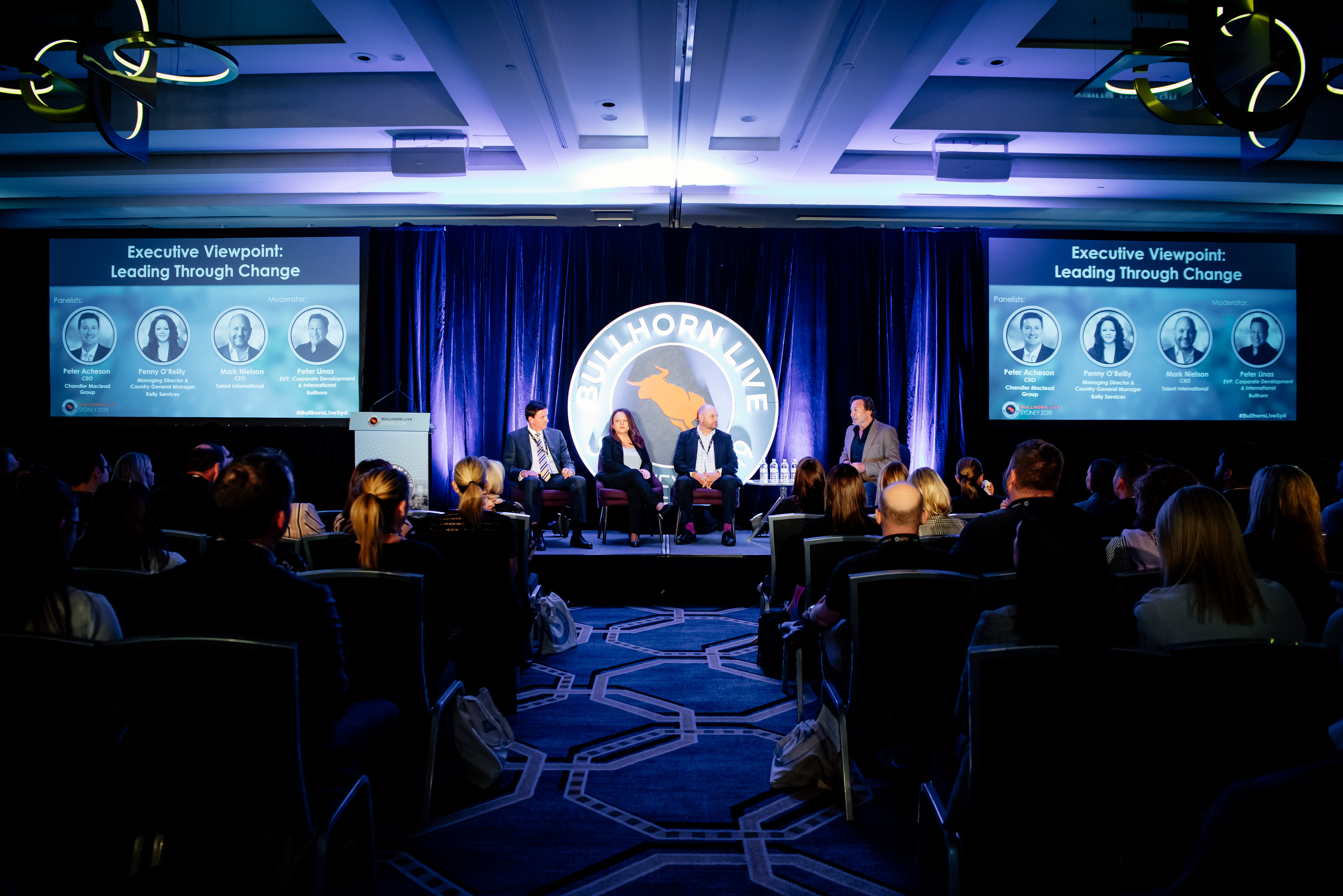 The global recruitment industry continues to evolve. So the question is, are you adapting your business within the local Australia and New Zealand (ANZ) market in order to continue providing the most value to your clients and candidates? We were joined by three of Australia's top recruitment leaders—Peter Acheson, CEO at Chandler Macleod Group, Mark Nielson, CEO at Talent, and Penny O'Reilly, MD and Country Manager at Kelly Services—during Bullhorn Live Sydney to explore this and much more. During the in-depth panel discussion, the three leaders touched on how they attract and retain internal talent and they discussed the impact of new technologies. Read on below to see the key takeaways.
The Local Market Faces a Unique Set of Challenges
Operating a business across ANZ is not easy with the depth and breadth of the two countries. Recruitment professionals must take into account how diverse the market is in ANZ to be successful. Penny's experiences with Kelly Services highlights this: 'When there was a resource boom, it was about moving people into Western Australia. Now it's about moving people out of Western Australia. Additionally, we were dealing with the aftermath of the earthquake in New Zealand and the Commonwealth Games on the Gold Coast', in Queensland.
There is a myriad of different legal and regulatory issues for agencies to keep top of mind not just in the different countries, but across Australia's six different states and two territories. Mark says, 'We need clear definitive pathway, for example, you're in labor hire, this is what you've got to do and that doesn't seem to be anywhere at the moment.'
However, with challenges also come opportunities. The talent shortage has long been a challenge for recruiters, with 74 percent of respondents in our Global Recruitment Insights and Data (GRID) research identifying tight talent pools as the top hiring challenge for 2019. 'Our strengths (as recruiters) come to the fore during talent shortages' says Peter who predicts 'it'll be a great opportunity' for the industry.
Technology Will Compliment Your Processes
How many times have you found yourself thinking about what the potential impact of new technologies will be for your agency? While we don't know the exact answer just yet, the panel agreed it will be positive as long as you embrace technological change. Mark states simply 'It's important in any organisation that we do embrace technology.'
Peter expanded on this by saying technology will 'ultimately be a compliment' to the industry allowing recruiters to do more of what they do best—sourcing quality candidates. He used the example of SEEK, when they first launched they were perhaps seen as a disrupter or competitor to the industry but in reality the platform is a great compliment to recruitment professionals. In order to take full advantage of new technology Penny reminded us, 'it's about building the right business models in order to adapt', so your agency is in a position to take the opportunities when they come.
Attract and Retain Top Talent for Your Agency
Good recruiters are hard to find, so it wasn't a surprise to hear all three recruitment leaders on the panel have made people a key part of their business strategies. Penny emphasizes recruitment is a 'great career path to have, and investment in people is key across the industry.' She goes on by saying, 'one of the most rewarding things (for me) is to see professional growth and development in our teams'
As recruitment becomes less transactional, it becomes more about building relationships with both clients and candidates. For Peter, over the next 3 years the focus is on an 'accelerated investment in people development' at both Chandler Macleod and Peoplebank.
Let's not forget, a recruitment agency's culture has a great deal to do with their ability to retain talent. Mark ensures this is true at Talent, by having a range of programs in place for their internal staff so that he is fostering a great environment where his staff want to stay. They deploy mentor programs spanning across every office, while making sure usually sensitive topics like mental health and diversity aren't hidden away but openly promoted. The result of this inclusive culture for Talent? A reduction of staff turnover by half from two years ago.
The Future is Exciting for Talent and Tech
When our panel of recruitment leaders were asked what excites them the most about the future, two major themes emerged: talent and technology.
The 'people component is what underpins the value of an organisation today', says Mark. The importance of talent both internal and external to all companies today is undeniable and this presents an exciting opportunity for the recruitment industry. Recruiters can be 'that trusted talent partner that can solve talent problems for your clients', Peter stated as the industry moves away from being purely transactional. Mark adds, 'we can make sure consultants are actually true consultants focusing on adding value to customers and candidates.'
New technologies are constantly introduced to the industry and as our panel indicated, they will likely be positive developments for recruitment professionals. Penny is excited in the industry's 'ability to trial and embrace new tech' while continuing to provide the personal touch to clients and customers. She goes on saying 'technology is how the next generation of candidates will want to interact with us.' You should make sure you are utilising or trialling the technologies that candidates will want to use to make the most of these opportunities.
---
Looking for more insights from Bullhorn Live Sydney? Learn how you can make your agency stand out from the competition via marketing here.

Subscribe to the Recruitment Blog
Subscribe for trends, tips, and insights delivered straight to your inbox.