Digital transformation in the recruitment industry: What lies ahead for 2023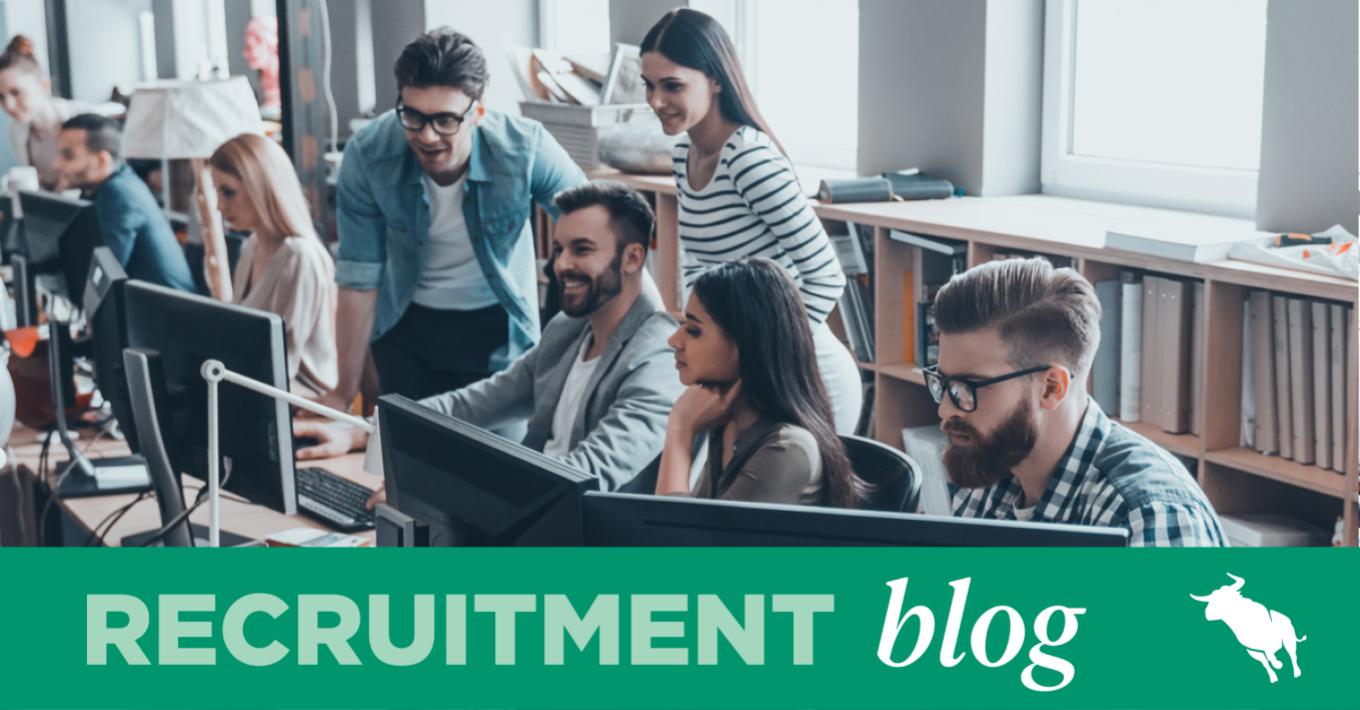 Digital transformation remains on everyone's mind. In this year's Global Recruitment Insights and Data (GRID) Industry Trends Report, over 2,000 recruitment professionals listed it as one of their top priorities. But digital transformation is more than just a buzzword – it's the key to long-term, sustainable growth.
What does digital transformation look like across the recruitment industry? According to our respondents, recruitment agencies have a long way to go when it comes to digitising data, automating processes, and leveraging self-service technology.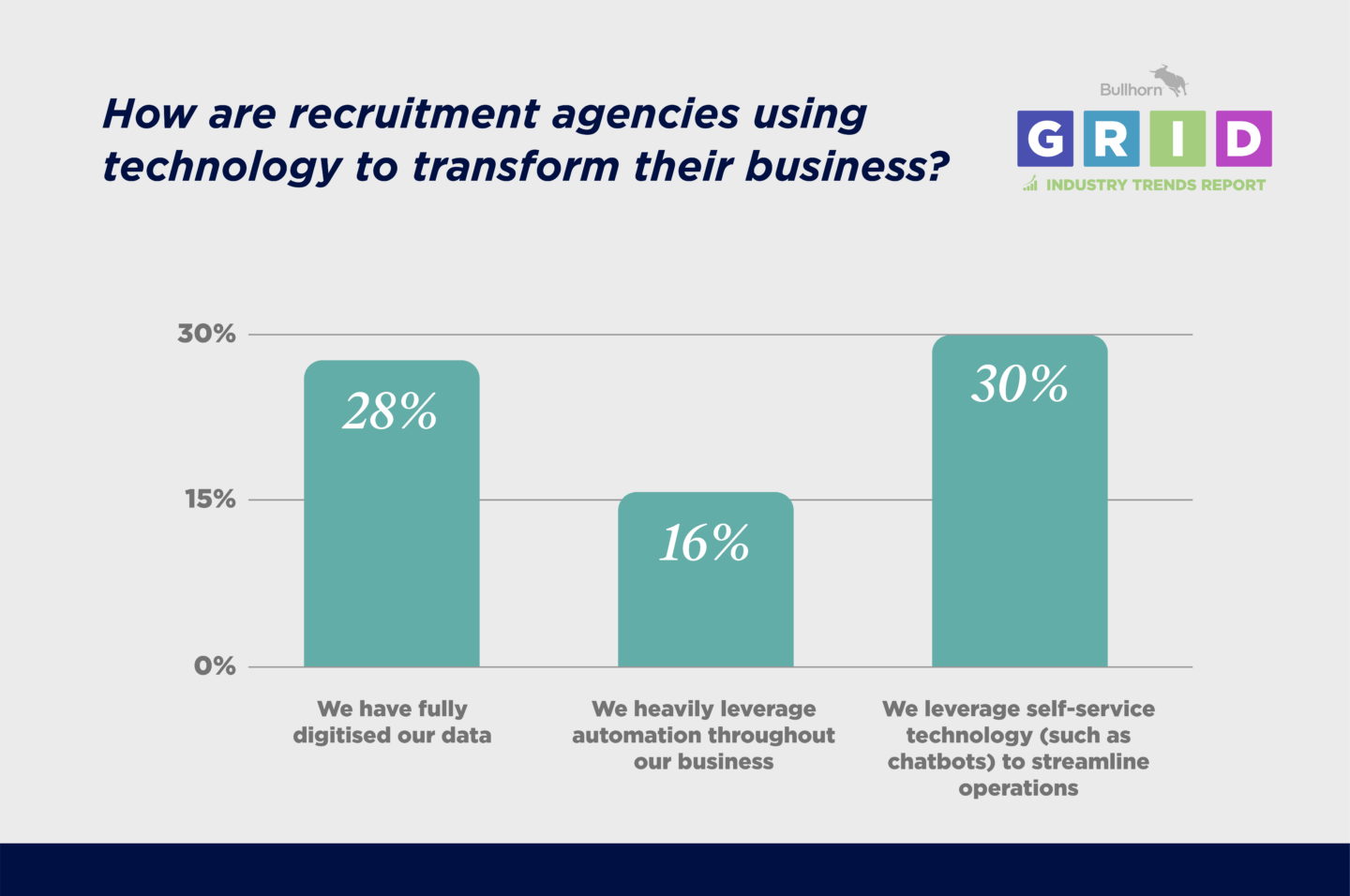 As these trends suggest, nearly half of recruitment agencies are still in the early stages of tech adoption, and almost an additional quarter have no digital transformation strategy in place. There's a huge opportunity here for agencies that do invest in tech to gain an edge over their competitors.
Let's break down how digitisation, automation, and self-service can help you stand out from the competition and see growth for years to come.
Developing relationships
While some may be wary of tech replacing the human element of recruitment, if appropriately used, it should do anything but. Leveraging technology is a way to amplify and nurture relationships with both candidates and clients. 
Think of your ATS/CRM. Is it a graveyard full of outdated and inaccurate information, or is it an active repository of candidate and client details? By maintaining your database, you'll be able to see, for example, how a candidate prefers to be contacted or how long it's been since you've made a placement with a client. Having a database as your single source of truth is crucial to ensuring you have the right details to continue building your relationships.
As 3DIQ Co-founder and COO Tim Walker noted in a recent interview, "It's critical that if you are engaging with candidates, or you're engaging with clients, that all of that information comes back into Bullhorn because then you can understand what's working and what's not, and who's performing and who's not performing."
Instead of taking over your valued interactions with your network, recruitment automation provides consistent touchpoints and reminders to make candidates feel valued. Even an automated "good luck" text on the morning of an interview goes a long way. Billy Davis, Customer Success Manager, Automation, AI, and Talent Platform at Bullhorn, noted, "Recruiters that develop great relationships and provide strong career advice should embrace automation. Automation helps them do that with more people and amplify their impact."
Maximising recruiter efficiency
Embracing technology also leads to considerable gains in efficiencies for recruiters. By automating manual tasks, like cleaning up databases, sending reminders and check-ins, and setting notes and alerts, recruiters can gain valuable time back in their day. Bullhorn customers that use automation save, on average, three hours a day. Think of all your team can do with that extra time.
In a recent case study, Ascent International noted the gains they saw in recruiter efficiencies from implementing automation. They were able to save 15 hours of consultant time per week. "Everything we've done with Bullhorn's Automation tool has been to allow people more time to focus on the quality of their sales process, the quality of their conversations with candidates, and enhancing compliance," said Shayne Simpson, Managing Director at Ascent International Group. 
Empowering candidates
Some agencies take their digital transformation journey a step further with self-service technology. Tools like chatbots and self-service calendars eliminate time-consuming back and forth. Instead, candidates can start job applications, schedule meetings with recruiters, and access key information all on their own terms, empowering them to take the reins of their recruitment journey.
This self-service technology is part and parcel of modern life – think booking dinner reservations to scheduling grocery deliveries – and recruitment should be no exception. "Enjoying a consumer-grade experience throughout the entire hiring journey has become just as important as the work itself," said Andre Mileti, Product Evangelist, Talent Experience at Bullhorn. Self-service tech communicates to your talent pool that you can keep up with the fast-paced world in which they live.
Fueling growth
Investing in tech isn't just an investment in your data and people; it's an investment in the future of your business. Even amid growing economic uncertainty, now is the time to lean on technology to ensure continued growth, whether that means increased revenue or improved candidate satisfaction.
Ascent International is already seeing a boost in their sales figures due to their investment. "That's because our consultants have time to headhunt rather than just sending emails," Simpson said. They're also seeing an increase in their five-star ratings, thanks to the feedback they've received through Net Promoter Survey (NPS) scores. Providing a great experience ensures business health for years to come: "Satisfied candidates eventually become clients," Simpson added.
The data reflects these findings. Our Industry Trends Report found that agencies that reported revenue growth in 2022 were twice as likely to cite digital transformation as a priority and twice as likely to up investments in 2023, as compared to those that experienced flat growth.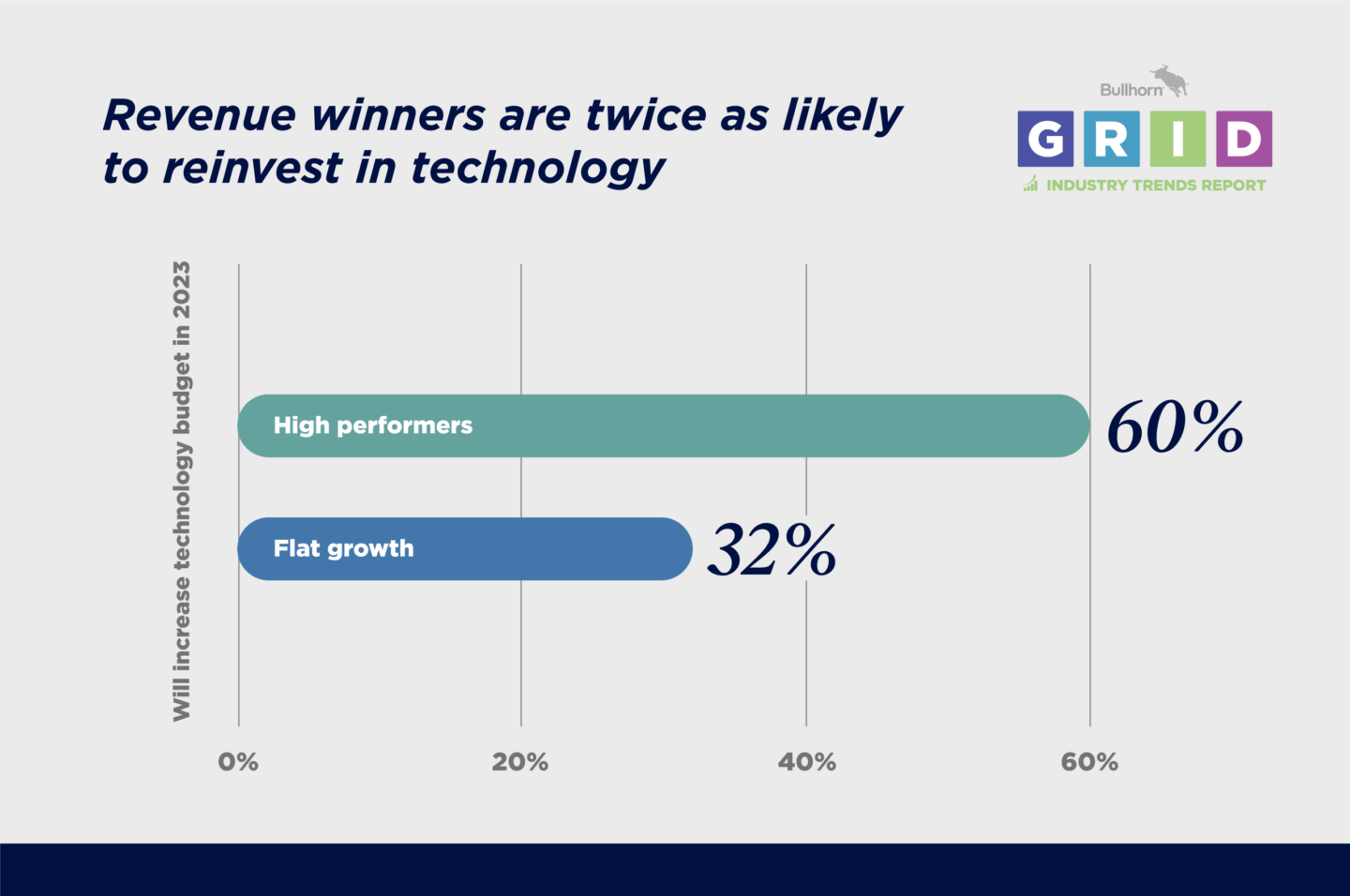 To see long-term growth, provide a top-tier experience to candidates and clients, and empower your team to perform at its best, the answer may lie in doubling down on digital transformation.
---
Looking for more insights on the trends shaping the recruitment industry? Check out the full GRID 2023 Industry Trends Report.
Subscribe to the Recruitment Blog
Subscribe for trends, tips, and insights delivered straight to your inbox.