What Are the Top Recruitment Industry Trends for 2020? [Take the Survey]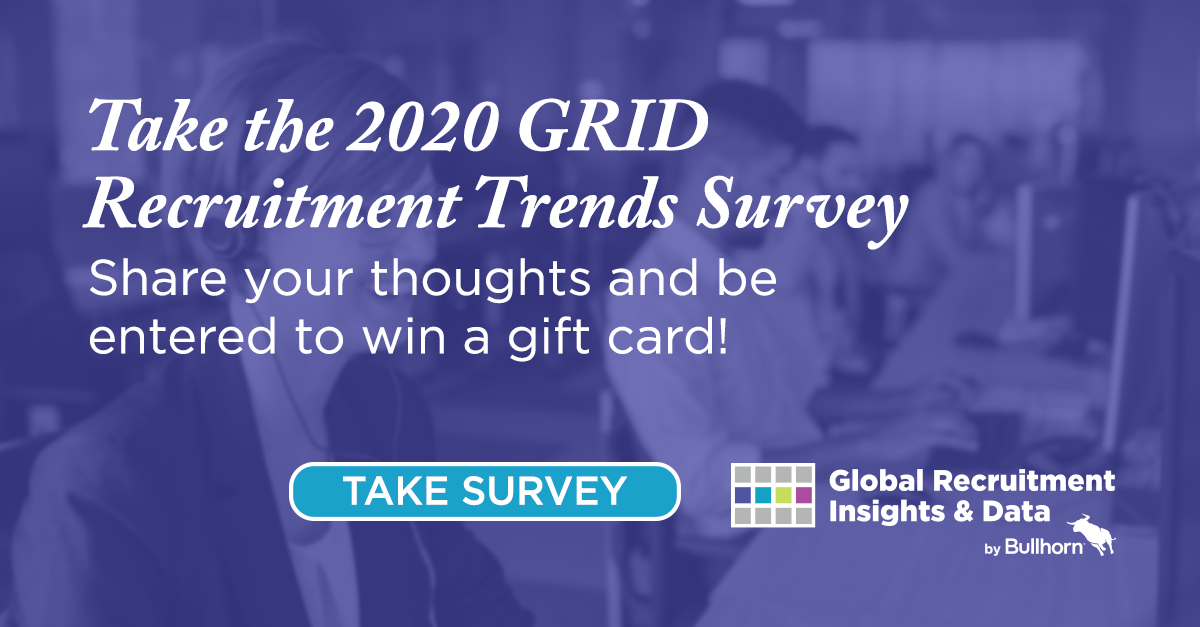 Do you work in the recruitment industry? If so, we want to hear from you!
We launched our annual survey of global recruitment professionals. Each year, we ask pros like you to share what's most important to agencies like yours in the year ahead. The findings will highlight how your peers are viewing the industry, what they say their top priorities and challenges are for 2020, and how they're thinking about hot topics shaping the future of recruitment.
Take a few minutes (less than 10) to share your insights and when the findings are released in early 2020, you'll be among the first to see them and discover how your insights compare with others in your industry. Plus, you'll have a chance to win one of 150 $20 gift cards!

Some of the questions we'll look to answer for the year ahead:
What are the top priorities and challenges agencies say they'll face in 2019? 

How are recruitment agencies tackling the talent shortage?
How do recruitment pros feel about AI and automation?

What are the big ideas agencies need to pay attention to in the year ahead? 
We'll use your responses to surface some of the most significant insights and trends for the coming year so you can see what agencies like yours are focusing in 2020, global and local trends to be aware of, opportunities your agency can leverage to grow your business, and more.

As a refresher, read on for some of the top discoveries from last year's survey. You can also access all of our original research—including new reports that we add throughout the year at our Global Recruitment Insights & Data (GRID) site. 
Top Recruitment Trends for 2019
Recruitment professionals headed in 2019 with the most optimistic outlook in the history of our annual trends report. Expectations for revenue, profitability, and placements exceeded those for 2018. Many enduring themes from the last several years dominated the outlook: recruiting pros are still concerned about the talent shortage above all else, and as a result, most respondents looked to improve the way they recruit and interact with candidates.
Top Priorities
A candidate-first focus dominated recruitment agencies priorities in 2019—candidate sourcing, candidate acquisition, and candidate engagement. We expect this to hold true for 2020. Other top priorities? Embracing digital transformation to improve their operations, developing their employment brand and enhancing their marketing strategies, and working on how they manage relationships with clients.
Hot Topics: Diversity, the Economy, and AI, Oh My!
What do recruiting pros see eye-to-eye on and what splits the room? Respondents overwhelmingly agree: recruitment agencies must embrace digital transformation, employers must accelerate pay increases, and reskilling candidates is critical. Diversity and inclusion was by far the most divisive topic, with respondents evenly split on if the industry has a diversity problem. We'll be diving even further into this topic for 2020.
Read all of last year's findings here. To discover similar insights and help your agency prepare for the year ahead, take the 2020 survey today!
---
We can't wait to hear from you. Share your thoughts today!

Subscribe to the Recruitment Blog
Subscribe for trends, tips, and insights delivered straight to your inbox.