Top AU Recruitment Trends for 2022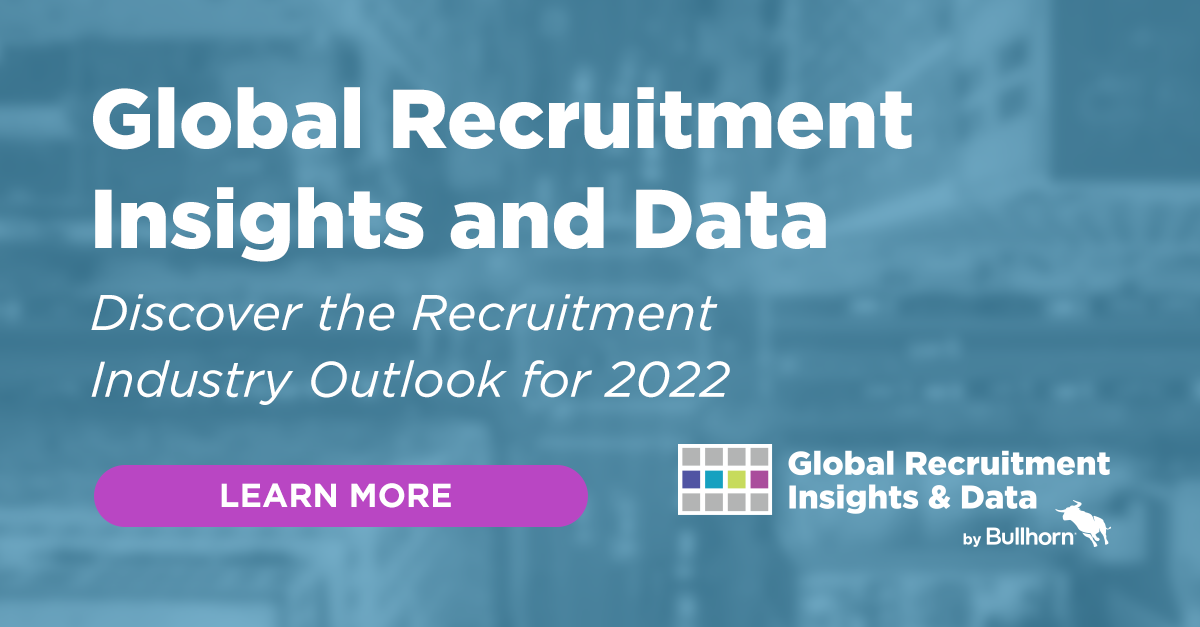 What do recruitment professionals care about in 2022? A record-breaking 4,000+ industry professionals worldwide weighed in with their thoughts on the top priorities, challenges, and recruitment trends that will be top of mind in the coming year.
There are so many compelling findings to share, we couldn't possibly fit them all into one article. You can explore the top recruitment trends in detail on the Global Recruitment Insights and Data (GRID) report page. Find everything you want to know about recruitment in the year ahead in one easy place.
Discover Top Recruitment Trends for 2022
We've curated some of the top recruiting trends and takeaways from the GRID site here. Read on below for some of the top insights from this year's survey.
Recruitment industry outlook: a strong rebound shapes optimism for the year ahead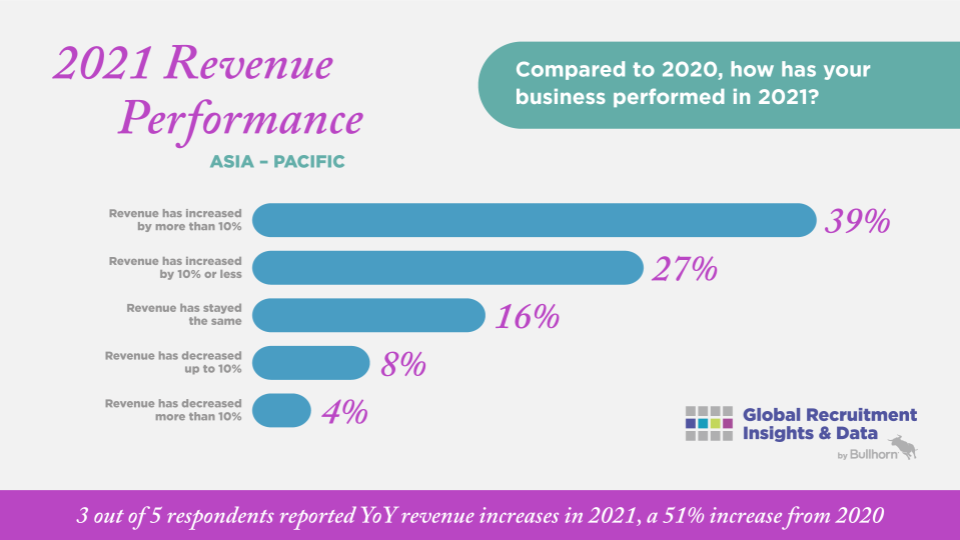 2020 was a historically challenging year for recruitment agencies, with 2 out of 5 agencies reporting year-over-year revenue losses. For most agencies, 2021 represented a tremendous rebound. Three out of five respondents reported revenue gains in 2021 and just 1 out of 7 reported year-over-year losses.
Agencies specialising in IT/Technical clients and agencies that reported multiple verticals reported the strongest performance in 2021, with 68 percent of respondents in each group reporting a YoY increase in revenue. Light Industrial agencies were on the other end of the spectrum with just 50% of respondents reporting YoY revenue gains from 2020.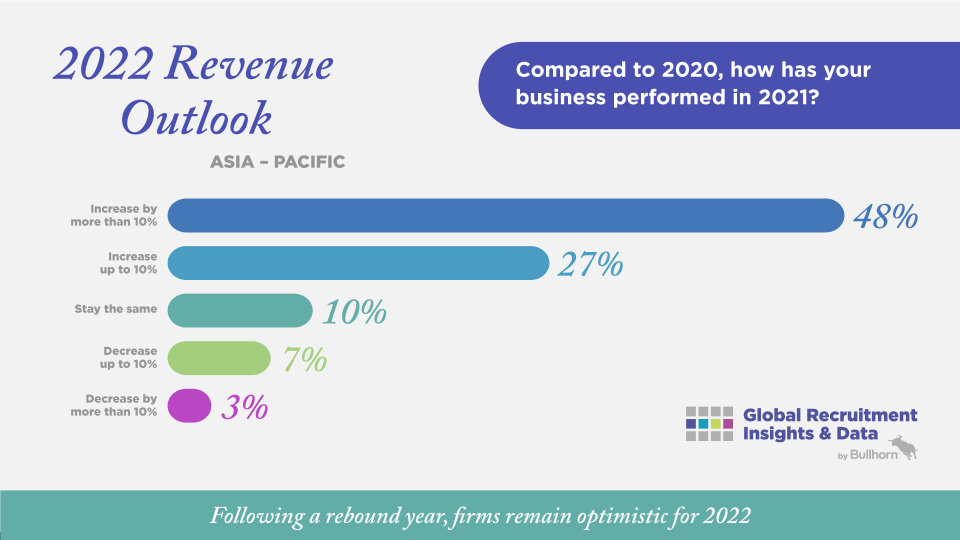 Roughly 70 percent of respondents expect revenue to increase in 2022. Above all else, an agency's confidence in its talent acquisition propositions impacted its expectations for the year. Respondents who cited candidate sourcing as a strength were 21 percent more likely to predict revenue gains in 2022 than those who rated their sourcing as below-average.
Top priorities for recruitment agencies in 2022: talent dominates the agenda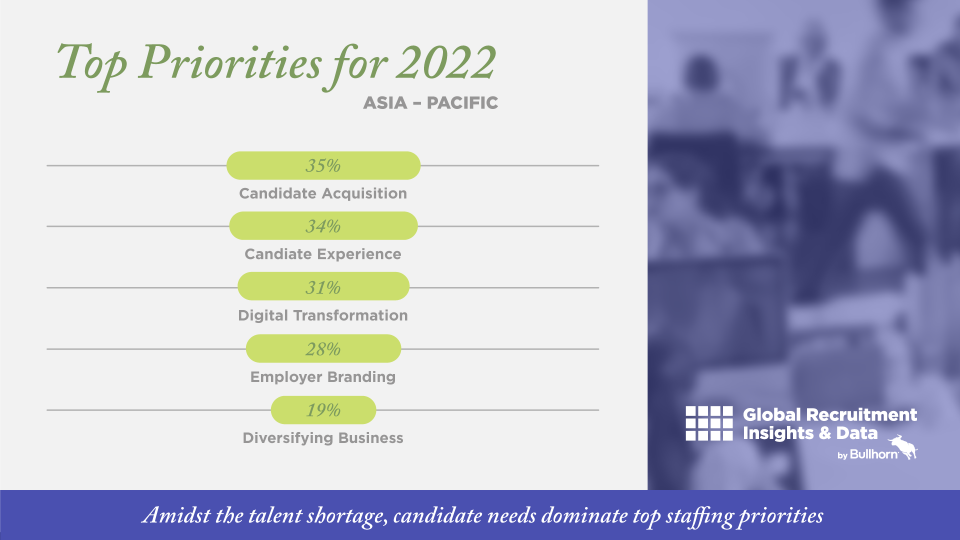 The talent shortage is once again the top challenge for agencies in 2022, leading to a talent-centric focus for the year ahead . Agencies cited candidate acquisition as the top priority for the year, with digital transformation and improving the candidate experience rounding out the top three. For the first time in the history of the trends report, winning new clients is not a top-three priority for recruitment agencies.
Candidate Acquisition

Candidate acquisition is the top priority for agencies and respondents cite candidate sourcing as the most challenging part of the recruiting lifecycle. Despite this, less than half of agencies automate candidate sourcing (or any recruitment process).

Digital Transformation

The last year saw a dramatic rise in the number of recruitment businesses employing a digital transformation strategy. Eighty-four percent of global recruitment agencies now have a digital transformation strategy in place, compared to 43 percent a year ago. Digital transformation adoption has more than tripled since 2019 when just 25 percent of agencies reported the presence of a digital transformation strategy.

Candidate Experience

While agencies cite candidate experience as a priority for 2022, eighty percent of agencies say they provide an excellent talent experience. Talent tell a slightly different story: a full one-third of talent have an unfavorable view of recruiters. The most common reason? Poor communication.
Top recruiting challenges for 2022: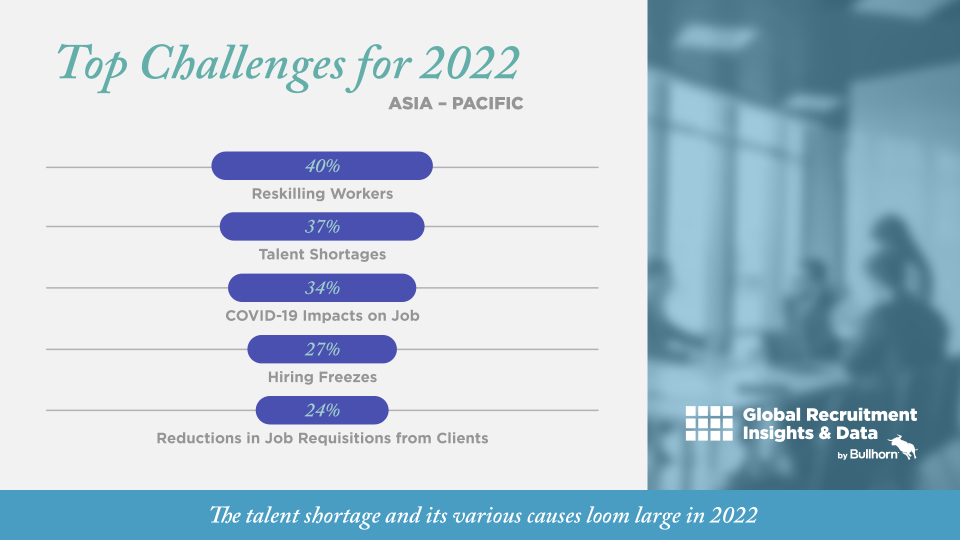 Last year Covid-19 topped the list of challenges for agencies. It's no longer the top spot, but its impact on the labor market and the way business operate still looms large.
Talent shortage

Across all regions, roughly half of respondents cited a talent shortage, but the response varied greatly by recruitment type and verticals served: 72 percent of all temp agencies and 82 of light industrial agencies reported a shortage.

Covid-19 impact on job

Respondents say Covid-19 is still impacting their ability to do their jobs, directly and indirectly. Recruiters cite the increase in remote work and a lack of face-time with talent as a top obstacle to providing an incredible experience.

Reskilling workers

For the first time ever, reskilling workers is a top-five challenge for agencies, representing the talent-first landscape defined by a need for qualified workers, fast.
Interested in learning more about the challenges, opportunities, and ideas that will shape the staffing industry in the year ahead? Read the GRID 2022 Staffing and Recruiting Trends Report today!

Subscribe to the Recruitment Blog
Subscribe for trends, tips, and insights delivered straight to your inbox.