Now Available: 2015 UK Recruitment Trends Report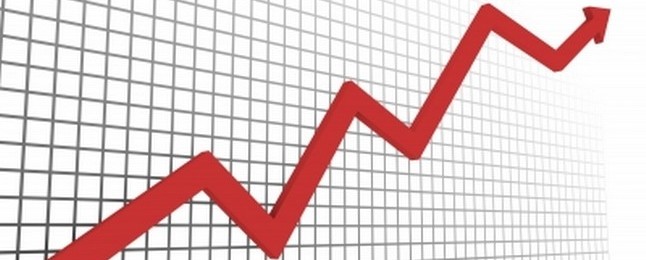 Today we released our 2015 UK Recruitment Trends Report – "Growth and Impact." This year, we once again examined key recruitment industry benchmarks, including hit rate, fill rate, time-to-fill, recruitment consultant remuneration, agency revenue, importance of various metrics, and the most successful candidate sourcing strategies. The report is based on a survey of 217 recruitment agency professionals.
Download it for free:  2015 UK Recruitment Trends Report
Over the next several months, we'll be sharing in-depth data on recruitment industry trends from the report, along with some valuable information that didn't make it into the final report. This particular post will break down some revenue- and metric-based highlights from the Trends Report.
Revenue Performance and Expectations:
After an excellent year in 2010, when 88% of recruitment agencies met or exceeded their annual revenue goals, that percentage plummeted down to 67% in 2011. While the current success rate still hasn't climbed back up to the heights of four years past, the percentage of agencies achieving their revenue goals has risen at a steady pace since the downturn in 2011, up to its current state at 85% of agencies meeting or exceeding their revenue goals in 2014.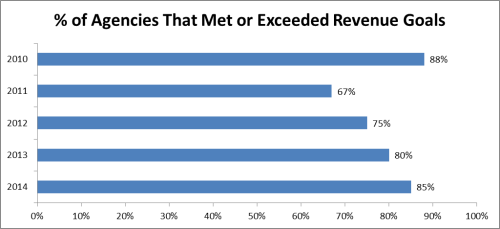 UK recruitment agency revenue expectations for 2015 are also high, with 93% of agencies expecting to increase their revenue from 2014 to 2015, but not quite as high as 2014's 95%. So while this could be perceived as a decrease in expectations, 31% of agencies expect to increase their revenue by more than 25%, an 8% increase from last year. Additionally, 71% of respondents expect to increase revenue in 2015 by more than 10%, an 11% increase from expectations for 2014.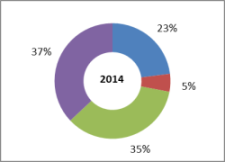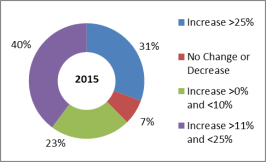 Metric Importance and Performance:
Just as in the United States, fill rate and total number of placements were voted the most important metrics for UK recruitment professionals, each taking more than 50% of the "most important" votes in their respective categories of "recruiting delivery process metrics" and "revenue-driving performance metrics."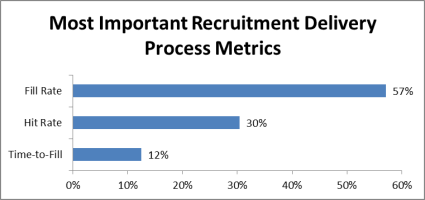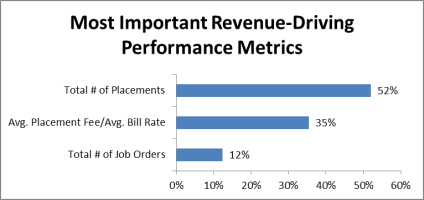 Just as in the United States, respondents from temporary agencies favoured their total number of job orders more than respondents from all other recruitment types, at the expense of credence given to total number of placements. Temporary agency respondents also thought more highly of time-to-fill than all other recruitment type respondents did. Speed and opportunity quantity are at a premium in the field of temporary recruitment, and it shows in the value placed on time-to-fill and job order quantity by temporary agencies (though these metrics are still considered the least important by all recruitment types).
Remuneration figures and revenue earned per recruitment consultant/salesperson, to help you determine the value of each employee on your staff. For instance, in spite of a consistent rate of remuneration increase over the past four years, with between 57% and 60% of respondents receiving a pay rise, 86% of the same respondents expect a pay rise in 2015.
Industries for which recruitment has proved difficult recently, like the construction industry (indicated by its low average fill and hit rates), may be fertile ground for recruitment agencies looking to move into an industry in need of a strong recruitment presence.
The most popular sourcing strategies by agency size and primary recruitment type – give your agency the best tools and resources to succeed in your segment! Temporary agencies, for example, find more value in re-hires and job boards than agencies of other recruitment types, likely due to the reliability of past hires and the low qualifications necessary to be placed into a temporary position.
Stay tuned for more industry data and insights in the coming weeks, and download "Growth and Impact" – the 2015 United Kingdom Recruitment Trends Report – here: 2015 UK Recruitment Trends Report
Subscribe to the Recruitment Blog
Subscribe for trends, tips, and insights delivered straight to your inbox.