The Power of Customer Choice: Bullhorn Acquires Talent Rover and Jobscience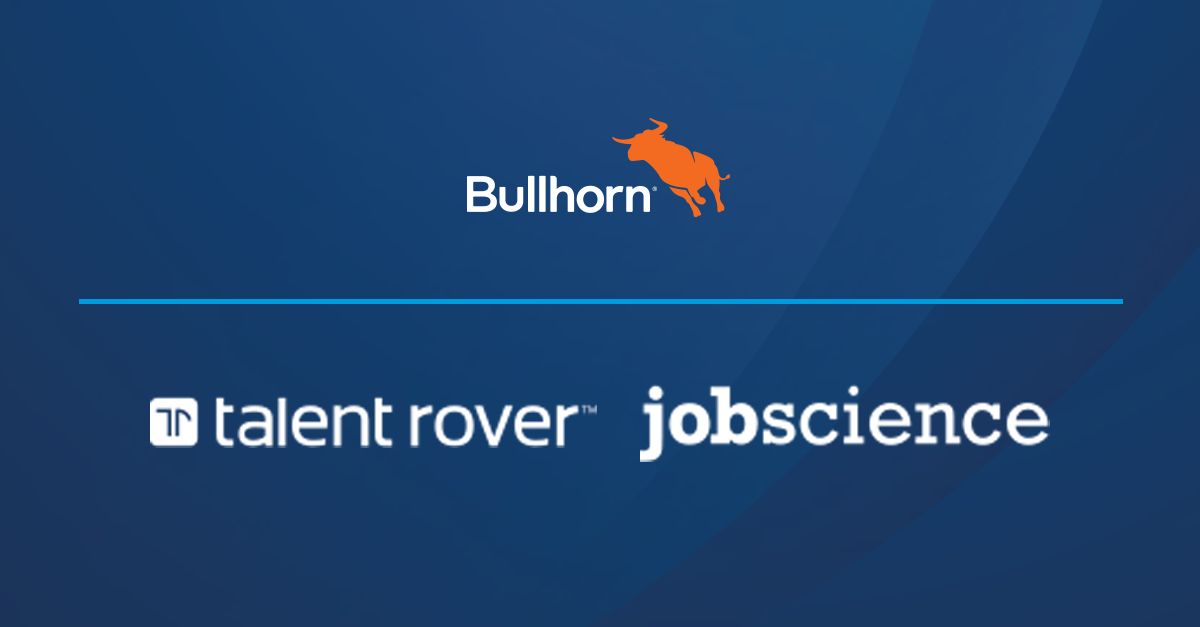 Today, Bullhorn acquired Talent Rover and Jobscience, two leading providers of front and middle office solutions built on the Salesforce platform. Every decision we make is guided by our core purpose: to create an incredible customer experience. And today's announcement is true to form. These acquisitions are important to our customers for two key reasons: 1) they help us deliver greater customer choice around the world, and 2) with Talent Rover's and Jobscience's additional product expertise, they bolster and speed development of the solutions in our roadmap for both our front and middle office offerings.
Why did we acquire Talent Rover and Jobscience in particular? To deepen our investment to serve companies that have made a commitment to the Salesforce platform and partners in all parts of the world – just like we did when we acquired the Salesforce-powered Connexys in mainland Europe last year. The Bullhorn platform has always been our core offering as a company, and we will always continue to innovate on and grow the platform. However, our experience with Connexys demonstrated that we also have a compelling, demand-driven opportunity to successfully partner with Salesforce as we look to serve a broader range of recruitment companies.
The global staffing industry is evolving at an unprecedented rate and is creating new, previously-unforeseen challenges for firms. As many of our global enterprise customers look to rapidly scale their businesses while also adapting to changing candidate preferences and evolving client needs, they require recruitment software that can accommodate their specific, differentiated strategies – built with agility and extensibility in mind.
To support customers in navigating the new world of work, we've always offered an open ecosystem approach, evidenced by the largest staffing-centric Marketplace with more than 100 pre-integrated partners. Now, with Salesforce offerings for companies across the regions we serve, we'll expand our customers' options for improving their business operations, and over time, we'll deliver new and expanded capabilities as part of our Salesforce offerings, including best-of-breed VMS integration and middle office solutions – all while devoting even greater resources to growing and strengthening the core Bullhorn platform.  
It has a been a huge year for Bullhorn customers, with the acquisition of Connexys in September, PeopleNet in November, and now Talent Rover and Jobscience. What all of our recent acquisitions have in common is that they give our customers more choices, expanding the breadth and depth of solutions to which they have access – the breadth of platforms we support (Bullhorn or Salesforce), and the depth of capabilities we deliver (front office, middle office, back office, or managing the entire recruiting lifecycle).
To Talent Rover and Jobscience customers – welcome to the Bullhorn family. You're benefiting from Bullhorn's 19-year heritage in the staffing and recruiting industry supporting more than 8,000 staffing and recruiting companies and 100,000 users worldwide. Our mission is to create an incredible customer experience, and that includes access to world-class support and implementation resources which will now be at your fingertips. And, of course, I promise you that we will continue to support, invest in, and advance the products that you are using, helping you drive business growth.
Bullhorn customers: these acquisitions bring even greater numbers of talented people into our organization – smart, innovative thinkers who are joining our team with the goal of making all of our customers successful. They have an incredible depth of staffing and technology expertise that they will put to work in making our core Bullhorn platform as well as existing and new products even stronger, and in delivering incredible service to our customers around the world.
Additionally, the similarities between our companies from a customer and culture standpoint are strong, and bringing Jobscience and Talent Rover into the Bullhorn ecosystem will help us better serve you. Both Talent Rover and Jobscience have built fantastic businesses. For instance, Jobscience is the largest provider of recruitment software on the Force.com platform. And Talent Rover has fantastic relationships with several of Bullhorn's largest customers.
And for all of our customers, Bullhorn's acquisitions of Talent Rover and Jobscience mean that we'll be able to deliver our product roadmap much more quickly than imaginable just a year ago. We now have many more employees coming to work every day to create technology that helps our customers build better businesses and grow faster, and ultimately put the world to work.
Thank you for your continued partnership. To learn more, please take a look at our press release.
-Art
Subscribe to the Recruitment Blog
Subscribe for trends, tips, and insights delivered straight to your inbox.