Investing in Salesforce? Why Buying, Then Building Can Be a Great Decision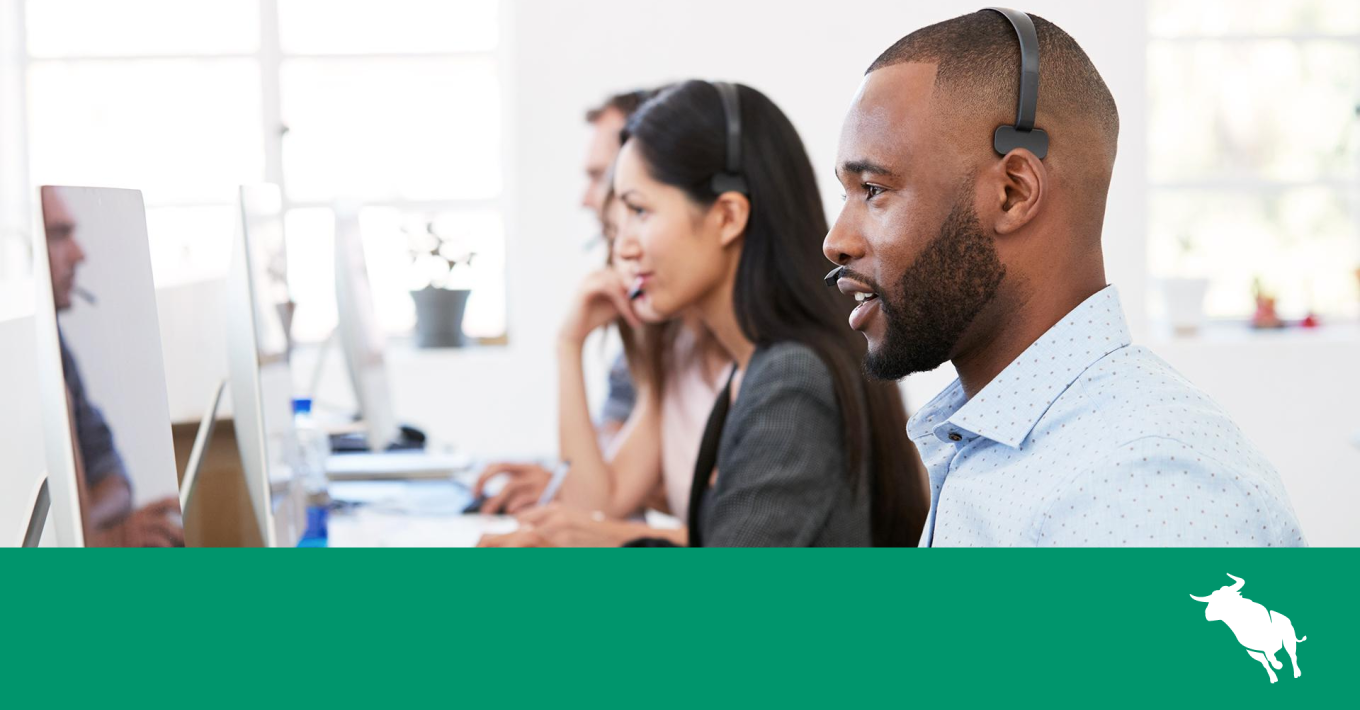 If you've ever been involved in choosing and implementing technology for a business, you're familiar with the two typical strategies: either buying an off-the-shelf application or building one to suit your business needs and solving specifically for your company's pain points. 
When it comes to recruiting systems of record, buying a system is much more advisable than building one from scratch for multiple reasons – having a software partner with expertise in recruitment projects, reducing risk, and being able to deploy and get to market more quickly. However, many businesses feel they want to make their system truly their own and create a differentiation strategy through their tech stack.
We believe that there's a hybrid approach that may be the best of both worlds – to pick a provider that allows for extensibility, deploy their product to create a faster path to value, then once you are up and running and feel you need more customisation, to build on top of it and truly make it your own. 
How Buy and Build Are Different
While the strategy you choose for your business is based on many factors, from budget to stakeholder preferences to internal resources, both buying an off-the-shelf application and building your own have advantages and disadvantages that may impact your decision.
Buying
Buying a system off the shelf is the advisable strategy for recruitment businesses who want less risk and best-practice functionality deployed by proven vendors. There is an added benefit to working with a provider who looks at your business holistically instead of offering a point solution. 
Buying doesn't mean that you cannot make a system your own, and it doesn't mean that you cannot differentiate your services from your competitors. It is simply a strategy to minimise risk and accelerate your speed to value. There's no point in reinventing the wheel when lots of best-practice functionality has already been built by experts and tested by the market. On top of that, buying usually means that there will be new functionality rolled out at a regular cadence, as any cloud-based software vendor worth your time will be investing in R&D and innovation. 
A vendor does more than provide software – they have the expertise they can lend to make sure your project is successful, you can negotiate support SLAs with them, and there will usually be well-defined training materials and knowledge hubs. Working with an industry expert like Bullhorn will result in a more successful project due to deep industry knowledge and expertise.
Pros and Cons of Buying a Recruitment Platform:
Pros:
Less risk
Transparent cost structure
Faster path to value
Out-of-the-box best-practice functionality
Regular release cadence of bug fixes and new features
Cons:
May not fit every need of your business from the beginning
Dependent on the provider for availability, security, and performance (so choose wisely)
If niche player, it can be difficult to find implementation partners with expertise to deploy
Building
Building your own recruitment application provides you with software that you know is fit for your business as long as you get the requirements gathering and planning done right and communicate it efficiently to the teams building the application. It also gives you the ability to drive a differentiation strategy through your underlying tech stack and be the sole proprietor of the technology. 
However, building is also a risky and costly endeavor. Enterprise projects in the recruitment space can take two or three years to complete. And like all build projects, they may run over deadlines and budget. You can get stuck building out basic functionality instead of working on what's most important: your competitive differentiators. 
If you are outsourcing the build, you will still be dependent on your application development company. If you are using internal resources for the build, you risk the chance that they become the single point of failure, as they hold a great deal of knowledge on the entire system. 
Any cloud platform you build will still be prone to outages and downtime, and on-premise systems can't guarantee 100% availability either, so the promise of full control is not entirely true. 
We've summarised the pluses and minuses of building your own recruitment application below:
Pros and Cons of Building a Recruitment Platform:
Pros:
Tailored to your company's needs
The technology is proprietary
Differentiation from competition
Cons:
A risky approach that needs a lot of time and investment, CAPEX and OPEX
No new functionality rollout cadence (usually)
Overly dependent on the SI or internal resources
"Buy, Then Build" with Salesforce for a Faster Path to Value and Differentiation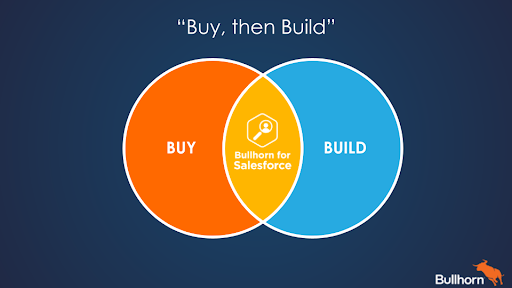 We believe there's a third and better strategy for Enterprise application development in recruitment: the "buy, then build" strategy. This is when you choose a system-of-record provider with 70-80% functionality ready and then build the rest on top, in-house, or with an external team. We strongly recommend that you phase out your project and focus on the first stage of making the rollout of the bought functionality successful first, then evaluate for the gaps in the system and only afterward start the "Build" part of the strategy. 
This approach brings together the benefits of both the buying and the building strategies – you get less risk in your deployment, a knowledgeable and tested partner, but also the ability to differentiate from competitors, truly make the system your own and responsive to the changing needs of the market and your business model. And the biggest benefit of not starting from scratch may be faster differentiation. Instead of getting stuck at the beginning stage and reinventing the wheel, you deploy the best-practice layer as-is to accelerate the differentiation stage. 
A platform that fits this strategy must be extendable through either clicks or code, but preferably both. You should also have a marketplace of other software tools available to choose point solutions and microservices that you will be able to plug into your platform. There must be open and configurable APIs to extend the system to others in your tech stack. 
The Salesforce platform fits the bill on all of these requirements, so you're looking in the right place. It is extendable through clicks and code, has a broad marketplace in the AppExchange, as well as a host of solutions with the same data model on the same platform that would complement your recruiting system of record, like Sales Cloud or Marketing Cloud. There's a worldwide community of Salesforce application developers and system integration providers who will have the experience needed to extend the platform if you want to outsource customisation work. 
Bullhorn for Salesforce is a recruitment-specific Enterprise-grade system of record that provides you with the recruitment-specific best-practice base layer of functionality you need to get your project up and running while allowing you to build on top of it to make it your own. As a Salesforce-based solution, it has all the same platform benefits while also being a solution created by recruitment experts. It is the accelerator to market for companies that want best-practice functionality and the ability to build on top. 
There are three releases per year where new functionality is rolled out, with bug fixes and more minor enhancements released in-between. Bullhorn also has an in-house team of professional consultants who are knowledgeable in both Salesforce and recruitment and will work with you to define your customisation requirements. 
---
To find out more about our Salesforce solution, contact us at sales@bullhorn.com or request a demo.

Subscribe to the Recruitment Blog
Subscribe for trends, tips, and insights delivered straight to your inbox.