Master your talent engagement strategy with Connected Recruiting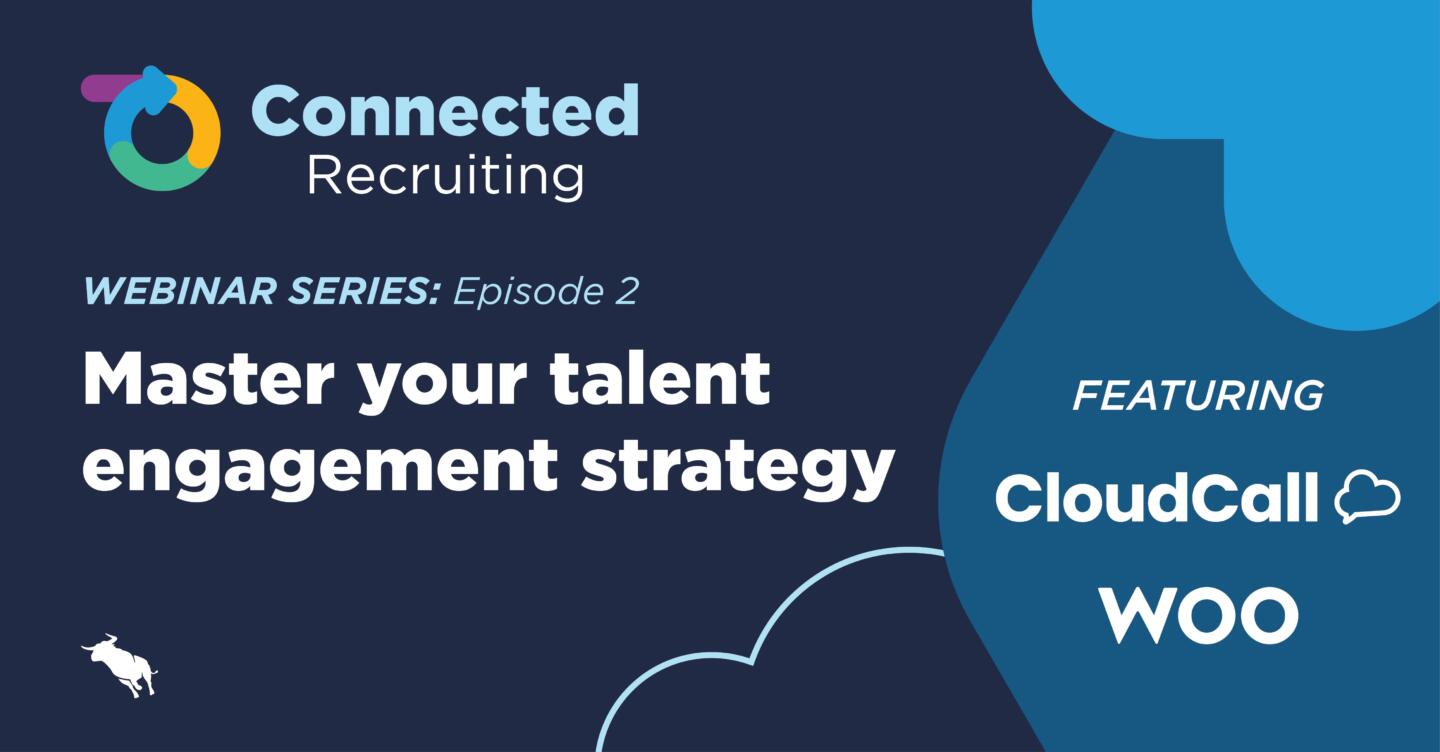 With recruitment agencies facing an increasingly competitive market impacted by talent shortages, Connected Recruiting is emerging as a meaningful way to create lasting impact. 
As agencies move forward with digital transformation, it's important to understand how to combine the power of technology alongside recruitment and marketing best practices so that you can master your talent engagement strategy. Are you leveraging one of your most valuable assets—your existing talent pool? 
With key insights on engaging candidates throughout the talent lifecycle, our Connected Recruiting strategies can help you: 
Build talent communities within your database 

Transform the way you communicate with candidates

Help your team be more productive
With speed and first impressions key to a competitive market, focus on the talent you already have a relationship with. Applications are starting to increase to pre-COVID levels, so agencies are starting to focus on the quality of applications instead of the quantity. This requires methods that can help them be more agile and cost-efficient in the market, including a shift to exclusivity rather than simply using the same big job boards that everyone can access. Think about building talent pools that can help you maintain engagement consistently so that your business is differentiated.  
Leverage website technology to create great first impressions and deliver a more engaging experience for every visitor, which leads to increased conversion rates. 

Multi-posters and search and match solutions will help you centralise your sourcing process for better visibility and speed, while reducing cost duplication. 

Your existing database is a valuable asset that you have exclusive access to. 

Your ATS is a dependable and cost-efficient solution that your competitors are likely not utilising. The average agency fills just less than 30% of its total placements through existing candidates in their database, according to

Bullhorn research

.
First, treat your database like a community—not just a warehouse. Having an omnichannel engagement solution will help centralise information across devices and encourage collaboration. It will also minimise the risk of information getting lost due to conversations on personal devices. With competitors under the same pressures to meet large targets in a fast-paced environment, sourcing within your community, from a talent pool that your competitors do not have access to, is a meaningful incentive. 
"You're making sure that the candidates are well-informed throughout the journey," said Sean Hopkins of CloudCall. "It's important to be able to talk to the candidate instantly rather than fumbling while somebody searches the database."
Decrease your organisation's reliance on external sources. If you can leverage your database more effectively, you are going to naturally lower the cost of talent acquisition. Not sure where to start?
Build a re-engagement campaign where you can increase engagement levels with passive candidates. 

If your consultants are not confident they can trust what's in your system, employ data refresh campaigns to start updating the database. 

Job matching campaigns are also valuable for suggesting jobs. Keep that communication going because you are providing a consistent candidate experience.
Automation won't replace recruiters—even in an era where automation is increasingly sophisticated. Instead, automation is there to empower recruiters. It's about initiating those important conversations on their behalf. "Technology can certainly add to that experience," said Hopkins. "But they need to have information up-to-date and have the capabilities to make those calls with the least amount of distractions so that they can really focus on the candidate to provide the experience that the candidate's expecting as part of that process."
By creating a more personalised, omnichannel talent experience, recruiters will also make the experience more seamless for themselves. "Ultimately, most recruiters I speak to want to do less admin because they really care about the relationship work," said Hopkins. Adding that a differentiated, more personalised experience, helps them feel empowered in their day-to-day jobs.  
When it comes to helping your team improve productivity, speed is key. "We all know good candidates go fast," said Daniel Zargari of Woo. "You want to have solutions within the click of a button." Encourage a data-first mindset among team members—with your database as the single source of truth. Start with a small focus group of people who are early adopters. "If a larger team sees a few people succeeding with candidates from Bullhorn, that's going to capture [interest] very quickly. Have a positive approach in combination with giving them the right tools."
If this sounds overwhelming, know that the sooner you implement things like automations, the better off your organisation will be as the younger generations become part of the workforce. Start small and your business will be better equipped as it grows. 
---
For more best practises to win the race for talent, watch the Connected Recruiting Webinar Series.
Subscribe to the Recruitment Blog
Subscribe for trends, tips, and insights delivered straight to your inbox.