Recruitment Innovation Exchange: Zaidy Ramirez on Leaders Shaping Recruitment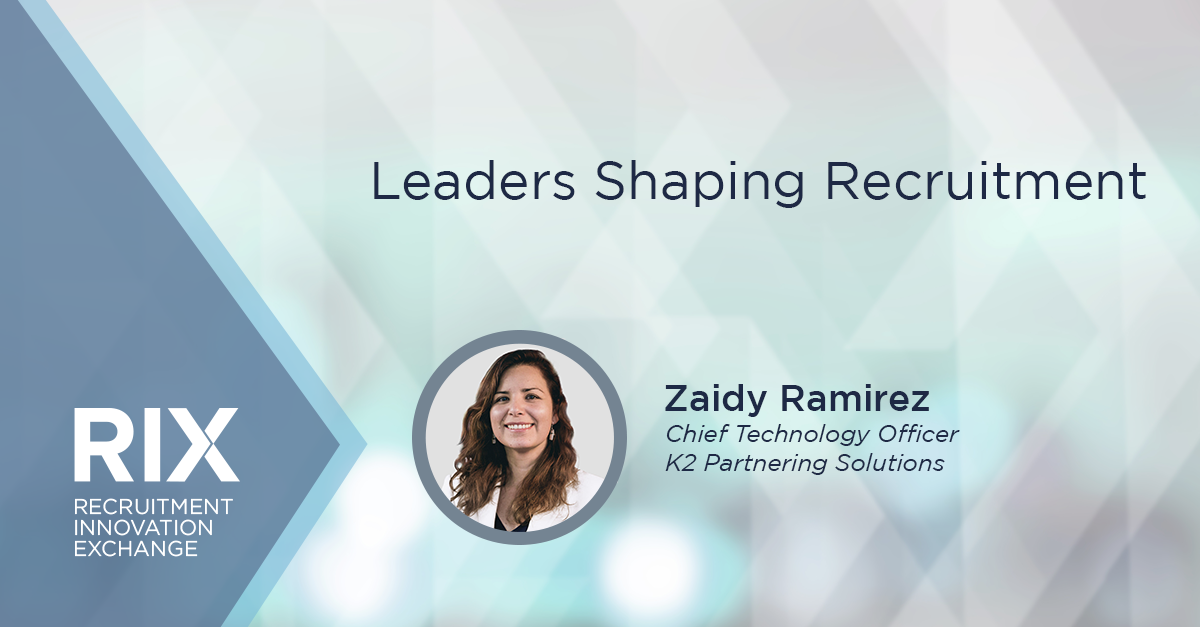 Zaidy Ramirez, CTO at K2 Partnering Solutions, sat down with Bullhorn VP of Global Enterprise Strategy and Operations, Leah McKelvey, to look at the role of leadership in recruitment and the significance of digital transformation. 
Developing a passion for the logic of coding and IT at the age of 13, Zaidy pursued technology in both her educational and professional career. Prior to entering the recruitment industry, she gained a wealth of experience in programming and owned her position as a woman working in technology. 
This motivation to face challenges head-on and determination not to give up is something Zaidy brings to her role and team at K2. She highlights the importance of enabling staff to feel important; "it's not just about the code they write – it's about building their confidence and security that they will be heard". This mentality is one that has seemingly paid off, with K2 expanding to a team of over 30 people, including six women on the tech side. 
Zaidy notes that Digital Transformation is another key factor to consider when thinking of recruitment success. "Digital transformation is the reinvention of existing business processes facilitated by technology" she explains. Using digital transformation to streamline processes across the company is not without its challenges Zaidy notes, but it allows recruitment pros to empower clients to meet the talent demands of their technology needs, "while enabling strategies in the workforce ecosystem through education and human cloud communities". 
A big part of embracing digital transformation at K2 is focused toward the automation of repetitive tasks and harnessing technology to provide cutting-edge human cloud solutions to clients and talent. The employment landscape is changing fast, and it's important for enterprises to remain as competitive as possible.  
You can check out the full interview with Zaidy here on the RIX website. 
Zaidy joins us at Engage London this September for a panel session dedicated to 'Investing in Innovation'. So, be sure to register today – if you haven't already – and save your seat to hear more great insights! 
---
More about Engage London 
Discover how to more effectively engage talent, leadership, and the future of recruitment at Engage London. Over two full days, recruitment leaders and practitioners will come together for unparalleled industry insights and tactical Bullhorn product training. Engage is the best event to make new connections and learn from the brightest minds in the industry, but is still intimate enough that you'll see some of your favourite recruitment experts, connections, and friends.
Subscribe to the Recruitment Blog
Subscribe for trends, tips, and insights delivered straight to your inbox.