Behind Bullhorn: Mike Fleming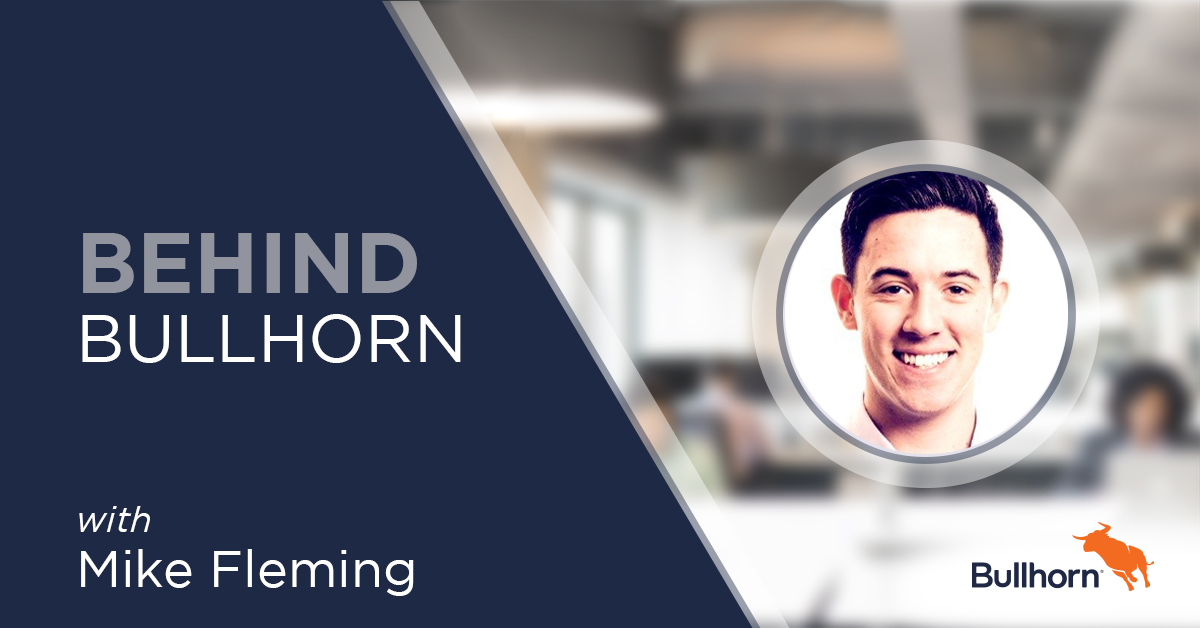 At Bullhorn, we've made it our mission to create an incredible customer experience, and in doing so, we've hired some incredibly talented people who put our core purpose into action every day, in everything they do. Introducing Behind Bullhorn: A spotlight series on those employees, bringing to life the unique personalities that drive our business.
We begin our series with Mike Fleming, Bullhorn's Business Development Manager, Global Lead. Mike plays an important role at Bullhorn, sitting on the fence between marketing demand generation and sales, leading a junior sales team of Business Development Representatives (BDRs).
The Doorway to Bullhorn
The BDRs are the first point of contact for any prospective customer, and Mike's day-to-day role includes ensuring that the team is prepared with the tools to make these conversations meaningful. "When someone gets on the phone with us, it's important that they know they're in right place, but also that they're talking to a human," says Mike. And while these conversations are important, cultivating professional growth is the most rewarding part of Mike's role.
"I like to see others succeed," Mike says. "Having my three or four initial hires move into sales and succeed has been a proud moment to me. They make up a significant portion of the team and are now driving a really positive experience. Seeing how far they've come has been incredibly rewarding."
Training the Team
Another important aspect of Mike's job is the role he plays in preparing his team to take the next step in their careers.
"I really try to hone them as professionals," Mike says. "I teach them what it's like and what it takes to work in an office. Whether you look at it personally or professionally, it's important that they understand how their brand fits, how they see themselves within the team and organisation, and to help them build on that every day."
Creating a Winning Culture
Mike fosters a positive culture on his team by recognising and celebrating the small victories, but by also ensuring there's encouragement to meet goals. "There needs to be a healthy level of stress in order to get our jobs done right," Mike says. "But that doesn't have to come at the expense of having a good time. I teach them that if you put in a good day's work and hustle hard, you can leave the office and relax."
Beginnings at Bullhorn
Mike hasn't always been the Global BDR Manager, however. After growing up in Exeter, New Hampshire, Mike moved to Boston to study Economics at Suffolk University—and hasn't left since. In December 2015 Mike joined Bullhorn as an Account Executive. And while Mike's role in the organisation has evolved since 2015, so has the company.
Since he started with Bullhorn, Mike said the biggest changes he's seen are the increase in interdepartmental communication and the improved relationships with customers. Employees across the organisation are constantly thinking about what happens after a customer is onboarded, and are conscious of how everyone's role might affect the customer experience.
Lessons Learned
The most important lesson Mike has learned in his three years at Bullhorn is to always check your ego. "Don't worry about what you think you should be, because that's going to evolve," Mike said. "You're not going to be the same tomorrow as you were yesterday or today. What I've learned the most is that every single day, if you allow yourself, you can grow within your role."

Favourite 90s jam?
Semi-Charmed Life by Third Eye Blind.
What TV character are you?
Marty Byrde, Ozark.
Where would we most likely find you outside the Bullhorn office?
Golfing.
Describe your high school self in one word.
Nuisance.
What is the weirdest job or worst summer job you've ever had?
Paperboy.
Biggest pet peeve?
When someone gets on either the train or an elevator before letting people off.
Favourite food?
Baguettes.
Least favourite food?
Tomatoes.
Best concert you've ever attended?
Arcade Fire with Blondie.
Dream dinner guest?
Leonardo DiCaprio.
Favourite place to eat in Boston?
Quattro.
Movie or TV show you're ashamed to admit that you love?
The Village or The Happening.
Biggest phobia?
Bees.
Dream concert?
Led Zeppelin.
Top item on your bucket list?
Landing a pontoon plane on a remote island.
If Hollywood made a movie about your life, who would play you?
Christian Bale.
Favourite quote?
Gene Wilder in Charlie & the Chocolate Factory: "So much time, and so little to do. Wait a minute. Strike that. Reverse it."
Mike and his team of BDRs
---
Keen to get the latest Bullhorn tips, product news, and updates straight to your inbox? Subscribe to the Customer Blog today and make sure you never miss a thing! 

Subscribe to the Customer Blog
Subscribe for trends, tips, and insights delivered straight to your inbox.