Innovating for the future with Bullhorn for Salesforce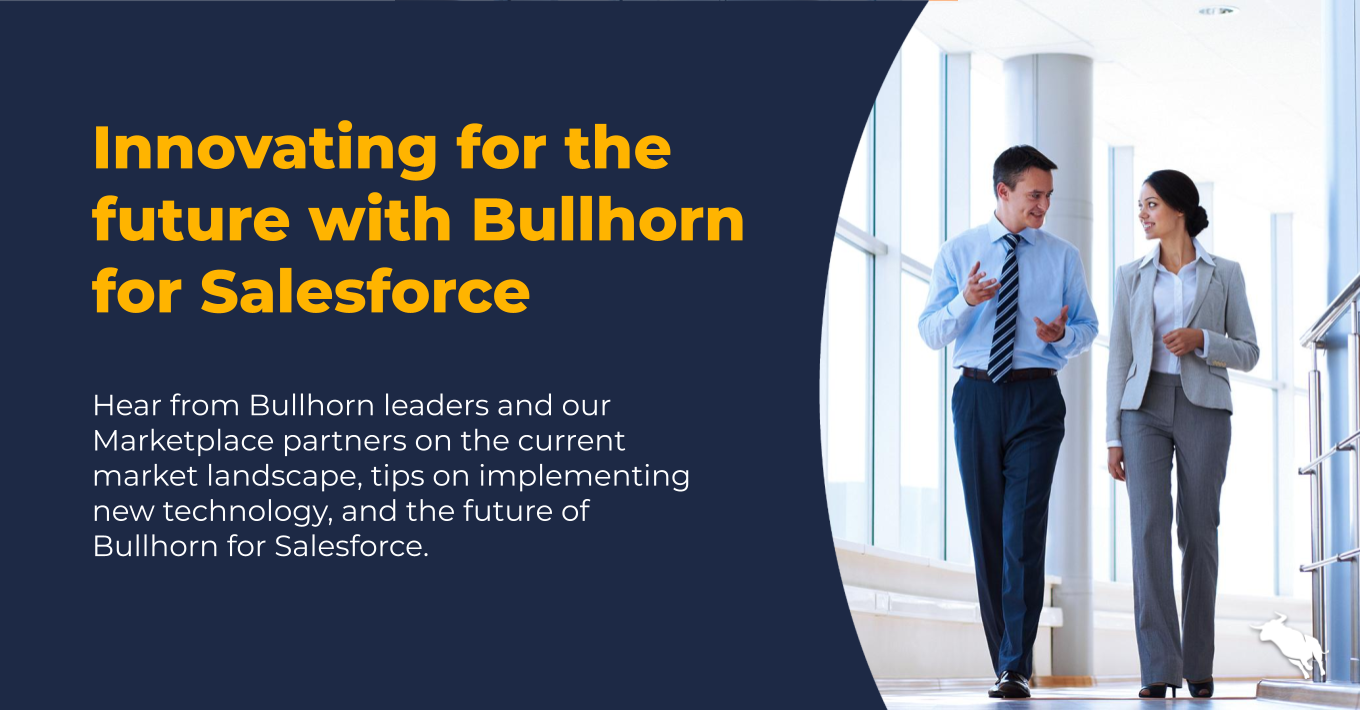 Bullhorn recently partnered with Salesforce to bring together recruitment industry leaders, Salesforce-specific partners, and recruitment technology experts to network and learn from each other about the industry's current trends and how to best prepare for the future.
From insights on the current market landscape to tips on implementing new technology, leaders from Bullhorn and our Marketplace partners weighed in on the most pressing issues facing the recruitment industry today.
Read on for a recap of the half-day event.
The current recruitment landscape (and how AI is having an impact)
To kick off the event, Shaun Weise, VP of Global Sales at Bullhorn, tackled the complex topic of navigating the recruitment industry amid a changing landscape. Between an uncertain economy, tighter sales cycles, and a talent shortage, recruitment agencies need to focus on efficiency and investing in the right areas with a focus on growth and preparing for an economic snapback. One crucial place for an agency to invest in is its recruitment tech stack. Having a streamlined, integrated platform in place enables recruiters to place the right candidates in the right jobs efficiently to ultimately grow the business or explore new models or verticals.
Weise also emphasised the importance of moving from evaluating technologies as individual tools to integrated platforms. This shift is essential for ensuring positive business outcomes in evolving economic landscapes.
Weise also discussed that organisations plan to invest a staggering $2 trillion in artificial intelligence (AI) by 2030, illuminating its impending impact on the recruitment industry. The integration and utilisation of AI by some of the larger recruitment firms is already shaping the future of tech in recruitment and highlighting technology's crucial role in bolstering industry resilience and agility.
Leveraging the power of Bullhorn and Salesforce
To reinforce the partnership between Salesforce and Bullhorn, Jeff Neumann, SVP, Product Marketing at Bullhorn, took the stage to share more about how Bullhorn and Salesforce collaboratively enhance digital transformation for recruiting agencies. There has been a stark shift in agency priorities, with winning new clients now paramount in 2023, a decided change from the past focus on talent acquisition and candidate engagement. Surprisingly, despite 84% of agencies having a digital transformation strategy, less than 30% feel they're significantly enacting it.
Neumann stressed the importance of choosing technology investment over merely increasing human resources to navigate market fluctuations efficiently, something that Bullhorn data shows top-performing agencies are already doing by almost a two-to-one ratio. 
Bullhorn for Salesforce provides scalable solutions, enhanced efficiencies, and increased agility into a recruitment agency's key processes, which is particularly crucial amidst the changing industry landscape. Neumann shared stories from Bullhorn customers who have utilised Bullhorn for Salesforce to enhance their global operations, scaling, and the accomplishment of an effective digital transformation strategy, underscoring the premise that a technology-oriented approach can lucratively navigate the peaks and valleys of the recruitment market.
Implementing a new platform: Advice from the experts
Clare Thorne, Senior Director, Global Services Strategy at Bullhorn, then gathered three Bullhorn Marketplace partners to discuss the implementation process and how leaders can set their teams up for success. The audience heard from Twain Henry-Lucas, founder of Frank Belford, Roger Issott from 1218 Global, and Steve Jennings, Managing Director of Technicus.
Henry-Lucas advised that when implementing Bullhorn for Salesforce, it's crucial not to try to replicate old processes and systems but instead focus on utilising the platform's capabilities to create efficiency. He suggests starting with high-level objectives and gradually evolving the system. "There are so many small wins and great efficiency you can get from the Bullhorn for Salesforce platform, so it's really about opening an agency's eyes to those possibilities and actually showing them how it works," Henry-Lucas added.
Jennings emphasised the importance of identifying valuable data, defining what good data looks like, and establishing trust in the data. "It's important to understand where your data is and how it flows, how it needs to be migrated onto the Bullhorn platform, and what that transition will do to some of your critical parts of your business, such as in-flight temp processes," Jennings suggested. Recruitment agencies should also work with key super users internally to involve them in the data migration process.
Issott stressed the significance of understanding the client's business drivers, prioritising outcomes and considering the broader landscape of technology solutions.
The three panelists collectively agreed that change management is critical and that engaging employees at all levels is essential. They recommend finding champions within the organisation who can help drive and support the change. Issott added, "Make sure people have the time and the capacity in their day to adopt all this change. Everybody should see it as a great opportunity to evolve the business."
Each partner also shared a successful implementation experience to provide the audience with advice and tips for the future. Jennings highlighted Page Group, where they successfully migrated data from 50 different systems to a single global Salesforce instance. Issott shared a story about a client that used Bullhorn as a linchpin to win multimillion-pound contracts, showcasing the platform's ability to help grow businesses. Henry-Lucas spotlighted the successful Morgan McKinley project, a complex and large implementation demonstrating the importance of partnership and collaboration.
Looking ahead at the Bullhorn for Salesforce portfolio
To close out the day, Suneel Sahi, Managing Director, Product Marketing and Strategy at Bullhorn, dove into the Bullhorn for Salesforce portfolio, underscoring the company's commitment to fostering relationships and creating an incredible customer experience. 
For lasting success, recruitment agencies do not need to choose between simplicity and power when it comes to their technology. The right technology has the latest functionality while still being easy to use. To underscore this, Sahi highlighted Bullhorn's ongoing investments in innovation and our strategic acquisitions, showcasing how each product adds value to the larger Bullhorn ecosystem. Looking forward, Sahi highlighted Bullhorn's strategic partnerships, the drive towards automation, and our AI roadmap, which promises a future where AI, the ATS/CRM, and analytics seamlessly intersect.
Learn how Bullhorn for Salesforce can help your business generate more placements, maximise margins, and deliver client and candidate experiences that will differentiate your brand.
Subscribe to the Customer Blog
Subscribe for trends, tips, and insights delivered straight to your inbox.