Work Smarter, Not Harder
Trying to make the right decisions when you don't have the data to support your choices can be tough. Through Bullhorn's 2021 GRID Recruitment Trends Survey, recruitment agency executives unanimously voiced a desire for real-time, actionable business intelligence and reporting.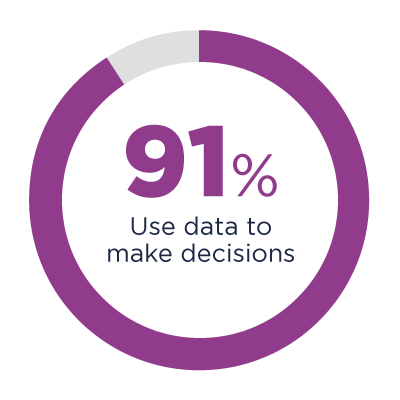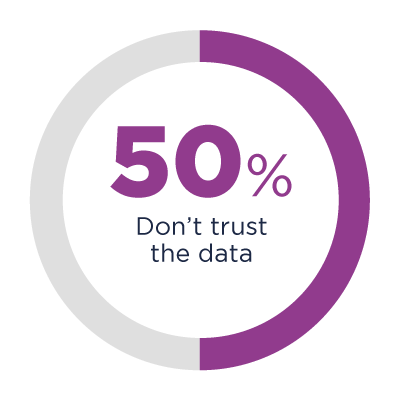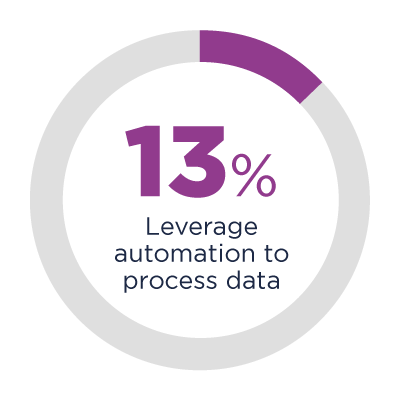 Bullhorn Analytics can help your team:
How Customers use Bullhorn Analytics to Accelerate Growth
Agencies who hate admin use Bullhorn
Shayne Simpson, Managing Director
TechNET IT Recruitment Ltd
Bullhorn Analytics – an indispensable tool for Highfield Professional Solutions
Liam Thomas, Co-Founder at Highfield & Data X Connect
Highfield Professional Solutions
Identify your best clients using the A B C model, and fill more jobs with Bullhorn Analytics
Shayne Simpson, Managing Director
TechNET IT Recruitment Ltd
How Charlton Morris now measures what matters with Bullhorn Analytics
Kris Holland, Director of Marketing & RevOps
Charlton Morris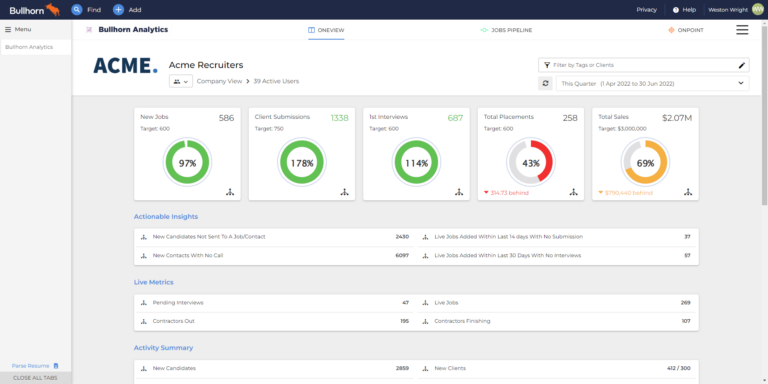 Make Business Decisions with Confidence
Bullhorn Analytics gives you customisable, automated dashboards that turn your valuable data into easy-to-understand actionable insights.
Analytics ensures that your people spend their time on the most valuable tasks by simplifying decision-making with real-time actionable insights. It gives recruiters clarity via self-served insights driving productivity and return on effort at the desk level.
Improve Sales and Operational Performance
Bullhorn Analytics allows recruiters to develop easily actionable plans connecting their daily activities to trackable results. Recruiters can achieve their strategic goals faster by ensuring they work on the most valuable opportunities, while reducing burnout and wasted effort.
Empower Your Team
Provide real-time analytics to recruiters and sales people so they can constantly improve their return on effort
Unlock Hidden Revenue
Allow your team to uncover revenue opportunities hidden within your data
Connect Actions to Outcomes
Use role-specific dashboards to highlight how actions lead to performance outcomes and results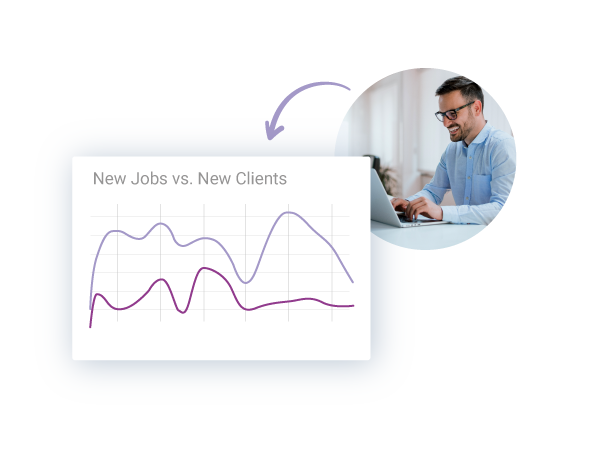 Deliver Exceptional Client Value
Build long-term relationships with clients and automatically identify revenue opportunities that will improve the value you provide to your clients.
Identify how you can improve and enhance the client experience by using the dedicated Bullhorn Analytics client dashboards. Measure the value you provide to clients and compare how your client relationships are changing over time so you can proactively resolve problems.
Bullhorn Analytics is the central point of truth that allows us to analyse the most effective tool we're using. Whether hitting the phones, putting together email marketing campaigns or taking a content-led approach to candidate or client acquisition, Bullhorn Analytics (previously cube19) allows individuals to work in a way that is most effective for them.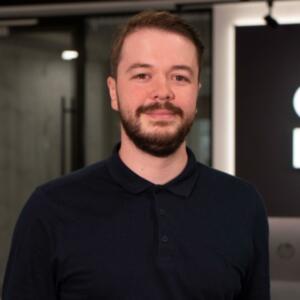 Kris Holland
Charlton Morris
Access Additional Bullhorn Analytics Resources:
[Webinar]: How to Beat the Competition Using Data and Automation
See how to combine automation with analytics to make key data-driven decisions and set your team up for success.
IDEX Consulting Case Study
How Bullhorn Automation and Bullhorn Analytics Enabled IDEX Consulting to Transition to a Retained Recruiting Model
4 Recruiting Tools that Will Improve Your Workflow
These essential recruiting tools can help any agency empower its recruiters, engage with talent, and meet the moment.