10 Quick Ways To Improve SEO On Your Recruitment Website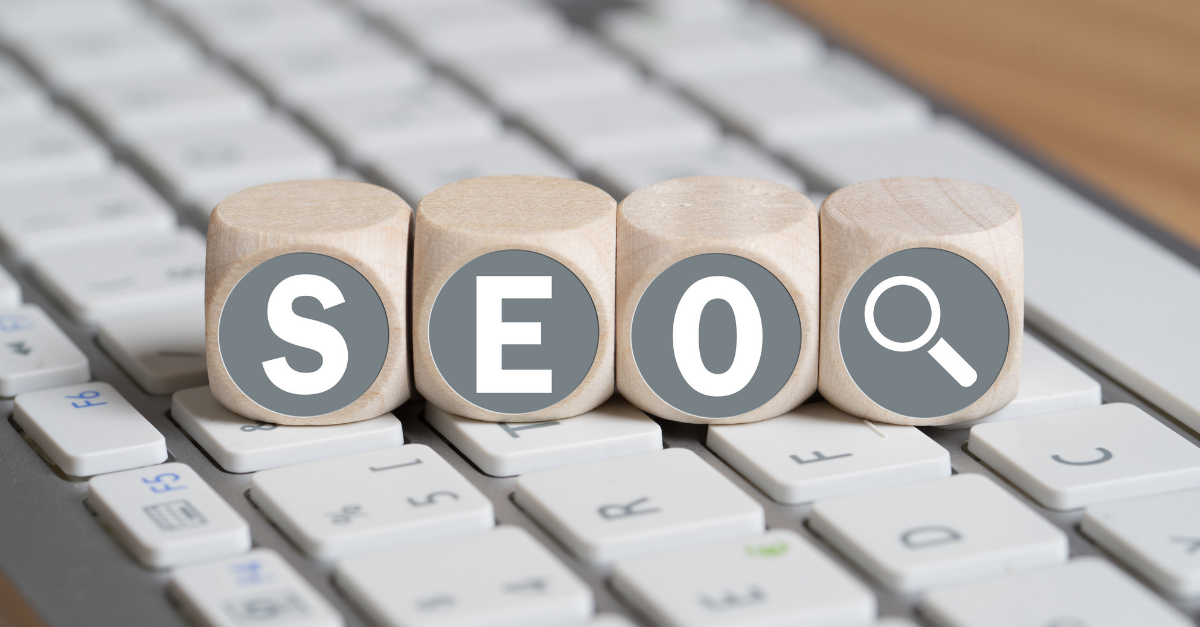 Pushing your website up the search rankings has a huge impact on the amount of website traffic you receive. Less than 10 per cent of users click through to page two of search results. Volcanic's Global Marketing Director, Alison Dwyer, explains how to maximise your performance.
Most recruitment businesses are looking to improve their SEO performance as it's considered the most important aspect when attracting candidates and clients. To support your SEO strategy, it's essential to get your content right. In this blog, we share our top 10 tips to help recruiters rethink their content strategy so it performs well on Google.
1. Use SEO friendly URLs
We recommend using human-readable SEO friendly URLs, i.e. making the URL one that is easily understood by those reading, e.g. "www.volcanic.co.uk/seo-top-tip".
We recommend keeping them short if you can, as it is thought that Google ranks short URLs better
2. Use keywords in titles
A keyword is a word or short phrase describing the contents of a webpage. Using a keyword is an essential factor in on page SEO. Having keywords in the title of your content will provide more weight to your article or page, delivering better results.
3. Add modifiers to your title
Modifiers are words that you add to your main keyword to produce more specific longtail keywords. A modifier may describe the who, what, how, why or where of a piece of content.
Some examples include:
Adjectives – best, top, coolest etc

Questions – best ways to, how to get more
Modifiers are a great way to highlight the importance of content. For example 'The best SEO guide for recruiters' is both more likely to get noticed and have a positive effect on SEO.
4. Add a H1 header to your blog
An H1 is an HTML tag that indicates a heading on your website. A HTML tag is a piece of code that tells your web browser how to display the content. Including a H1 is is more than just a styling issue. When a search engine visits a page, that page should have a single H1 header – more than one is bad as it confuses the search engine. A H1 will typically be the title of your blog.
5. Use subheadings with H2 tags
HTML has six different heading tags ranging from H1 to H6. Use subheadings with H2 tags to reinforce messages and to include your target keywords. Unlike H1s, you can use subheadings to frame content. See the below blog example: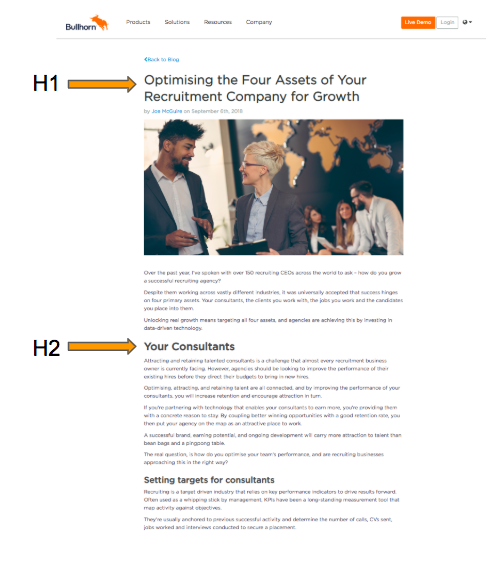 6. Add images and video
Using image or video is a compelling way to engage with your audience. Adding these can significantly improve the dwell time (the time people spend on your site) leading to better ranking. When adding image and video, don't forget to use image alt text (including the target keyword when appropriate). Alt text helps search engines to understand what an image is about.
7. Text and keyword placement
There's lots of advice around when and how keywords should be used within your content. The best advice is to include your target keywords in a natural English way within the first 100 words. Opinion varies over the length of articles but, as a guide, a blog should be at least 220 words long. Make sure your keyword appears at least once in the body of the post (though not more than four times, as Google will consider this keyword stuffing and you could rank lower as a result). Remember the longer the content, the longer the time a person will spend on site.
8. Include links (outbound and internal)
Focus on creating good links from valuable sources such as related blogs or publications.
Using outbound links to related pages gives content relevance to Google. It has been proven that pages with outbound links outperform pages without them. It's also beneficial to add two to three internal links that show reference points to the page.
9. Boost site speed
Pagespeed is used within Google as a ranking mechanism. This is the time it takes for the user's web browser to display the page after they requested it. Here are some quick tips for reducing loading time:
Reduce image size

Minimise JavaScript

Use caching

Prioritise media on mobile
10. Add structured data to your job listings
Adding structured data to your job post content will help them rank highly in search in the Google For Jobs landscape. Getting your strategy right from the start, with the support of your website provider, will help you succeed.
For further information on building a successful content strategy to improve your SEO, download the Volcanic Recruiter's Guide to SEO.
The Volcanic SaaS model provides an easy-to-buy, risk-free, GDPR-compliant web platform, with 30-day contracts guaranteeing no tie-ins, no upfront investment and a simple monthly fee. For more information visit their Bullhorn partner page.
---
Do you have some more nifty industry insights and predictions for the future of recruiting? Take our 2019 recruitment trends survey today and be entered to win an Amazon voucher!

Subscribe to the Recruitment Blog
Subscribe for trends, tips, and insights delivered straight to your inbox.