5 ways to win more clients with automation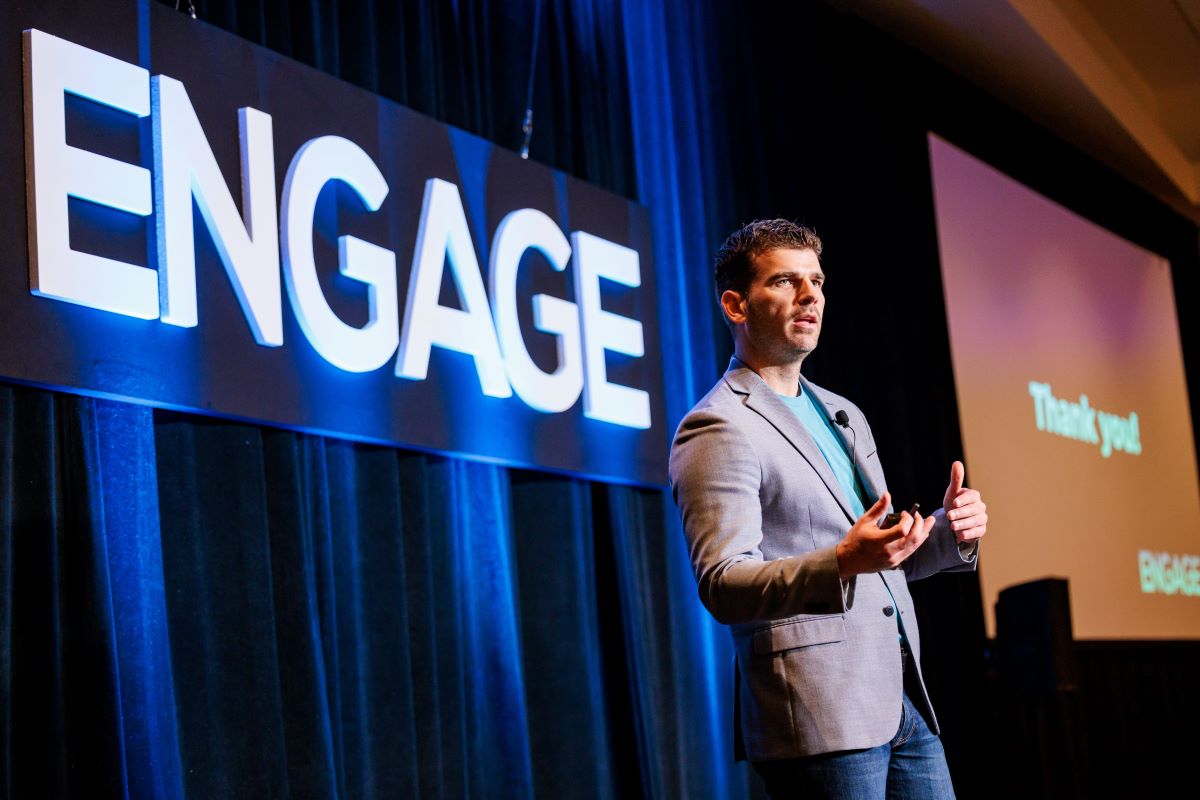 In today's competitive staffing market, winning and retaining clients is the name of the game. In this year's GRID Industry Trends Report, both winning new business and building relationships with clients were listed as top priorities by staffing firms from around the world. Whether you're looking to attract new prospects or foster stronger relationships with your existing clients, the state of the industry calls for a new approach – and the industry's top firms are giving themselves a competitive edge with automation.
To unpack how you can leverage automation to build relationships with clients, Billy Davis, Enterprise Customer Success – Automation, AI, and Talent Platform at Bullhorn, and Allegra Highsmith, VP of Recruiting at Goodwin Recruiting, led a highly-rated session this year at Engage Boston. Below, read five actionable ways you can put automation to work to win new business. Plus, for more insights from industry experts, check out our Engage Boston Content Hub.
1. Delivering better results
The fastest way to build a relationship with a company is to deliver the best possible results at every single stage of the journey – and automation provides countless opportunities to help you deliver a consistently high level of service. With automated communications, you can share real-time process updates during the sales and business development processes as a lead becomes a prospect and as a prospect becomes a client. "You have opportunities to keep your clients in the loop about what's happening," Davis said, "so they have that information, and they feel like that's an open avenue of communication."
Delivering better results also means providing better talent. You can help ensure you're placing the best possible candidates by preparing them for their roles in advance. Automation can help standardize the information they receive, like providing an interview or placement checklist, so you can ensure your talent shows up on day one prepared and ready to work. With automation, you can also leverage AI auto-match so you can make higher-quality submissions and placements at scale.
Davis also recommended proactively marketing superstar candidates. Ask your clients what their ideal candidate is, and then set up filters and notifications so that if someone updates their information and is an ideal fit for that client, you can send them their way. "We've had an over 70% success rate in presenting candidates proactively like this to clients even when there was no job opportunity," Davis said.
2. Standardizing sales excellence
"I've never met a sales team that wouldn't love to clone their best sales reps," Davis said. "With automation, you can do just that." Begin by understanding what makes your best sales reps excel. What are they doing from a systems and process standpoint? Once you have this standard operation procedure, you can set up notifications and reminders for the rest of your sales team to ensure they're taking the same actions at the right time and getting the best results possible.
You can also use automation to standardize excellence in your sales team by building consistent touchpoints and follow-ups with prospects and clients. Davis advised to balancing automated and personalized communication in this outreach. There are some messages that lend themselves well to automation, but building relationships is all about building personal connections. As you build your automation workflows, make sure to include reminders for a client visit, a client phone call, a LinkedIn message, or any avenues where you can deepen the relationship by having a personalized touch.
3. Measuring satisfaction
How can you pinpoint areas for improvement in your sales processes and business development? It's simple: just ask. Gathering client feedback through NPS surveys can help you determine your friction and pain points and where you have room to improve. Don't be afraid to ask multiple times, Davis said. "I've seen users increase their completion rates by up to six times just by asking more than once to get the response," he added. 
You can also boost completion rates by giving examples of feedback you've received in the past that you've now added to your process. Plus, with automation, if the individual completes the survey or the NPS score, they won't receive further follow-up messages.
4. Leveraging better data
If you're looking to gather client and company data, look no further than automation. You can use candidate data for business intelligence, like determining which clients have the best ratios of submittals to send-outs, send-outs to interviews, and interviews to placements. You can also determine the average time to fill or the placement retention if you're working on the contract side. 
Once you uncover this data, it can play a crucial role in your business development efforts. "I think this is kind of the hidden superpower of the staffing space," Davis said. "Your clients only have a window into a narrow view of a market, but you as a staffing firm have a much purview. Clients want to know what you're seeing from a trend standpoint." What do candidates want from their employer? What are you seeing in terms of competition in a specific vertical or skill set? You can use the data you uncover to open the door with a prospect.
5. Focusing on funnels and pipelines
Automation can help fill any gaps in your pipeline at any point of the client journey – though it can be beneficial at the top of your funnel. Davis highlighted a specific automation to help generate a perpetual source of warm client leads. You can find clients that you've done business with in the past that you're not currently doing business with and create a nurturing re-engagement campaign with them. "Often, if you do that in the right way, you can get this trickle back in of warm client leads who you've worked with in the past," Davis said.
Automation can also help transform outbound efforts into inbound opportunities. Instead of spending resources on cold calls, create a drip campaign of email content. Include thought leadership content, success stories, or industry trends – anything your audience might find valuable. Once a prospect interacts with that email, that triggers a follow-up automation coming from a sales rep asking if the prospect wants to talk further and inviting them to book time on their calendar. A firm that leveraged this campaign averaged 15 to 30 inbound prospect meetings each week.
Client automations in practice
Incorporating automation into your workflows can have a real impact on strengthening your client relationships. At Goodwin, Allegra Highsmith and her team are still discovering new uses for automation to supercharge their efforts. "We use automation in so many different ways that we hadn't even started to think about in the beginning," she said.
The team at Goodwin finds value in setting up and receiving internal notifications, like internal newsletters and product rollouts, to keep them informed and engaged, aligning their day-to-day efforts with automation. "I think sometimes we can assume that automation will make you feel more removed from the communication or that your clients, candidates, and your team might feel more disconnected when you're automating," Highsmith said. "But I think it actually brings people in and includes them and makes them feel a stronger sense of belonging."
The team at Goodwin has also seen huge success with their drip campaigns for prospecting: 50% of their prospects that visit their website and complete a client form have received one of their drip campaign emails. Part of this success came from tailoring email content in these drip campaigns to specific verticals so that they resonated with their intended audience; the team also keeps their outreach short, personalized, and mobile-friendly to encourage engagement. Highsmith and her team also aren't afraid to experiment; she began adding emojis to email subject lines and saw a 10% increase in open rates.
For those starting their automation journey, Highsmith offers two pieces of advice. First, clarify your goals and ensure everyone in your organization understands the "why" behind implementing and leveraging automation. "Make sure that you have that brand continuity, your values, your voice, and your differentiators," Highsmith said. "You don't want to lose any of that through the automation process."
Highsmith also advised firms to leverage the expertise of automation vendors and to seek advice from throughout the industry. "You don't know what you don't know," she said. "And when we first started, we had a lot of things to learn, and we've learned a lot of things along the way."
Subscribe to the Recruitment Blog
Subscribe for trends, tips, and insights delivered straight to your inbox.