Adjusting recruitment workflows to champion DE&I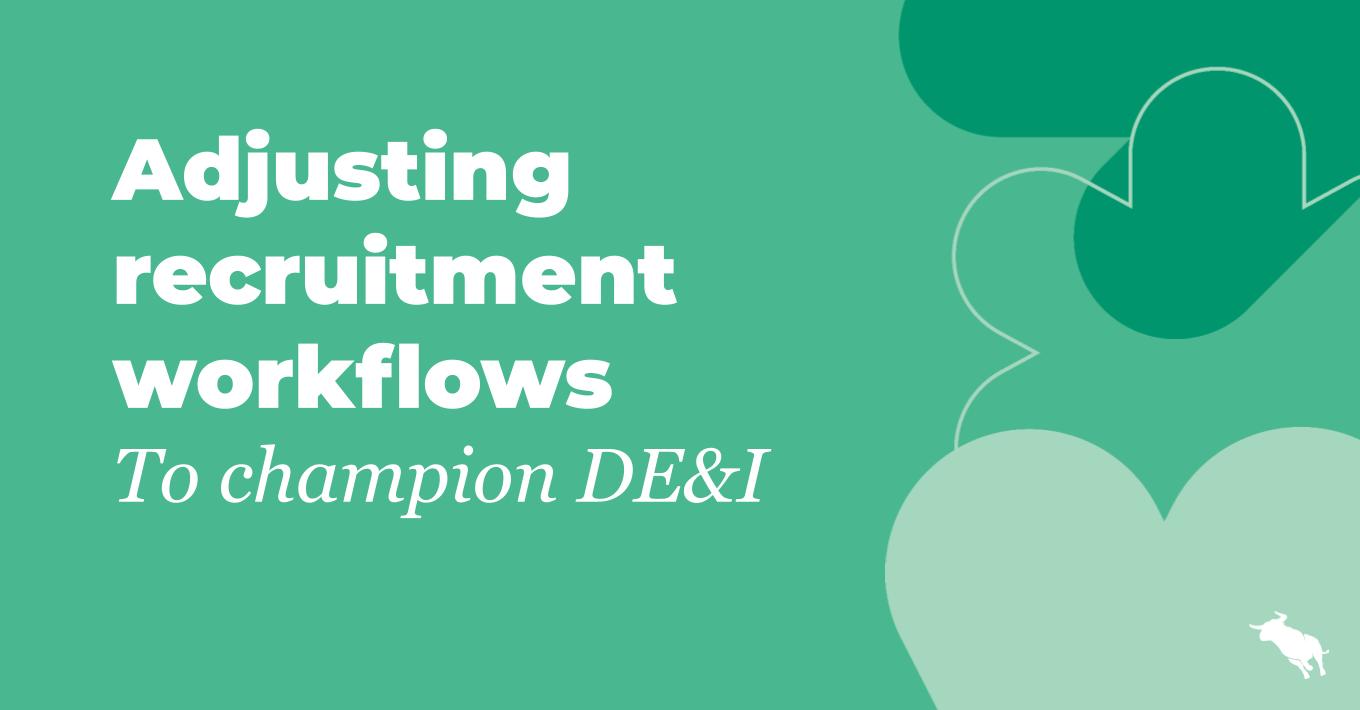 Diversity, equity, and inclusion (DE&I) are no longer just buzzwords in the recruitment industry. A diverse workforce fosters trust, improves team relationships, encourages innovation, and finds strength in varied perspectives. Given that candidate acquisition and talent management are core contributors to an organisation's demographic, the first step in creating a diverse workforce begins with recruiting workflows.
By effectively engaging, retaining, and placing underrepresented candidates, recruiters can help foster equity and build a stronger, more inclusive workforce.
The movement towards diversity, equity & inclusion
While many companies have already introduced inclusive recruitment practices, there is still plenty of room to grow. In recent years, hiring practices have shifted towards employee equity, but unfortunately, this doesn't mean all biases – unconscious or not – are eliminated.
DE&I requires an intentional strategy. To improve diversity and inclusion across the board, recruiters must adjust internal or external processes surrounding candidate pipelines and sourcing strategies. This might look like crafting job postings with inclusive, gender-neutral language or using a blind screening process to reduce unconscious bias.
A commitment to DE&I also starts with your agency's culture. Incorporating diversity training for recruiters and hiring teams can help integrate DE&I into your recruitment workflows. These training programs can help recruiters and hiring teams be aware of their own biases and create a culture of inclusion where diversity is truly valued. Additionally, when candidates see and feel that a company prioritises diversity and inclusivity, they're more likely to apply and want to work there.
DE&I isn't just for candidate-facing teams. Agency owners and leaders must also continue to ensure they're doing their part to enable their recruiters to step up and become role models for diversity, equity, and inclusivity across their organisations.
Measuring DE&I initiatives
How can you hold your agency accountable to your DE&I strategies and tell if your initiatives are making an impact? This is where measurement comes in.
Your team can create pipeline reports with detailed metrics that serve as the basis of your diversity and inclusion policies — all of which allow your team to build out stronger pipelines and sourcing strategies that work towards the goals of DE&I.
To build a more diverse talent pool and reduce the homogeneity of their workforce, recruiters must:
Create an honest dialogue about diversity within the workplace

Make intentional approaches to hiring underrepresented candidates and set goals for DE&I

Identify inherent biases that exist in the hiring process and cultivate a safe space for discourse

Ensure talent management processes are in place to reduce bias while proactively testing and adjusting
The benefits of DE&I
A solid and consistent strategy to advance diversity and inclusion as a company can help reinforce a culture that promotes acceptance, builds trust, and connects employees with opportunities to develop personally and professionally.
Not only will a strong commitment to DE&I help your agency attract and retain the best talent, but it can also contribute to your overall strategic goals and give you a competitive advantage.
Solutions for maximising DE&I
Businesses can also build a diverse talent community by leveraging recruitment technology. From blind screening algorithms that remove identifying information to AI-powered tools that supercharge your sourcing, recruitment technology holds immense potential to drive DE&I efforts and create a workplace that embraces and values diversity at its core. By harnessing automation and AI, these technologies enable recruiters to tap into a broader pool of candidates across industries and geographies, including those from historically underrepresented groups.
As we look forward to the future of work, championing DE&I is more essential now than ever before. By doing so, recruitment can build a stronger, more diverse candidate community and unlock new opportunities for growth and innovation.
Subscribe to the Recruitment Blog
Subscribe for trends, tips, and insights delivered straight to your inbox.