Meet the First (of Many) Engage London 2019 Speakers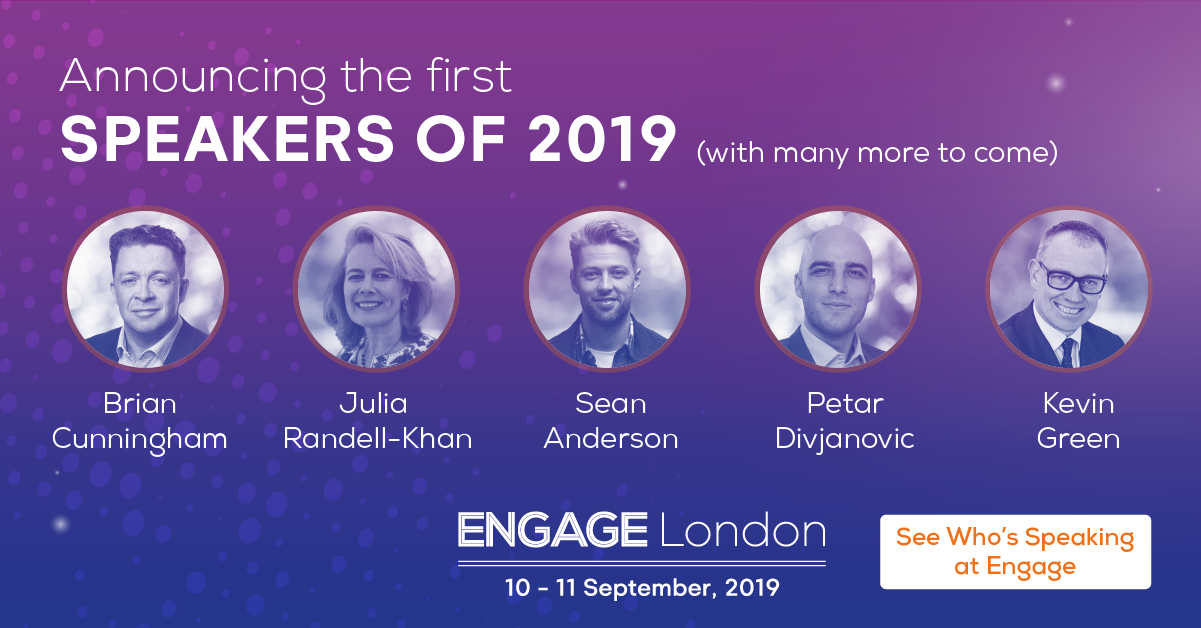 It's hard to believe, but Engage London 2019 is only a matter of months away. And what would Engage be without an all-star lineup of incredible speakers?
Across two jam-packed days, you'll hear from an incredible assortment of speakers who will help you learn how to transform our industry, your business, and peoples' lives through the power of people and technology. Attendees raved about Engage London 2018 speakers, rating them an impressive 4.3 out of 5 stars! This year we invited a select few top speakers back and brought in a crew of fresh industry leaders with innovative perspectives!
Here are the first announced speakers for Engage London 2019.
Kevin Green
Follow Kevin on Twitter
Follow Kevin on LinkedIn
Kevin Green is the founder and CEO of What's Next Consultancy. He has been an entrepreneur, a CEO and HRD of a FTSE 100 and he brings the skills and capability from each of these roles to assist the organisations he works with. He specialises in businesses that want to grow, develop and improve. 
As a TEDx speaker, Kevin is an experienced communicator who can inform, inspire and engage. He has spoken at large conferences and at internal leadership events. His areas of specialism include global labour markets, competitive people strategy, how to create high performing cultures and what great leaders do.
Kevin has always believed that developing and helping people realise their potential is an art and a science. His areas of specialism include global labour markets, competitive people strategy, how to create high performing cultures and what great leaders do.
Sean Anderson
Follow Sean on Twitter
Follow Sean on LinkedIn
A former school teacher turned successful recruiter, Sean Anderson is the CEO and Founder of Hoxo Group – a startup that consists of both an inbound marketing agency and a recruitment agency, with the shared group mission of 'helping Recruitment Agencies Grow'.
Originally looking to set up a Recruitment Agency, Sean wanted to produce content daily to amplify his brand and drive clients 'Inbound' whilst in his inevitable restrictive non compete period. This idea then led to an exploration of the wider recruitment market and, in early 2017, he decided to build a team and create an Inbound Marketing Agency exclusively aimed at helping other Recruitment businesses produce content to drive Inbound business growth.
At Engage London Sean will consider how digital media can improve both the candidate and client experience.
Julia Randell-Khan
Follow Julia on Twitter
Follow Julia on LinkedIn
Julia is a fellow at Stanford University's Center on Longevity, working on an inter-disciplinary project –  the "New Map of Life™"- and the transformative changes needed to address the challenges and opportunities presented by longer lives. She is an active promoter of the value that experienced workers at 50+ can offer to the social sector as part of an encore career.
Julia's own transition is from 30+ years in international law firm practice and management at (now) Norton Rose Fulbright and Freshfields Bruckhaus Deringer to a career as a longevity entrepreneur and encore career advocate.
Julia's innovative track at Engage London will consider older workers as an underutilised talent source.
Brian Cunningham
Follow Allen Recruitment on Twitter
Follow Brian on LinkedIn
Brian is from a process improvement and IT background before moving into the world of recruitment. 3 years ago himself and Louise Allen took Allen Recruitment down a path of building efficiency into their recruitment processes so that they would be in a position to scale the business and move into different markets/locations.
What started out as a summer of change ended up being 3 years of taking one step forward, two steps backward, two steps forward, etc. It is only this year that the people, systems, and processes are in place and the real scaling has begun. Brian has many war stories and advice that he can share if this is a road you are planning on taking.
To find out more about how to scale your business with technology, join Brian at Engage this year.
Petar Divjanovic
Follow Petar on Twitter
Follow Petar on LinkedIn
As the Head of Digital HR Solutions for DEKRA Arbeit Group, Petar Divjanovic is overseeing projects in 20 countries on the European market, focusing on generating ideas and initiatives which facilitate organisational growth and provide unique HR solutions. This role allows him to support, create and manage global HR programmes for top performing companies from automotive, logistic, IT and e-mobility industry.
Introduction of modern communication and collaboration tools, integration of chat platforms in candidate management processes and engaging via video recruitment ads are the top amongst his latest initiatives. As a proud millennial, Petar is putting an emphasis on emotional intelligence and collaboration between all stakeholders; preparing them for the Future of Work and speaking often about it on HR conferences and panels.
Petar will be discussing how best recruitment professionals can invest in innovation. Join us for some inspiring insights.
---
More about Engage London 
Discover how to more effectively engage talent, leadership, and the future of recruitment at Engage London. Over two full days, recruitment leaders and practitioners will come together for unparalleled industry insights and tactical Bullhorn product training. Engage is the best event to make new connections and learn from the brightest minds in the industry, but is still intimate enough that you'll see some of your favourite recruitment experts, connections, and friends. Register now.
Subscribe to the Recruitment Blog
Subscribe for trends, tips, and insights delivered straight to your inbox.