EngageX Europe Breakout Sessions You Should Attend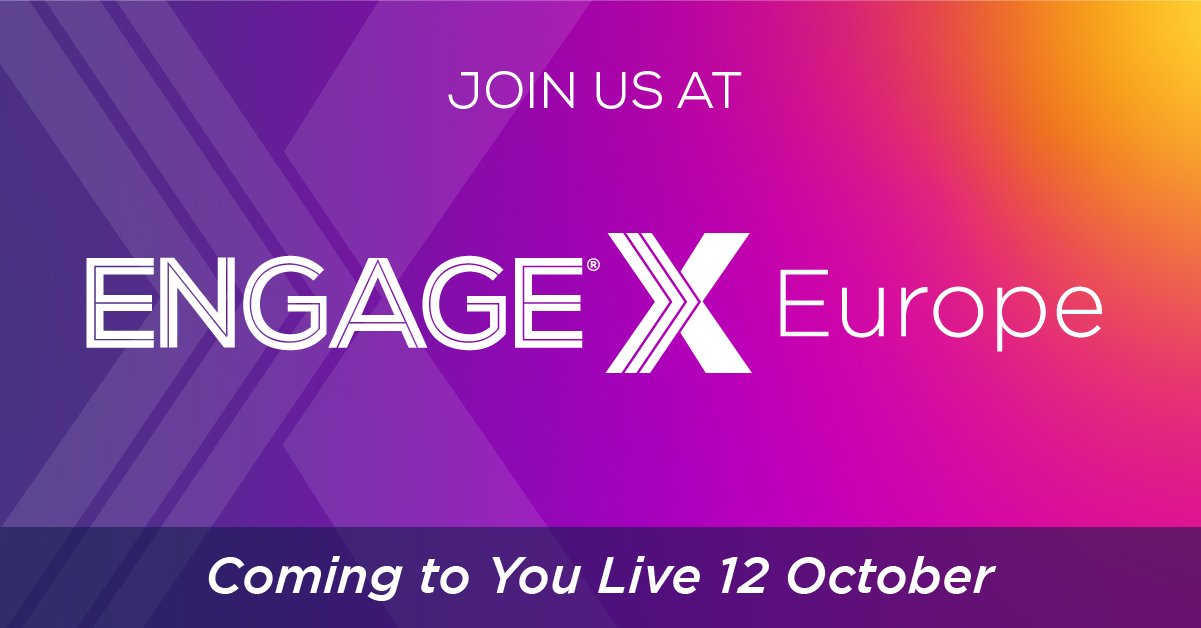 We're excited to announce our second year of Bullhorn EngageX Europe, our immersive online conference experience on 12th October 2021! This free, virtual event provides attendees with the exceptional Bullhorn industry and product-related content they look forward to every year, all from the safety of their homes. While our event format may be virtual, we're looking forward to bringing the recruitment community together for conversations, insights, and learning. See the agenda here.
The foundation of Bullhorn Engage has always been about bringing together our incredible community of recruitment professionals to share ideas, learn from one another, and unlock the Power of People through technology.
Register now for EngageX Europe
With our three breakout sessions for the UK&I region, we're focusing on issues that matter most to you and your recruitment business. Keep up-to-date with some of the most relevant topics in today's recruitment market, such as what the new world of work means for recruiters, what technology you need to invest in today to profit from tomorrow, and how you can incorporate automation throughout your recruitment process.
Here's a little preview of what's to come at Bullhorn EngageX Europe 2021:
1. The 'New World of Work' – What Does it Mean for UK Recruiters?
12.30 – 13:10 BST | 13.30:14:10  CEST
Tara Ricks from Elite Leader
With over 20 years in the industry, Tara Ricks is a highly experienced recruitment professional and holds impressive titles such as CEO, Investor, NED, and Growth Advisor. She has a track record in leading and growing successful sales teams, developing strategies, and driving new business.
During Tara's leadership, Joslin Rowe became one of the largest privately-owned financial services recruitment firms in the UK following its acquisition by Randstad in 2008.
In her session at EngageX Europe, Tara will answer how you can maximise the current market conditions and grow your recruitment business. Find out how to:
Diversify your service proposition and move away from low fill rates
Establish better and stronger relationships with clients and candidates, ensuring annuity revenues
Craft a strategy that supports your clients' demands as we continue to operate in a candidate-driven market
Ensure that culture, communication, and productivity isn't lost when leading through the screens
2. Investing in Technology Today to Ensure a Profitable Tomorrow
13:20 – 14:00 BST | 14:20-15:00 CEST
Sarah Gibson from Cherry Professional Ltd and Indie Moseti from Bullhorn, Andreas Pfeffer from Recrewtment, and Tony Hayes from Arrows Group. 
Sarah Gibson is an experienced Project Manager and Strategic Leader of Change. She ensures that Cherry Professionals' Infrastructure and technical strategy delivers strong ROI. Sarah is a true data and process expert! Never one to stop developing her skills, she has an MBA and is a Chartered Manager sitting on the East Midlands board of the CMI.
Indie Moseti delivers incredible customer experiences to some of Bullhorn's top strategic Enterprise accounts by a solid commitment to customers' success. She strives to improve workflow efficiencies whilst identifying new opportunities.
She is a service-orientated leader passionate about automation and digital transformation in the recruiting industry and has a lot to share about making recruitment businesses more efficient.
Andreas Pfeffer is the Founder of Recrewtment, a successful recruitment business in Belgium, and previous Commercial Director of Randstad Group Belgium. He has more than 15 years of recruitment experience and is a dedicated leader with a broad interest in HR, innovation, and AI.
Tony Hayes is the Head of Operations and Business Intelligence at Arrows Group. Tony has extensive technical experience in managing and delivering complex, and critical BPI change IT projects. He supports the staffing sector by achieving optimal performance through harmonising people, processes, technology, and data.
Together, Sarah, Indie, Andreas, and Tony will convene a panel of recruitment leaders to discuss best practices for automation and key considerations in future planning.
Learn more about:
Aspects of the end-to-end recruitment lifecycle that can be automated
Which automation technologies yield the most significant ROI
Lessons learned from leaders who invested in these solutions
If you're a recruitment leader interested in how you can take your automation strategy to new heights, you don't want to miss this!
3. Things You Didn't Know You Could Do With Automation
14:10 – 14:50 BST | 15:10-15:50 CEST
Billy Davis and Ben Carter from Bullhorn.
Billy is the Director of Herefish by Bullhorn and teaches staffing firms to generate infinite value through automation. He has led more than 250 successful implementations and constantly creates training materials and best practices to help staffing agencies get the most value out of Herefish.
A best-in-the-world-automater, it's hard to find anyone who knows more about automation in the staffing industry than Billy.
Ben Carter is the Sales and Strategy Director at Herefish by Bullhorn. He is a previous Global IT Leader with over 18 years of recruitment experience. His combined recruitment and tech knowledge are absolutely unparalleled! Ben now helps recruitment businesses worldwide automate their recruiter productivity, ATS/CRM data health, and candidate/client/employee experience.
They will jointly deliver a deep dive session on how to get the most out of your automation strategy (and give you some actionable tips you might never even have thought of). They will cover:
Internal surveys
Automating candidate record creation
Replicating best practices throughout your entire team
Dynamic knock-out questions to automatically sift through job applications
And much more!
This advanced session is a must-attend if you are new to Herefish or even a seasoned pro.
---
More about Bullhorn EngageX Europe
Discover how to effectively engage talent, leadership, and the future of recruitment at EngageX Europe, the premier recruitment conference series. At this event, recruiting leaders and practitioners alike come together for unparalleled industry insights and tactical Bullhorn product training. With 100s (or sometimes even up to 1,000) attendees at each event, EngageX Europe is the perfect place to make new connections and learn from the brightest minds in the field but is still intimate enough that you'll see some of your favourite recruitment friends.
Have a look at the highlights from EngageX Europe 2020 here.

Subscribe to the Recruitment Blog
Subscribe for trends, tips, and insights delivered straight to your inbox.