Connected Recruiting: Supercharge your business to attract and convert more applicants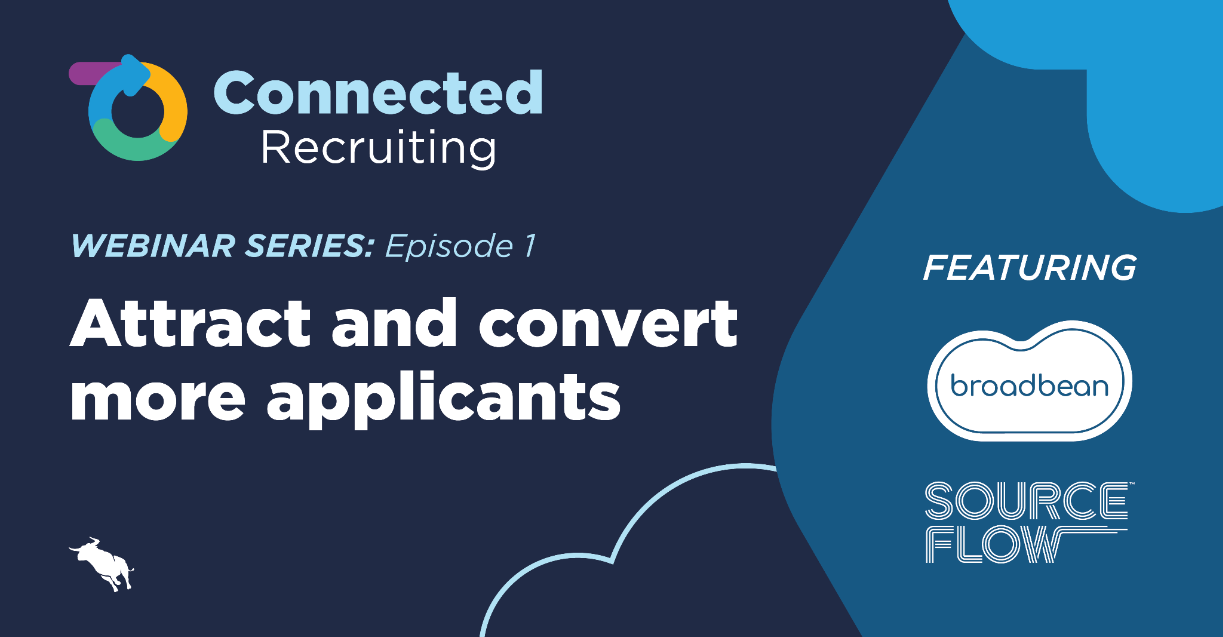 After months of a candidate-driven market, the recruitment industry is entering a new era. When it comes to talent, agencies are now shifting their focus from quantity to quality. So how can agencies attract and convert top-level talent?
It all comes down to the candidate experience. According to research from our GRID Talent Trends Report, 90% of applicants wished the process of finding a job was easier, 50% gave up on a job because the process took too long, and 93% said it was easier to work with online recruitment platforms. 
The data makes it clear: to keep up with a digitally transforming world and cut through the noise, recruitment agencies must deliver the right message, at the right time, at every step of the journey. Enter Connected Recruiting.
To talk about how agencies can attract more candidates with the Connected Recruiting strategy, I (Erik Mateev, Strategy Manager, Automation & AI), sat down with Matt Comber, CEO of SourceFlow, and Alex Fourlis, President at Broadbean, in the first of four webinars on Connected Recruiting, featuring stories and experiences from Bullhorn customers, Marketplace partners, and industry experts.
To hear their thoughts on top attraction strategies, key recruitment metrics, and the role of AI, read our recap below or watch the recording here.
What is Connected Recruiting?
Last year at Bullhorn Engage London, we introduced Connected Recruiting, a strategy combining recruitment technology and best practices designed to help you deliver an incredible experience at every stage of the candidate journey. With Connected Recruiting, you can:
Create ever-growing and consistently engaged talent pools

Speed up time to hire

Lower talent acquisition costs

Increase redeployment rates
Connected Recruiting is best envisioned as a flywheel, broken up into four phases: attract, engage, onboard, and nurture.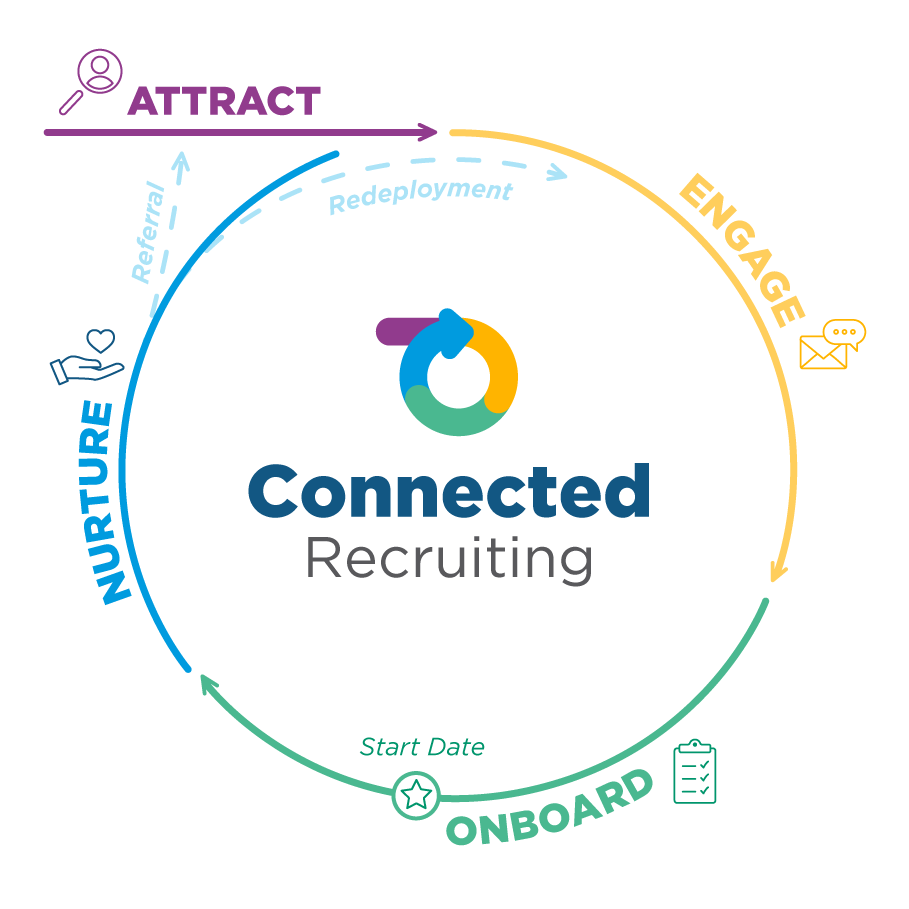 Connected Recruiting isn't just about the tech. It's about the right combination of solutions for your business and a cohesive strategy to ultimately transform how you engage with your candidates.
Let's start at the beginning: with attracting – and converting – more candidates.
Building talent communities
When we introduced Connected Recruiting, it was at the height of a labour-driven market; now, as hiring activity cools worldwide, the focus of the attract phase of Connected Recruiting is shifting from the quantity of applicants to the quality. This means that it's more important than ever to implement faster, more efficient attraction strategies. Said Comber, "Our customers want to reduce external cost, and they want to drive this ownership and this one-to-one experience."
How can agencies build a community of top-tier talent? It comes down to recruitment marketing strategies, said Comber, with a reliance on omnichannel communication. "Your strategy needs to be very blended," he said. Optimising job boards, social media strategy, and search engine optimisation (SEO) are all part of a solid recruitment marketing strategy. Comber cautioned against leaning too heavily on SEO, noting that it can be difficult for recruitment agencies to compete in a crowded SEO landscape.
Once talent arrives on your website, they need to have a seamless experience. A poor web experience that doesn't have specific, timely, and relevant content damages your chances of applicant conversion. 
Fourlis advises a three-pronged approach. The first piece: content. You need to have information readily available to candidates, said Fourlis, particularly regarding pay transparency and workplace agility. The second piece: optimise your outreach. Fourlis echoed Comber's advice to strike a balance in terms of outreach between organic and paid media.  Fourlis noted that you can – and should – leverage tech when it comes to job posting: "These processes should be almost 100% automated within the next five years." The third piece: re-engaging past candidates. You've already paid to acquire those candidates, so don't forget to include them in your outreach efforts. 
Measuring success
Any metrics you use to measure your attraction strategies should flow down from your business goals. Start at the end and work backward from there. "Then you'll get into attribution modeling," said Comber. Break down which sources drive the most candidates, applications, and placements, as well as which drive the most revenue, and build end-to-end revenue visibility.
"It's easy to focus on quantity-based metrics," added Fourlis. These include the number of applications, cost per click, and placements made per source. "But you have to go further than that," said Fourlis: "You have to look at the quality of the whole process." Fourlis suggests using analytics to find the number of candidates that wind up on a shortlist, for example, to ensure you're attracting the very best talent. He also suggests looking at time to placement to ensure that your recruiters attract and convert candidates as efficiently as possible.
Creating better candidate experiences
The candidate is the core of Connected Recruiting. The entire flywheel was designed to provide a seamless experience for talent – but a candidate won't enter the recruitment journey if those initial steps aren't simple and easy, said Fourlis. He added that tech and automation are vital in streamlining this process, from gathering information about the candidate beyond their resume to matching them to the right jobs to setting up automated pre-screenings. "These tools make candidates' lives a lot easier, they're easy to deploy, and the technology is there today," said Fourlis.
"What it comes down to is combining really good technology with your brand and messaging," added Comber. The best experiences, he noted, combine a seamless digital experience with creating a powerful first impression. For Comber, that's making a feeling for candidates of being right at home in an agency. "That's what we spend all our time trying to create for our clients," Comber added. (Mateev noted that this aligns with our findings in the GRID Talent Trends Report: candidates who had a great experience at an agency were six times more likely to work with that same agency again.)
The next wave of recruitment tech
AI is making a huge splash, not only in the world at large but also in recruitment. SourceFlow is already leveraging AI engines to play a role in job matching, CV writing, and, eventually, in designing and building websites. Comber noted that there's no set roadmap for SourceFlow at the moment, but "without a doubt, this is the future of recruitment."
"We're looking at a focused use of AI for hiring," Fourlis added. Broadbean is seeking to use AI to help predict which channels are the most productive for posting jobs. Fourlis also noted that AI has a further role to play when communicating with candidates in the early stages of the talent journey, particularly when asking screening questions or answering simple queries. 
No matter how recruitment agencies use automation and AI, the goal is to leverage those tools to find, attract, and convert top-level talent. It's time to shift away from a candidate database and leverage the tech at your disposal to build a true candidate community.
---
Want to learn more about Connected Recruiting? Register for the rest of our webinar series featuring Marketplace partners, industry thought leaders, and Bullhorn customers.
Subscribe to the Recruitment Blog
Subscribe for trends, tips, and insights delivered straight to your inbox.