Beat the competition: Win quality candidates and new business with SourceBreaker by Bullhorn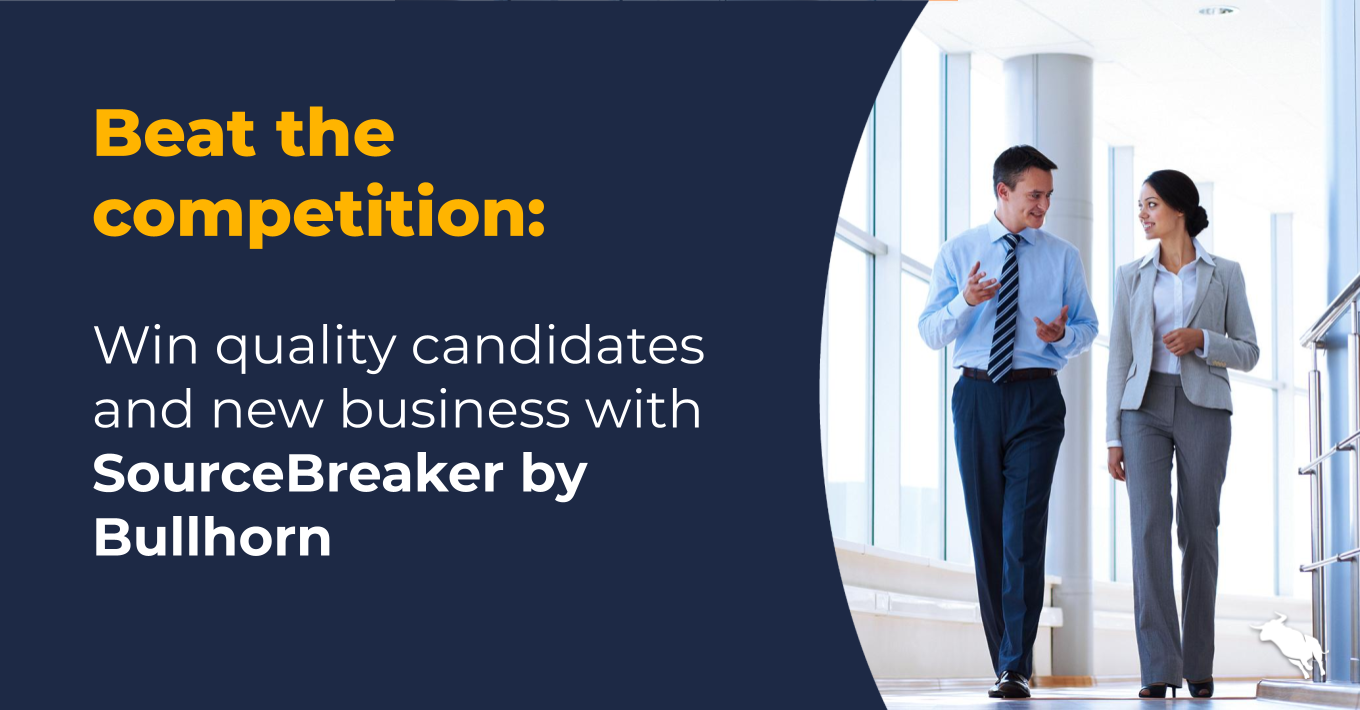 Ready to take your sales team to the next level? With leaders in the industry buzzing about the potential for automation and AI, SourceBreaker by Bullhorn is a trusted solution by 800+ customers globally that you can implement today. 
SourceBreaker by Bullhorn was created to digitally transform the way recruiters search. It allows recruiters to find top talent and job leads faster, increasing candidate numbers by up to 200% and saving 1-2 hours per recruiter per day in search time. The result? More efficient processes, skyrocketing revenue, access to the best candidates, and new business opportunities ahead of the competition.
Read on to see how it can help your agency win more business and stand out against the competition by having a consistently full talent pipeline. 
1. Accelerate candidate sourcing and recruiter productivity
SourceBreaker by Bullhorn can extend your Bullhorn platform and make your team more productive

Decrease recruiter ramp-up time with tech that does most of the heavy lifting

Use advanced automation and AI search functionality to find higher-quality candidates (this should be the first point)
With so many companies focusing on improving their Connected Recruiting strategy, how do you gain a competitive edge—particularly in the attract phase? According to our recently released GRID Industry Trends Report, high-performing agencies need to leverage technology to achieve tremendous growth. Automation is no longer a question—agencies that don't keep up risk falling behind. Also, changes to the recruitment landscape have led agencies to reprioritise winning new clients, driven by the major considerations of pricing pressure, reductions in job requisitions, and economic uncertainty.
As agencies cite sourcing as their top talent lifecycle challenge and continue to look for any edge in the competition for qualified talent, it's the agencies that build loyal talent pools that are seeing the most success in 2023 and beyond. The two biggest talent pool factors correlated with success last year?  Redeployment and candidate database utilisation. 
While many agencies have started down the path of transformation, they're still early in adopting tech. Agencies are two times as likely to show revenue increases if they're already on their digital transformation journey. 
Not sure where to begin? Sourcing is the number one element that agencies need to be digitally transforming to reap the most benefits. While many companies are still stuck in a very manual process for sourcing, technology can help smooth the transition. SourceBreaker by Bullhorn was invented by recruiters for recruiters. It will digitally transform how you search by:
Automating

sections of the Bullhorn platform

Digitising

the candidate experience

—offering more efficiency at every step

Synching

the full ecosystem for the most operational efficiency

Saving

searches across all sources in order to avoid duplicating processes
Get ready to experience an intelligent sourcing and lead generation platform that helps you increase your relevant candidate pools from your current sources to place more candidates into new business opportunities. Now, you can simultaneously search internally and externally while also identifying new business opportunities. You can track and source a much higher quality and quantity of candidates in seconds. 
For more details on how the SourceBreaker platform works, watch the full webinar. For more details on specifically how your team can be more efficient and source more talent with SourceBreaker, watch this video. 
2. Uncover more jobs faster and win more leads
Uncover more job orders across your existing sources

Leverage sales intelligence to identify opportunities before your competition

Use automation to ensure a constant and fast flow of new leads
Now let's focus on how SourceBreaker can help agencies get more job orders and win more leads. SourceBreaker automatically tracks relevant vacancies and events in your market niche in real time and powers your teams with up-to-the-minute recruitment sales intelligence and industry insights. In a market challenged by fewer roles, differentiation is more important than ever to remain competitive. 
SourceBreaker by Bullhorn can help you to differentiate by reducing candidate acquisition costs and time while overcoming the challenges many industry leaders are facing, such as hiring freezes, unreasonable fees, the difficulty of reaching potential clients, and reduced internal resources. 
With game-changing technology that easily integrates into your workflow, you can: 
Access

the dashboard to view all of your historical searches

Collaborate

with coworkers using team searches and the duplication tool

Improve

visibility and productivity by looking for leads across multiple companies and job boards in one location

Build

better searches with the keyword ontology library

Enhance

search using filters that will right-size your candidates and reduce double exposure of leads who are not a fit. 
Ready to be the first to discover perfect-fit opportunities? Walk through the SourceBreaker experience with recruiting leaders in this product demonstration.
3. Find more candidates
Key takeaways:
Use advanced searching to find higher-quality candidates

Search across internal and external sources to reduce duplication and improve database utilisation

Reduce candidate acquisition costs through automated and streamlined candidate search processes
In an industry plagued with candidate shortages and scarce job orders, use SourceBreaker to build and share laser-accurate searches across all your sources in seconds, resulting in up to 200% more candidates.
Bullhorn surveyed 2,000 global recruitment professionals about their challenges and goals for 2023, and one thing is clear—it's no longer all about just finding talent. In today's market, candidate acquisition is the top priority, behind only winning clients and digital transformation.
SourceBreaker can help you increase the speed and accuracy of your searches by:
Adding

candidates via a shortlist, a hot list, or individually

Leveraging

the support of keyword synonyms and new terminology

Expanding

visibility with external sources such as LinkedIn
---
Our clients saved an average of two hours per day using SourceBreaker by Bullhorn. Ready to see it in action? View the webinar.
Subscribe to the Customer Blog
Subscribe for trends, tips, and insights delivered straight to your inbox.