Elevate the Candidate Experience with Onboarding365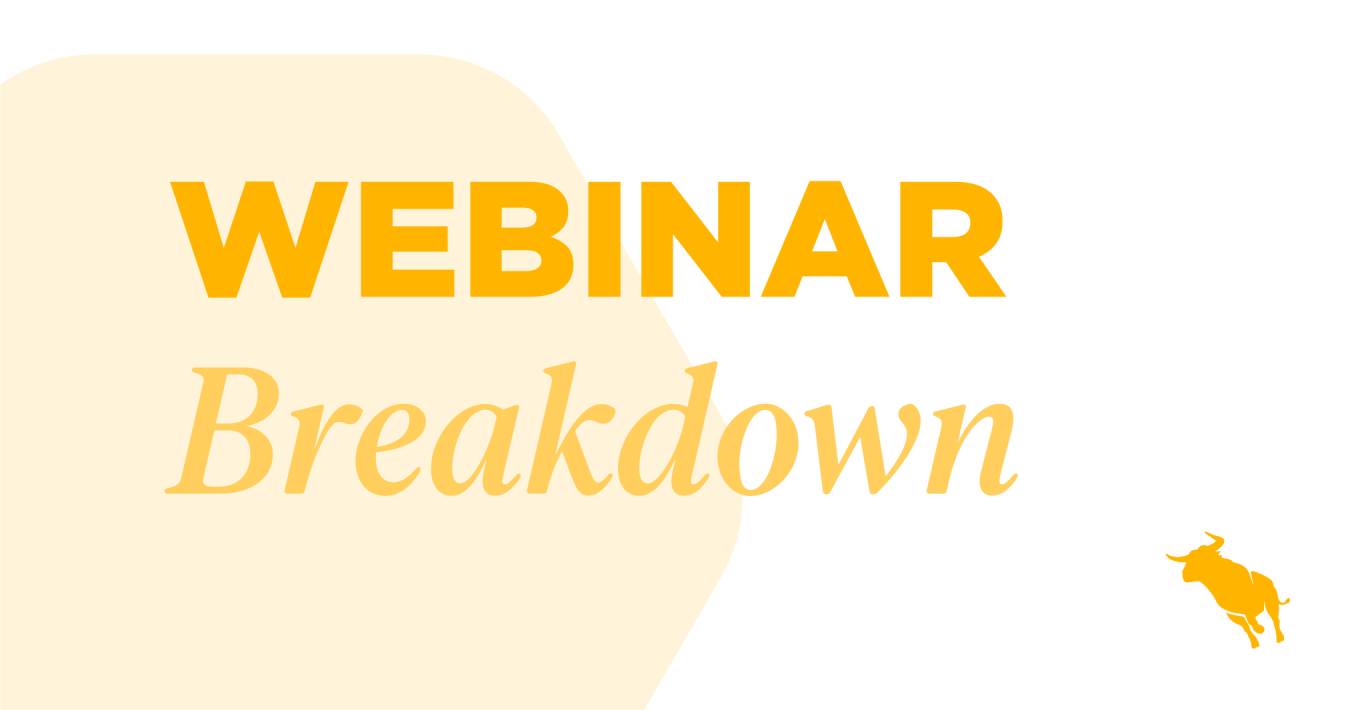 Onboarding can be a tedious task for both agencies and candidates. Between paperwork, documentation, and compliance requirements, candidates can easily get lost — or even drop off entirely, resulting in a longer time to placement. Enter Onboarding365, a next-gen onboarding solution to streamline the onboarding process, created with talent in mind.
We caught up with two Bullhorn experts, Ben Carter, Sales and Strategy Director, and James Suett, Solutions Consultant, to learn how to elevate the candidate experience with Bullhorn Onboarding365. Watch the webinar here, which includes a live demo, or check out the recap below.
What's happening in the market?
Nearly everyone is facing the same challenge in today's market: the global talent shortage. In our 2022 Global Recruitment Insights and Data (GRID) Trends Report, recruitment professionals from around the world, across all industries, regions, and verticals, listed the talent shortage as their number one challenge for 2022. When working with candidates, it's essential to provide an incredible experience to stand out from the competition — especially when it comes to onboarding, lest your candidates drop off in the middle of the process. 
When we conducted our GRID survey, not only did we poll our customers and our partners, but we also reached out to candidates — and we found that candidates want to work with recruiters. 66% of candidates have a favourable opinion of recruiters, and 70% of talent want human interactions during the job search process. However, we also found a paradox: candidates crave a better experience. 50% of candidates have given up on a job because the process took too long, 43% cited poor communication as the primary reason for a poor experience, and 93% of freelance workers say working with online talent platforms is easier. Providing the right mix of digital self-service and the human element is essential to creating the experience modern candidates are looking for.
There's also an additional dynamic at play in the market: four different generations are now part of the modern workforce, with different communication preferences and perspectives. Baby Boomers tend to prefer communicating face-to-face or over email. In contrast, millennials and those in Gen Z are more likely to interact through digital communication channels, such as SMS, social, IM/chatbots. Providing a mobile experience is essential to engage candidates.
We've also seen a massive uptick in digital transformation in the past three years. This shift was turbocharged by the pandemic when companies had the opportunity to take stock in their strategy and enhance their digital capabilities. The Bullhorn digital transformation journey mirrors this shift. In the past, our customers have been mainly focused on digitising to deliver better customer service, reduce mistakes, and redeploy headcount. Additionally, automation has been around for a few years, helping our customers minimize manual activity and outrun the competition. Now, we're focusing on the final piece of digital transformation: empowering your candidates with an incredible experience.
What is Onboarding365?
Onboarding365 is a product that will help scale your business and speed up time-to-revenue, all while delivering an incredible candidate experience. It empowers you to be more efficient as an organisation, improve relationships with your candidates, and be smarter with compliance, all at the same time. 
Onboarding365 also has multi-device capabilities, including native mobile phone tasks and desktop and tablet experiences. Additionally, it has multi-branding capabilities, which is useful for those who might represent multiple brands within a group or have complex client requirements. The ability to dynamically allocate which brand needs to be represented via business logic is easily achievable through Onboarding365.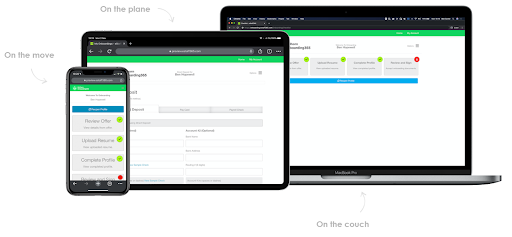 Onboarding365 delivers a streamlined onboarding experience for your candidates.
It's intuitive for candidates
Deliver an intuitive, mobile candidate onboarding experience to drastically reduce drop-out by tailoring the onboarding process and eliminating manual or duplicate paperwork. This results in faster onboarding completions and more on-time starts. Here's how:
Any device:

Onboarding365 is mobile-first, optimised to scale to any candidate's device. 

Integrated:

Data seamlessly flows between documents and your Bullhorn ATS – no need for copying and pasting.

Secure:

Onboarding365 provides a secure candidate experience, so candidates can safely upload all necessary documentation. We also x509 certify any data that comes through, so once your agency receives information, it's untamperable.

Webforms:

The candidate interacts with webforms, not PDFs – no need to pinch and zoom in while inputting information.

Submit once:

Onboarding365 provides on-the-spot validation on all key data entries. For example, if the candidate is inputting a passport number, that field will be limited to nine characters. This validation ensures the correct information is there the first time around.

Visibility:

Onboarding365 also provides real-time tracking and notifications. If you'd like a message to go to the candidate at a certain stage in the onboarding process, it will go through at that specific stage.
It's efficient for business
Get candidates on assignment faster and speed up time-to-revenue by eliminating manual processes, automating tedious tasks, and increasing accurate, on-time completions, all with two clicks in the ATS. This results in an increased speed-to-revenue and proactively ensures candidates complete required paperwork on time. Here's how:
Rule-driven

: Robust rules deliver the right documents at the right place at the right time, always. 

Central docs:

Manage all of your government, client, and custom documents in one place. There is no limit to the volume of documents you can have in your system; everything can — and should — be uploaded in one place.

Video:

Engage through video for training or branded content, whether that includes training, a welcome video, etc. This can be tracked so you know candidates have completed this video as part of the process.

Easy configuration:

It's easy to configure a candidate journey based on unique candidate information.

Role-based:

Restrict access based on Bullhorn user types. However, everyone can see onboarding data; your organization has complete visibility.

Redaction:

Redact sensitive document data in your ATS. You can choose to redact sensitive information from documentation by user type, so some users won't be able to see certain elements of the document.
It's smart for compliance
Set it and forget it rules apply to all documents, meaning you never have to build a document packet for a candidate again. This results in faster onboarding initiation by recruiters or compliance teams. Here are the most common rules that you can set up in Onboarding365:
Client:

Based on your client's requirements.

Worker type:

Based on the type of work the candidate will be doing.

Location:

Based on their home or work locations.

Industry:

Based on their skill set or industry vertical.

Brand:

Based on which brand you're representing.

Custom:

Based on your unique workflow in the Bullhorn ATS.
Step up your onboarding game with Bullhorn Onboarding365
Onboarding just got easier. Efficiently meet complex onboarding requirements, reduce candidate drop-out, and get candidates on assignment faster, all while delivering a streamlined onboarding experience for the modern candidate. To learn more about Onboarding365, visit our product page. Plus, check out our webinar for a full product demo.
Subscribe to the Customer Blog
Subscribe for trends, tips, and insights delivered straight to your inbox.