Say Hello to Chatbot, Your 24/7 Digital Recruiter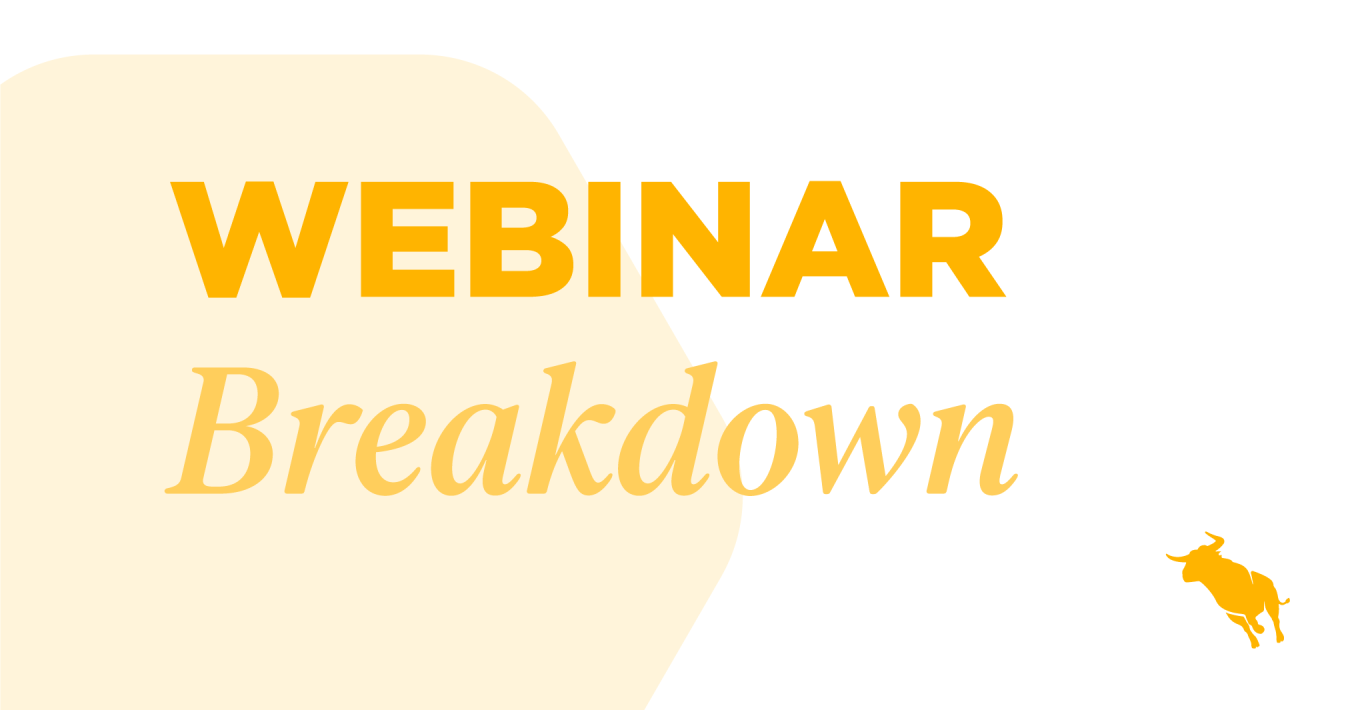 Chances are, you've heard the news: we're in the midst of a global talent shortage. In our annual survey of more than 4,000 global recruitment industry professionals, the talent shortage was listed as the top challenge for 2022. Everyone is feeling the pinch.
What does this mean for you? Agencies need to work harder to attract talent and amplify the experience that talent has with them to maintain engagement. It's become more difficult to fill the same jobs as it was two to three years ago. That's why an engaged talent pool – one that you can rely upon as active candidates, is highly receptive, and is happy to refer you to others – is so important. 
The latest tool in building a highly engaged talent pool is a 24/7 digital recruiter powered by Bullhorn Automation. Say hello to Chatbot.
We spoke with Liam Ryan, Product Marketing Manager, Automation & AI, and Ben Carter, Senior Director Sales & Strategy, Automation & AI to learn how the Chatbot can help you achieve fewer dropouts in the hiring process, reduced time to fill, more referrals, more redeployment, and more placements. 
Read our recap below, or watch the webinar recording here, featuring a live demo.
The candidate paradox
The good news: candidates want to work with recruiters. According to our Global Recruitment Insights & Data (GRID) talent survey, 66% of workers have a favourable opinion of recruiters, and 70% of talent want human interaction during the job search process. However, paradoxically, candidates are also craving a better experience. 50% have given up on a job because the process took too long, 43% cited poor communication as the primary reason for a poor experience, and 93% of freelance workers say that working with online talent platforms is easier.
This paradox presents an opportunity for agencies who are ready to meet the moment and provide the experience candidates crave. Those that do have the potential for rapid growth. When times are hard, those who react best rise to the top.
Changing workforce dynamics
Additionally, your strategy must account for changing workforce dynamics. We now have a talent pool made up of four distinct generations, each with its own preferences, motivations, traits, and perspectives. How can agencies meet all of these expectations at once?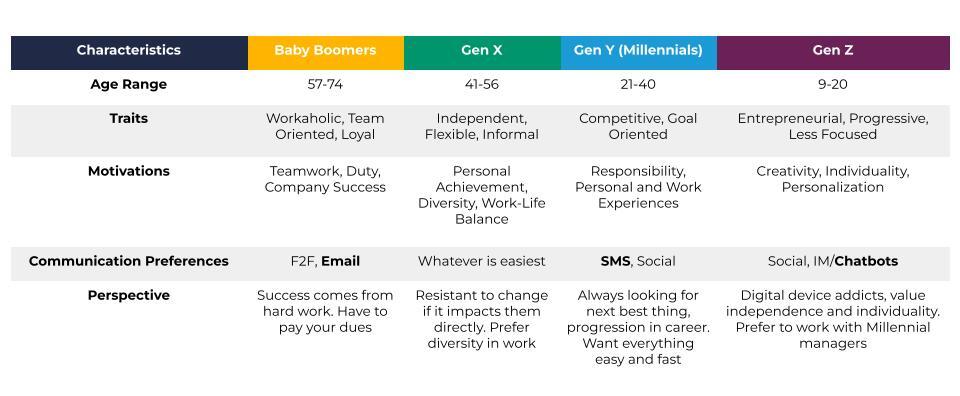 Each of these varied communication preferences – from face-to-face to email, SMS to social – needs to be considered when shaping your communication strategy. All of this adds up to creating an omnichannel experience.
Omnichannel communication
There's a crucial difference between omnichannel and multichannel. You may already be using multiple forms of communication, like email, SMS, and surveys. But as part of an omnichannel experience, each method is synced as part of one cohesive experience, with data flowing back to your ATS. You want your communication to feel like an all-in-one, seamless engagement experience for your clients and your candidates. This way, you meet the expectations and preferences of the talent pool while providing an exceptional experience at all times.
Create a digital experience with Chatbot
The Bullhorn Chatbot functions as the digital arm of the omnichannel experience. Chatbot provides a digital platform across the complete recruitment lifecycle to engage with candidates and clients, creating streamlined, easy-to-use engagements, ultimately speeding up the hiring process and providing an incredible experience.
Chatbot provides more touchpoints for your candidates and clients to engage with your business:
Lead capture:

Capture information from new visitors to your website

Refresh data:

Capture up-to-date information and sync back in realtime

Application:

Have people answer knockout/pre-screen questions

Check-ins:

Have candidates provide a place to check in on day one

Feedback:

Capture general and NPS style feedback any time

Referrals:

Grab referrals from happy candidates and notify teams
If you're currently working with the Enterprise version of Bullhorn Automation, this will turn on for you automatically – no heavy lifting or integration required.
Additionally, Chatbot is available on all devices, from desktop to mobile. If your candidates prefer to engage with you on the go, they'll be able to do so seamlessly.
Your 24/7 recruiter
In today's digital world, consumers are accustomed to service at speed. Chatbot brings this experience to recruitment, offering a 24/7 digital recruiter with which clients and candidates can interact. This experience helps reduce dropouts and missed opportunities, providing a valuable backup to recruiters to maintain engagement.
Here are just a few ways Chatbot can help:
Contractor care:

Ensuring that candidates can alert you to any issues, any time of day

A winning impression:

Provide exceptional service from the very first interaction

Client service:

Build great working relationships with information on demand
Chatbot engagement in practice
How can you incorporate Chatbot into your digital recruitment strategy? There are many ways, but engagement tends to fall into three categories:
Active:

A chat that is designed for direct engagement by the person clicking on a call to action. This could look like answering knockout questions, providing feedback via an NPS survey, or responding to candidate refresh campaigns to update their data.

Passive:

A chat that is designed to interact with a known visitor on the website. This still originates with a call to action – for example, from an email campaign – to visit the website. Here, though, Chatbot is there just in case the visitor has any questions, is looking for jobs, needs to update their information, or wants to speak to their recruiter.

Unknown:

A chat that is designed to interact with unknown visitors that visit the site organically. Instead of a call to action, visitors will have landed on your site from, for example, a digital ad campaign. This chat is designed to perform lead generation activities, capturing a new visitor's information and even converting them into a candidate or client.
Key features
Let's take a closer look at Chatbot, with a few highlights of key features.
Branding:

Name and brand the Chatbot to the look and feel of your website for a consistent, seamless experience.

Keyword branching:

The ability to select the next question based on keywords being used in the previous free-text answers, as opposed to pre-selected questions or answers. 

Jump to chat:

Never repeat a set of questions again by seamlessly jumping from one chat flow to another based on logic. 

Recruiter handoff:

Trigger the start of text message conversations via Bullhorn Messaging in real-time with a visitor's recruiter/owner. 

AI Job Match:

Use the AI Job Match functionality to display jobs that are a match to the candidate within the chat.
With Bullhorn Automation and the Chatbot working alongside your team, you can develop your own omnichannel strategy and build a highly engaged talent pool – thereby setting your agency up for continued success.
---
If you have any questions on the Chatbot, visit the Bullhorn Automation page or reach out to your account manager.
Subscribe to the Customer Blog
Subscribe for trends, tips, and insights delivered straight to your inbox.