Combining Your Analytics with Automation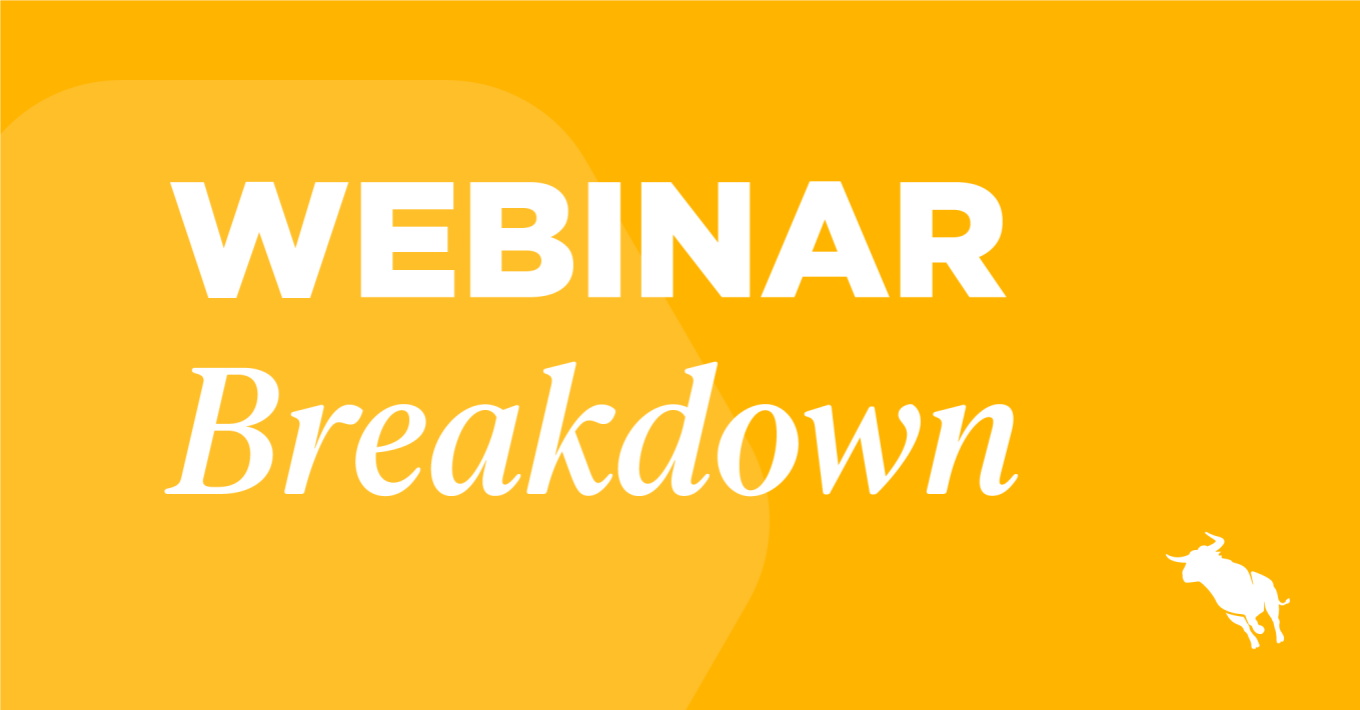 It's no secret that the recruiting landscape has changed rapidly in the last few years. The talent shortage presents an unprecedented challenge to recruiting agencies – but with this challenge comes a wealth of opportunities if you know where to look for them.
We caught up with two Bullhorn leaders on a recent webinar: Ben Carter, Sales & Strategy Director, Automation, and Joe McGuire, Sales & Strategy Director, Analytics. Ben, who has been in the industry for 19 years, works internally with internal stakeholders to ensure automation products align with what clients need. Joe has been in the industry for 17 years and was previously the Chief Revenue Officer of cube19, which was acquired by Bullhorn in November. 
Hear their analysis on how you can use Bullhorn tools to combine analytics with automation to make intelligent, data-driven decisions and set up your team for success. Read the recap below or catch the webinar recording here.
Why analytics?
The biggest question people asked McGuire after Bullhorn acquired cube19 was not "why?", but rather "why now?"
According to last year's Global Recruitment Insights & Data (GRID) report, 91% of companies use data to make decisions, but 50% don't trust that data. A big part of that is that very few companies automate their processes – only 13%.
Bullhorn has always heavily invested in analytics. Before acquiring cube19, Bullhorn's analytics portfolio consisted of Data Mirror and Canvas and was designed to solve a very specific use case: skilled people delivering high-level business data to leadership. While it is important for leadership to have a pulse on the health of the business, it leaves a large part of the company under-serviced by data. 
This is where cube19 by Bullhorn comes in.
cube19 by Bullhorn delivers self-served insights that drive productivity and return on effort at the desk level. Working alongside Data Mirror and Canvas, cube19 rounds out Bullhorn's analytics portfolio, from leadership to the desk level.
What is happening in the market?
Every industry in every region is experiencing a talent shortage. This shortage is holding companies back and slowing growth. Put simply, businesses need more people to achieve their objectives. According to this year's GRID report, the talent shortage is the number one challenge facing recruitment pros – and, naturally, the top priority for this year is candidate acquisition.
This market is where the recruiting industry thrives, but agencies still need to find innovative ways to overcome this challenge.
The myth: "How do we find more candidates?"
Of course, there's a place for acquiring more candidates. But agencies also need to look within and better utilise the candidates they already know – that are already in your system and that you've already paid to acquire. 
Bullhorn's focus as a whole has shifted along with the industry. We want to help you Meet the Moment and digitally transform your business. It all starts with digitizing: moving your ATS to the cloud and ensuring it's your single source of truth. 
Then, in the last few years, the industry has shifted to automating, where you can unlock capabilities in your organisation, from freeing up time to creating better experiences – essentially, doing more with less. 
The final step is talent experience, which we'll cover in a future session. Today, we'll focus on automation to help you make data-driven decisions.
Digital transformation is underway – adoption has increased 3x in the last two years. 84% of organisations today have a digital transformation strategy in place.
Bullhorn's platform can be broken down into a few sections: sales and recruitment, which is where most of our customers were a few years ago. They're just using the front-office ATS and CRM, which means that they're digitising their platform. Candidate experience, which includes onboarding and engagement, is a core focus as well. We also have the Marketplace partner program, where you can enhance your Bullhorn experience with certain niches. Finally, we also have automation and reporting analytics, which wrap around the core platform. Automation is about what you can do from front to back in your processes; that is, making sure that anything happening in your front office has the right repercussions through the rest of your organisation. Reporting analytics is about ensuring that your data is available for you, top-to-bottom, in your organisation.
Today's Topic: How to Overcome the Talent Shortage
There are two sides to this issue: recruiters trying to find candidates for their clients and finding your own talent internally. Remember that you don't always have to acquire new candidates.
Sourcing candidates is always necessary, but you already know a lot of candidates. The key is engaging the candidates you already know and maximising the placement of those known candidates. Once you've engaged them, you can re-deploy the more and more candidates that you've already placed previously.
Engage
At any given time within a 12-month period, up to 81% of candidates in your database are out of date if you're not automating your engagement. What are you doing today to make sure you're consistently communicating with your candidates? What's the level of effort needed to continually engage with all of those candidates? This is where automation comes in.
Let's say we have a candidate with no activity in the past twelve months. We can create an email template to send to this candidate containing a call-to-action, and send out that message in the background, whether it's from a recruiter level or a branded level. You also reach out via text message. When the person clicks that call-to-action, they'll be taken directly to your website, where they can update their information, their availability date, their preferred work location, and update their CV – and have all of this information go straight to their candidate record. Plus, once the survey closes, you can leave them right on your job board. All of this can happen automatically.
Maximise
89% of candidates that have their CV sent by an agency do not make it to a placement. This is, of course, an astronomically high number. Most people are looking at job fill rate, but we're in a candidate short market, so it's more important than ever to look at candidate placement rate.
However, this presents a huge opportunity to make the most out of the candidates you already know and are working with.
Furthermore, 69% of candidates that get an interview are not sent to another job or contacted by the same agency. Most of the time, recruiters get that candidate to an interview and move on to the next candidate. This is a common trait in a job-short market, but right now, there are many jobs out there. Now, agencies need to give themselves the best opportunity to place those candidates – or their competition will. 
How do you improve these stats? Companies want to achieve scalable growth, but at Bullhorn, we talk about highly scalable growth. This is where you grow your revenue faster than your costs while positively impacting the client, candidate, and colleague experience. 
The industry still relies on volume-based metrics that look backward. How much more productive would your team be if they had forward-looking metrics that show what actions they can take today to be more successful tomorrow? Actionable insights, which provide tailored tasks for your recruiters based on real-time data and reports, delivered in an individualised, intuitive dashboard, can help improve return on effort. 
Redeploy
60% of contractors are not deployed into their next role by the same agency. If you think about the energy, effort, and cost that went into placing that candidate the first time, it's much easier to redeploy them than to acquire a new candidate. Additionally, half of those candidates that were not redeployed were not contacted about a new role.
Unless you're using cube19 by Bullhorn as your analytics platform, it's hard to come by this data. cube19 by Bullhorn can track the entire process, starting with your baseline numbers so recruiters know where their starting point is and where they can improve. At a glance, your team can see how many contracts are ending soon, extended, redeployed, and those at risk – i.e., those that haven't been extended or redeployed. 
Recruiters can find tailored, actionable insights based on this data. You can see the finishers that haven't had the relevant activities required to redeploy them and the monetary value of that inaction. Recruiters can also find how this data changes over time. It's crucial that this data is easily and readily available and updated in real-time, to drive your team's decisions.
Once your analytics are in place, you can turn to automation. Within Bullhorn Automation, there are many blueprints to be found to automate the busywork of recruiting. These can be implemented within minutes, and your team can gain traction from them in no time. One of the most popular blueprints focuses on redeploying your candidates via email. Suppose your candidate isn't extending their contract. In that case, you can start to trigger automations to reach out to them and find their next placement before their contract is even over, thereby filling the gaps and supporting your recruiters' efforts. Maintaining this consistent engagement via automation ensures your candidate has an incredible experience, driving them back to you again and again.
Work smarter, not harder
With the unprecedented challenge of the talent shortage comes a huge opportunity to combine your analytics with automation. When thinking about "How do we find more candidates?", try thinking instead of "How do we better utilise the candidates we already know?" After all, the obvious question isn't always the right question.
---
Are you ready to combine your analytics with automation to meet the challenges of this moment head-on? Try out a demo of cube19 by Bullhorn or Bullhorn Automation today.
Subscribe to the Recruitment Blog
Subscribe for trends, tips, and insights delivered straight to your inbox.