3 Reasons Why You Should Come to Engage 2016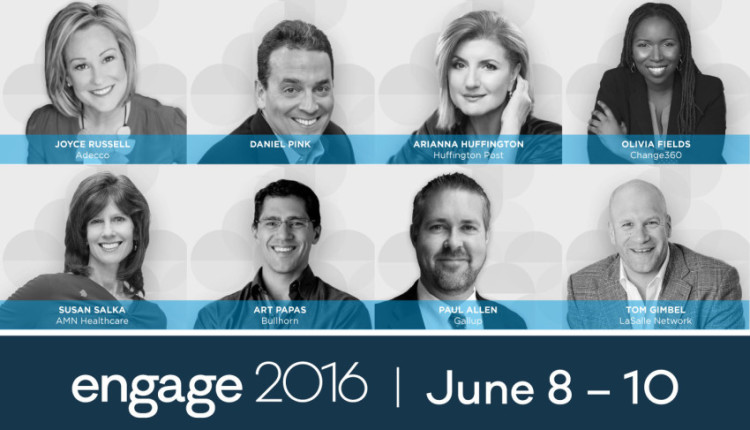 Engage 2016 has all-star keynote speakers like Arianna Huffington and Daniel Pink, over 20 actionable breakout sessions, and a multitude of chances for unparalleled networking, including the official Engage Party at Boston's Lawn on D. But how can Engage 2016 translate into real value for both you and your business?
4 Targeted Tracks
Engage 2016 was developed with 4 different tracks in mind, so you'll always be taking in the content that's most relevant to you.
Build Leadership, featuring speakers like Mark Eldridge and Joyce Russell, is designed to give business leaders practical actions to build a culture that drives long-term, sustainable growth.
Accelerate Growth will include key insights from speakers such as Charlie Kim and Tom Erb, who will share their experiences and tools that can help you win more business.
Engage Customers features speakers like Dan Fisher and Mark Organ, and it's structured to help you develop proactive solutions for customer issues and opportunities.
Engage Talent's speakers, including Murali Balasubramanyam and Jay Brunetti, will help you build strategies to attract and retain your industry's most talented individuals.
Numerous Chances to Grow Your Business
Not only does Engage offer many chances to help your own professional development, but it will also give you the tools you need to make an immediate impact on your business. Engage's exhibitor lineup includes over 25 sponsors (including CloudCall, CareerBuilder, Indeed, Monster, and more) that could have the solution you need to take your business to the next level. And the conference's Super Sessions, from Kate Leggett (Forrester Research) and Susan Salka (AMN Healthcare) will give you a top-level perspective on your business that will have you looking at your processes from a whole new angle.
Workshop Your Skills
Engage 2016 has the hands-on learning you need to take your skills to the next level, with 11 workshops designed to give you personal attention and instruction. Topics include:
Tips to Maximize Customer Engagement and Drive Profitability
Measuring for Success: Leadership & Strategy
Sell More with Lead and Opportunity Pipelining Best Practices
There's something for everyone at Engage, no matter your discipline or skills. But make sure to register soon – Engage 2016's workshops are almost sold out!
Register for Engage 2016 today at engage.bullhorn.com, and click here for more reasons to attend the must-attend conference of the year.
Subscribe to the Staffing Blog
Subscribe for trends, tips, and insights delivered straight to your inbox.