Announcing the Engage Austin 2020 Keynote Headliners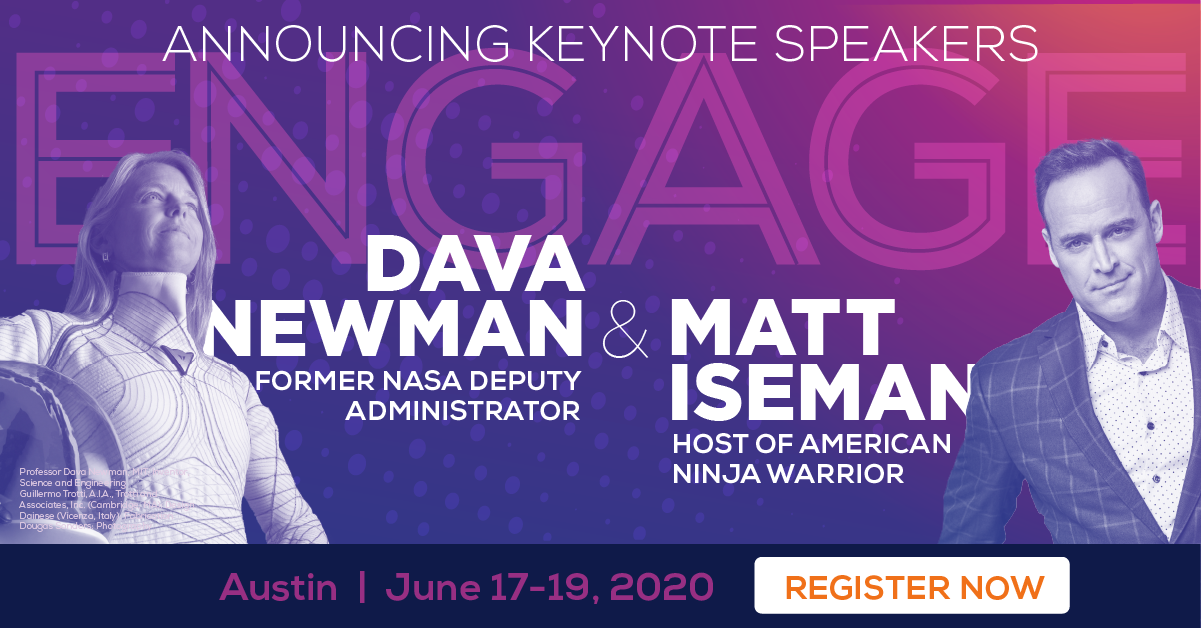 In just a few short months, not one, but two fantastic keynote speakers that will headline Engage Austin 2020! Former NASA Deputy Administrator Dr. Dava Newman and Host of American Ninja Warrior Matt Iseman will each take the main stage at Engage to share their unique experiences and perspectives with attendees. 
Each speaker will draw on their unique experiences to deliver messages to staffing industry professionals on defying expectations, taking risks, overcoming obstacles, and adopting new skills.
Read on to learn a bit more about our keynote speakers and register for Engage today to secure your spot!

Looking to sharpen your leadership skills? Then you won't want to miss the space-tested leadership insights Dr. Dava Newman has to share gleaned throughout her distinguished career at NASA. Dr. Newman is the Apollo Program Professor of Astronautics at the Massachusetts Institute of Technology (MIT) and was the first female engineer and scientist to serve as NASA Deputy Administrator (2015-2017. Dr. Newman was also awarded the NASA Distinguished Service Medal and was the principal investigator on four NASA spaceflight missions.
During her keynote address, Dr. Newman will use her experience as a leader at NASA, mentor to 300 undergraduate and graduate students, and co-founder of EarthDNA to inspire the audience to grow their own leadership qualities and team-building techniques.
Dr. Newman is best known for her advanced spacesuit inventions, including the second skin BioSuit™ planetary EVA system, which is now being applied to "soft suits" to study and enhance locomotion on Earth. Her BioSuit™ has been exhibited at the Venice Biennial, American Museum of Natural History, Victoria and Albert Museum, The Paris Sciences and Industry Museum, and Metropolitan Museum of Art.
Dr. Newman earned her Ph.D. in aerospace biomedical engineering, Master of Science degrees in aerospace engineering and technology and policy from MIT, and her Bachelor of Science degree in aerospace engineering from the University of Notre Dame.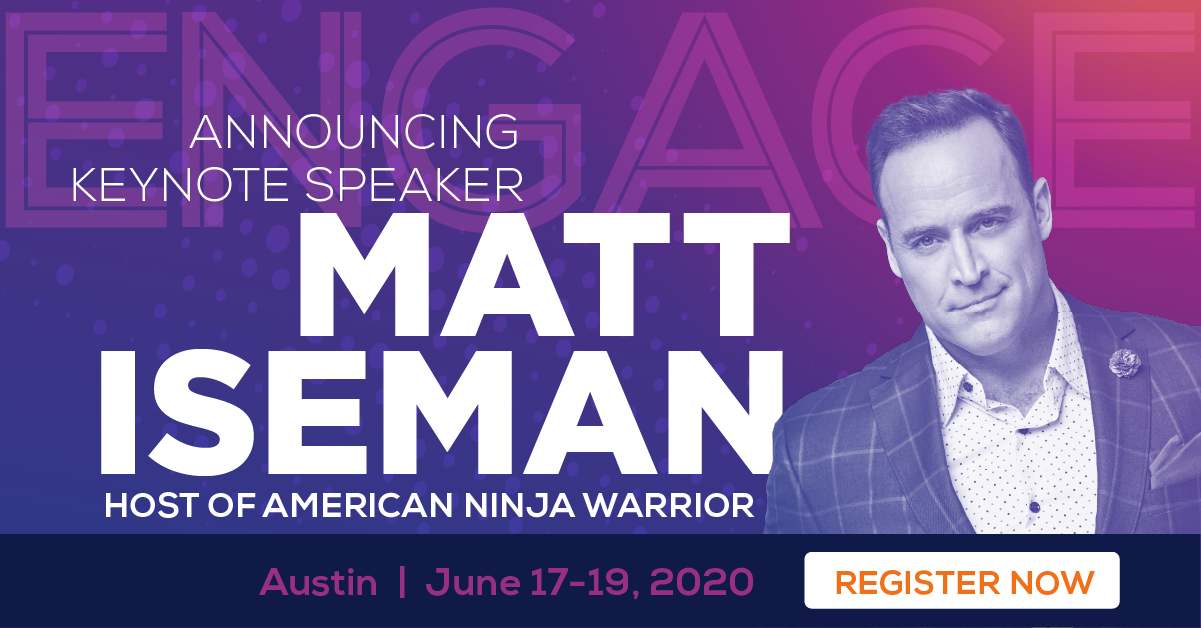 You may recognize him as the renowned host of the four-time Emmy nominated series 'American Ninja Warrior' and winner of 'The New Celebrity Apprentice' in 2017, but Matt Iseman is that and so much more.  Combining an energetic, charismatic stage presence with incisive advice, Matt will deliver a can't-miss keynote address where he'll make you laugh and motivate you to follow your passions while giving back to others.
Matt will pull from his varied experiences in the medical field, television, comedy, and charitable organizations to fuel his Engage Austin 2020 Keynote, centered on taking risks in the pursuit of your dreams. When Matt wanted to quit medicine to pursue a career in comedy, his father, also a world-renowned physician, told Matt "Life is short, do what makes you happy,". It's this advice and more that Matt Iseman will pass along to the audience during his Engage keynote.
On-screen, Matt may be known for his Emmy award-winning work as host of 'Clean House' and host for 'Sports Soup' and 'Scream Play.  He is also the host of 'American Ninja Warrior Junior' and 'ANW: Ninja vs Ninja', makes regular visits on 'The Today Show' and has appeared on 'Lip Sync Battle', 'Hollywood Game Night', and 'Ellen's Game of Games'. 
Off-screen, Matt Iseman is a spokesperson for the American Cancer Society after battling Renal Cell Carcinoma. He is also a proud supporter of the Arthritis Foundation after being diagnosed with Rheumatoid Arthritis. Matt graduated with honors from Princeton University and the Columbia College of Physicians and Surgeons, where he received his MD.
Dr. Newman and Matt join Engage Austin 2020 alongside a lineup of the foremost staffing industry leaders. Don't miss out on the opportunity to learn from some of the brightest minds. Discover how to effectively engage clients, talent, and leadership by registering for Engage Austin today and use promo code KEYNOTE to save $100 on your ticket.
---
Subscribe to the Staffing Blog
Subscribe for trends, tips, and insights delivered straight to your inbox.