Meet Bullhorn at ASA Staffing World 2014!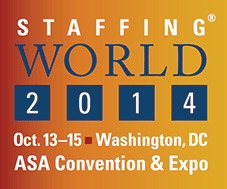 The American Staffing Association will be hosting Staffing World, the staffing and recruiting industry's largest convention and expo with more than 2,000 expected attendees, at the Gaylord National Resort and Convention Center in Washington, D.C. from October 13-15. As usual, Bullhorn will have a large presence at this year's conference, and we would love for you to visit us at booth #811 on the floor of the Expo Hall to network with Bullhorn executives and learn more about how to better manage relationships with clients, prospects, candidates, and contractors. Some of the topics we'll be discussing in detail include:
Bullhorn Back Office – Our back office system automates processes that would otherwise be done manually, wasting time and risking costly errors. This streamlining lowers costs by 75% and saves time on tasks like sending invoices, calculating commissions, and entering time and expense records.
Onboarding – Bullhorn Onboarding makes the placement onboarding process easy for staffing firms with simple form generation and automatic data entry, as well as electronic reminders for candidates with overdue paperwork. Reduce new hire onboarding time by up to 60%, and avoid compliance issues with Bullhorn Onboarding's secure document storage.
Bullhorn VMS Access – A cloud-based subscription service, Bullhorn VMS Access automatically loads and updates jobs from vendor management systems, parsing the information you need into your CRM. Bullhorn VMS Access also lets you filter your requisitions by agency-defined parameters to weed out the clutter and find requisitions that fit your business. Additionally, executives get real-time visibility into activity in order to determine which requisitions are generating ROI.
Bullhorn's solutions are especially valuable for staffing firms specializing in the placement of contract and temporary employees. The nature of the contract staffing industry lends itself to an ongoing stream of requests and candidates, resulting in a workflow that can be heavy with repetitive processes. Bullhorn's products are designed to make this workflow easier to manage, helping your firm to make more placements in order to increase profit and productivity. Our team at Staffing World would be happy to demonstrate and discuss how Bullhorn's recruiting software suite can help you grow your staffing firm.
You can register for Staffing World at www.staffingworld.net. We can't wait to see you in Washington, D.C.!
Subscribe to the Staffing Blog
Subscribe for trends, tips, and insights delivered straight to your inbox.