Engage 2016 to Feature Joyce Russell and Hilary Jarman from Adecco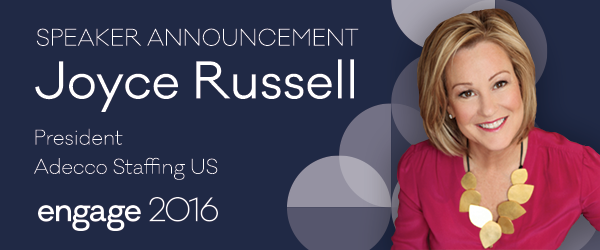 Engage 2016 is a little more than 2 months away, and the speaker lineup is already bursting at the seams with talented, knowledgeable experts, including keynote speakers Arianna Huffington and Daniel Pink. But it's not just our keynote lineup that has us excited about this year's sessions. Speakers like Joyce Russell and Hilary Jarman from Adecco Staffing are prepared to deliver the insights you need to grow your business.
Joyce Russell is the president of Adecco Staffing, U.S., and she has a deep understanding of the working world: her responsibilities include overseeing field operations and executing growth strategies for Adecco, the global leader in workforce solutions. She'll be presenting a key session at Engage 2016, called "Bridging the Gap: Engaging Millennial Talent."
Millennials already form 25% of the United States workforce, and that number will only continue to grow. Despite this increasing presence, many business still struggle to connect with this younger generation. To get to the bottom of this disconnect, Russell will have a fireside chat with Hilary Jarman, the Director of Marketing for Adecco Staffing, U.S.
Jarman is a proud Millennial herself, and she'll bring the unique perspective of her generation to the conversation. How can your company not only engage Millennials, but also retain them within your organization to build both lasting careers and business continuity? Russell and Jarman will answer this question and others on June 9th as they help your business to bridge the gap between Baby Boomers and Millennials.
Don't miss out on this exciting and informative session from Joyce Russell and Hilary Jarman – make sure that you reserve your spot at Engage 2016! Taking place from June 8-10 in Boston at the Westin Boston Waterfront Hotel, Engage has the resources you need to help you build better business relationships. To learn more about and register for Engage 2016, visit the official Engage 2016 website.
Subscribe to the Staffing Blog
Subscribe for trends, tips, and insights delivered straight to your inbox.