What to Expect at EngageX — The Online Experience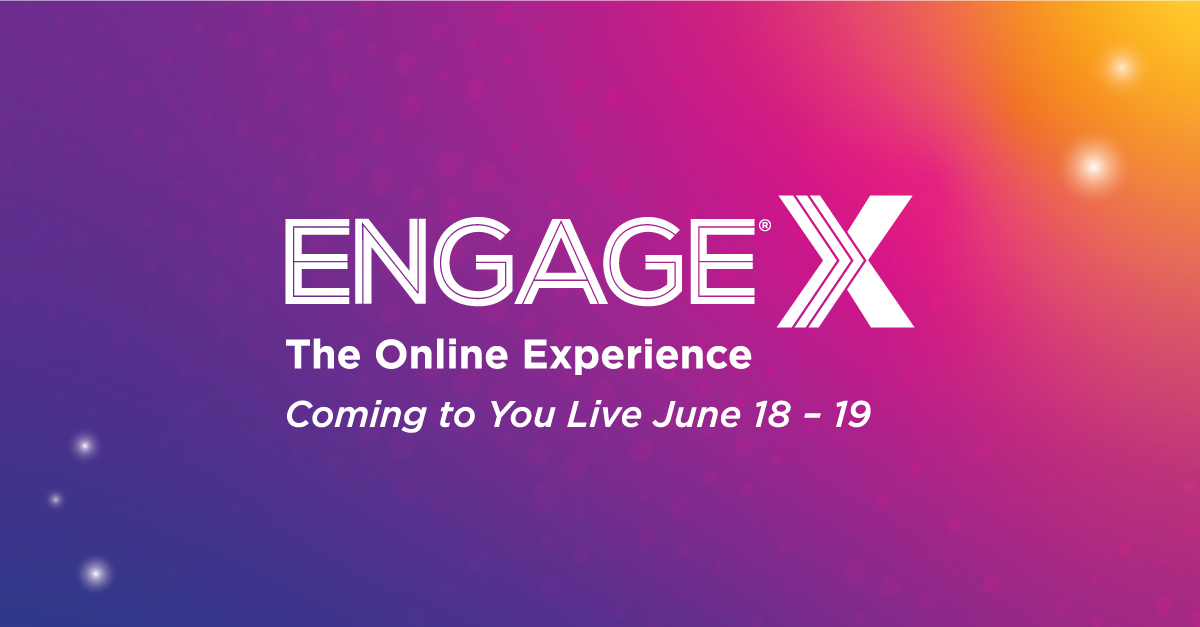 Putting on Engage—our global series of conferences for staffing and recruitment professionals—is one of the most exciting and rewarding experiences we organize every year.
This year, in light of the spread of COVID-19, we made the decision to transition Engage 2020 to an immersive online conference, EngageX, because we want you to experience the industry and product-related content you value without requiring you to physically congregate in a specific space. And now it's only days away! 
So what can you expect from EngageX? Here's everything you need to know about our first-ever (and totally free) online conference. 
Register now for EngageX, June 18-19
EngageX takes everything you love about Engage and then some
The thousands of global recruiting professionals who attend Engage every year do so for various reasons. Some come for the keynotes and sessions featuring insights from staffing experts and leaders. Others prize the opportunity to network with like-minded peers and many come to learn how to get the most out of their Bullhorn investment. We've worked to ensure that every part of the Engage experience carries over to EngageX, including: 
Top-notch content featuring the brightest minds in the industry
The sessions at Engage cover cutting-edge content at the intersection of technology and staffing industry trends and EngageX is no exception. Staffing Industry Analysts' Barry Asin will share research and advice on how to grow your firm in a post-COVID-19 world. American Staffing Association's Richard Wahlquist will lead a panel on the legal side of the staffing industry. Keynote speaker Dr. Dava Newman will use her experience as a leader at NASA to inspire the audience to grow their own leadership qualities and team-building techniques. Plus, Bullhorn CEO Art Papas and President Matt Fischer will present their ever-popular keynotes on the state of the industry and Bullhorn's vision for the future respectively. Stay tuned for the full agenda to discover the dozens of sessions ranging from industry insights to Bullhorn best practices.
A custom experience full of networking opportunities
A one-size-fits-all experience doesn't make sense for an industry as diverse and robust as this one, so your EngageX experience will be tailored to you. This means you'll be able to build your agenda based on the activities that will provide the most value to you. Create an agenda with the content that will best help you make decisions to better your business and professional career. Want to network with your peers? Use our matchmaking tool to connect with likeminded staffing professionals. 
There's plenty to do for Bullhorn customers as well. You can explore Bullhorn's open ecosystem with one-on-one meetings with Bullhorn marketplace partners or sign up for hands-on training of your technology solutions via the return of the ever-popular Bullhorn Connect.
Bullhorn insights and updates
Whatever technology you use to run your business, EngageX is filled to the brim with industry content designed to help you succeed. However, if you want to use EngageX to get more out of your Bullhorn investment, we have you covered. You'll be able to attend engaging breakout sessions offering best practices from real customers, strategies from product experts, and live Q&A with the Bullhorn team. We'll also feature product roadmaps, a keynote by Bullhorn president Matt Fischer on the future of Bullhorn, and the return of the crowd-favorite Innovation Throwdown, where developers pitch their most inspired Bullhorn ideas and you vote for the winner.
It's two days and totally free
If this sounds like a lot to do in one day, you're right. EngageX is two full days: Thursday June 18th through Friday June 19th. Both days will include networking opportunities, breakout sessions, and keynotes, so mark your calendars now.
The best part? While EngageX brings you everything you love about Engage, there's one big difference: it's completely free—that's a value of thousands of dollars.
There's still time to register!
Whether you're looking for industry trends and thought leadership, insights into technology, inspiration from your peers and colleagues, or the opportunity to elevate your Bullhorn platform usage to the next level, EngageX 2020 has everything to offer you. EngageX is truly a one-of-a-kind event, and I hope you will consider joining us for an unforgettable experience.

Subscribe to the Staffing Blog
Subscribe for trends, tips, and insights delivered straight to your inbox.