Unlocking the Power of Talent Community to Maximize Redeployment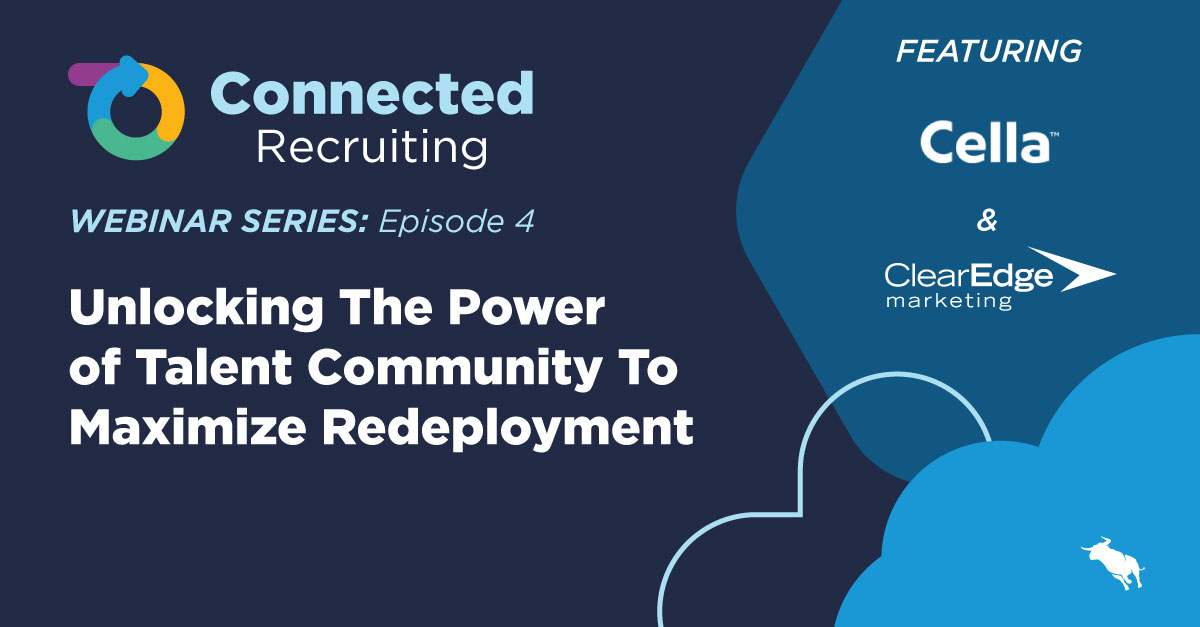 The world of staffing has changed. As a result of digital transformation, a younger talent pool, and changing value systems, work is no longer the same as it was even five years ago. Now, work is a commodity. Talent is in the driver's seat, and they can choose between employment more easily than ever before.
The good news is that staffing firms have an opportunity not just to keep up, but to stand out – and experience is the differentiator. Creating a memorable experience makes a difference. It's how you'll turn your talent pool into a talent community and keep candidates coming back again and again.
Andre Mileti, Product Evangelist, Talent Experience at Bullhorn, sat down with Michelle Krier, SVP at ClearEdge Marketing, and Karissa Sachs, VP of Marketing at Cella, to cover strategies and tactics on how to better nurture talent and keep them coming back for more.
Read the recap below, or watch the webinar recording here.
What is Connected Recruiting?
There's always room for growth. At Bullhorn, we're always thinking of ways to optimize the recruitment lifecycle to help the industry provide the best possible talent experience. That's why we introduced the Connected Recruiting strategy to empower staffing firms to engage candidates at every stage of the talent lifecycle.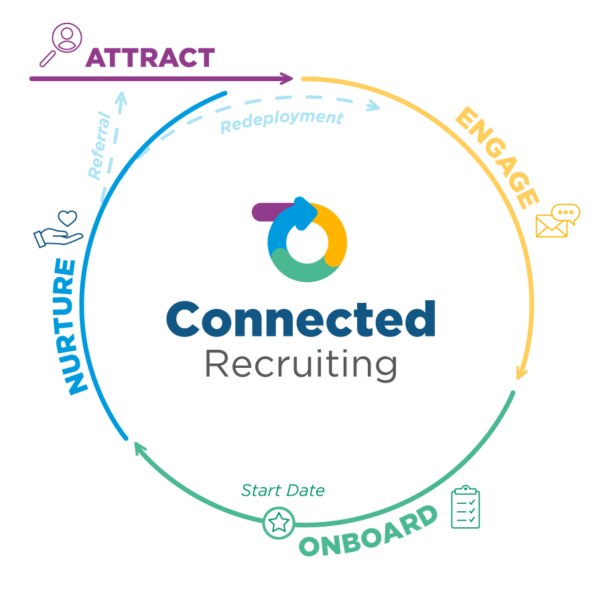 Connected Recruiting is about meeting your talent where they are and delivering an incredible experience at every phase. If your talent isn't having that top-level experience, said Sachs, the cycle won't continue through the referral and redeployment process. 
"Most companies I speak to are so focused on filling the open reqs they have right now that they're not running a parallel path of building this engine," added Krier, "and they really need to do both." Companies need to focus on the here and now while thinking more broadly about the candidate experience and fine-tuning it along the way. Otherwise, they'll be stuck trying to fill in the top of the pipeline again and again. "It's hard to dedicate the resources," she said, "but that's what companies will have to start doing."
"You've spent all this time and money on finding these candidates. Why are you not mining this database that's so full of gold?" – Michelle Krier
"For the longest time, staffing was considered to be like a production line," added Sachs. "That just doesn't work these days." The market is more sophisticated, and talent wants personalized content and messaging. Building a talent community, she said, is critical.
Why nurture?
As part of Bullhorn's Global Recruitment Insights & Data (GRID) Trends Report, we surveyed over 2,000 global temp workers on their recruitment experiences. The numbers speak for themselves:
36%

say their recruiter didn't reach out about future opportunities before their assignment end date

1 out of 3

say responsiveness declined once an assignment began

1 out of 3

say their recruiter wasn't proactive about opportunities when one fell through

3 out of 5

candidates want recruiters to reach out at least once a week with opportunities
There's a long way to go within the industry when it comes to nurturing candidate relationships. But by focusing on this stage, firms have an opportunity to flip the script, boost their referrals and redeployment, and bring talent back into the recruitment lifecycle again and again.
What does it mean to nurture talent?
The last phase of the Connected Recruiting lifecycle is about building a generative relationship with talent. A few key touchpoints include:
Surveys, ratings, and reviews

Reskilling/upskilling

Campaigns

Redeployment

Engagement/advocacy

Employee support

Data refinement

Self-service enablement

Personalized outreach
Getting started on just a few of these touchpoints can have an impact. "Surveys, ratings, and testimonials are underutilized across the industry," said Sachs, "but they're crazy powerful." 
The power of talent community
When it comes to showcasing your brand, firms have a powerful asset that they may not be aware of: their contractors already out on assignment. "How are you leveraging those people you have already placed from a referral perspective?" asked Sachs. "Those people are an extension of you and your brand."
"I think the biggest thing we can do is ask people," added Krier. "You've got all these people out on assignment, and you'd love for them to carry your brand forward in the marketplace. Have a conversation, survey them, and see what they think and how they can help you." Once those conversations have started, said Krier, it's just as essential to use those insights to influence your strategy moving forward.
"People buy from people – so use your collective people to showcase your brand." – Karissa Sachs
Content that converts
Leveraging engaging, relevant content is crucial to effective talent nurturing – but our panelists noted that it takes a lot of work. Even so, it's worth the effort, resources, and buy-in to build that content and use it to market effectively to your candidates. Said Sachs, "This is where staffing is going."
"That generic content just isn't going to cut it," added Krier. Less isn't always more, she advised, and content should be providing something of value to your talent community. "Spend time getting into the weeds of what your candidates want to hear about, and then create tailored pieces of content to reach those audiences." 
The challenges of redeployment
Redeployment is a key focus of the nurture phase, but there are so many variables that it comes with its own unique hurdles. "You could have a five-hour long webinar on redeployment," said Sachs. "But it all starts with the end date. The end date is never 100%." Due to the chances of an end date extending, there's a fluidity there, Sachs said. Of course, you never want to pull a candidate from a client, but letting clients know that candidates are likely to be redeployed and setting that expectation can help. "You can only market a candidate once they have a definitive end date, so it's hard," she added.
Reviews vs. Net promoter score
Before working with firms, just as they would before using a product, candidates will likely go to Google. Krier noted that reviews on sites like Google or Glassdoor are important but underutilized. "Companies have not taken advantage of the power of this area to showcase why candidates want to work with you rather than with someone else," she said.
When candidates Google your company, Sachs added, guess what you see? "Right in front of you, front and center, you've got your Google reviews." These reviews are among candidates' first interactions with your firm, right from the very first organic search.
Net promoter scores are another way of promoting your brand, but there's also good data in those results, Krier said. These scores can help shape your tactics and give you highlights to showcase on review sites, in your outreach, and in your campaigns. 
No matter how you nurture, there's no one right way to build those relationships and create a talent community. "There's not just one tactic to use," Krier said. "There are a lot of levers that you can pull to create an optimized experience for your candidates." 
---
Unlock the power of your tech, industry best practices, and your team with our new Connected Recruiting website and resources.

Subscribe to the Staffing Blog
Subscribe for trends, tips, and insights delivered straight to your inbox.