Bringing Candidate Engagement Into the 21st Century With Sense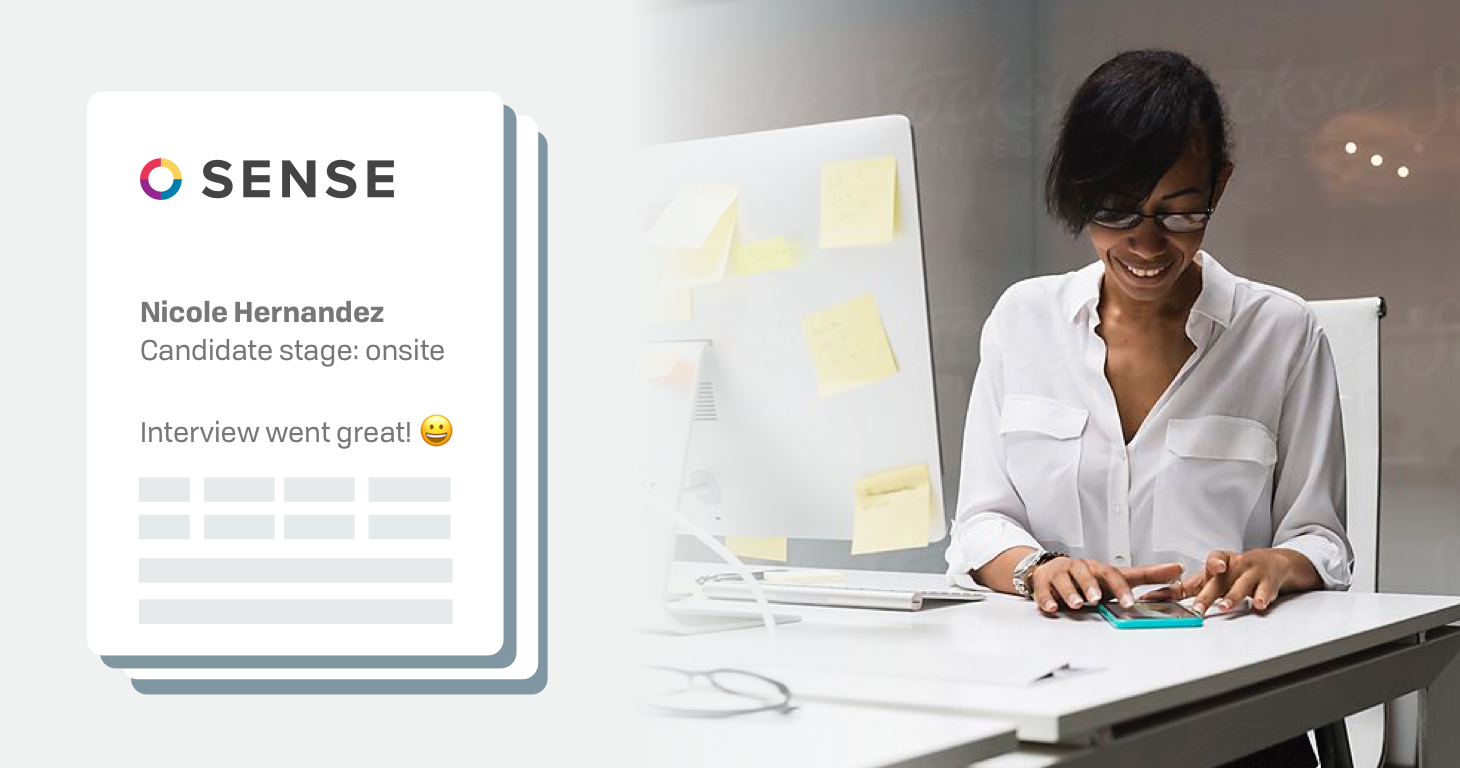 It may be difficult to imagine, but it wasn't too long ago the term "customer experience" seemed like just another buzzword. Marketers were hellbent on raising awareness at the top of the funnel, driving leads and buyers through a conversion process, hoping to see a customer come out the other side.
That sort of thinking is clearly dated, and most of us would turn up our noses at brands who weren't customer-centric. We all know the customer journey matters, whether B2B or consumer.
So why is it not the same for candidates? Here at Sense, we're changing that.
Define the candidate
Why is it that the technology, real estate, insurance, and even the finance industries have adopted this model? We in the staffing and recruiting industry know that people are our most important asset, yet we are still years behind our counterparts in adopting technologies and programs that put our talent first.
Ask any recruiter to describe the candidate experience and, more than likely, you'll hear all about the stages of the application process. For recruiters, the candidate experience has traditionally been defined relative to the interview process itself: "applicant," "on-site interview", "rejection."
However today, for the average job seeker, the decision making process starts way before the submission of a resume online. What does this mean?
Being a candidate and being an applicant are no longer synonymous.
Map the candidate experience journey
There is no one single candidate journey. Just like consumers, each candidate will have a unique set of interactions with your employer brand. The hiring process is no longer a one-way street, but relationship building on both sides.
It might be easier to map the candidate journey to the typical sales and marketing journey.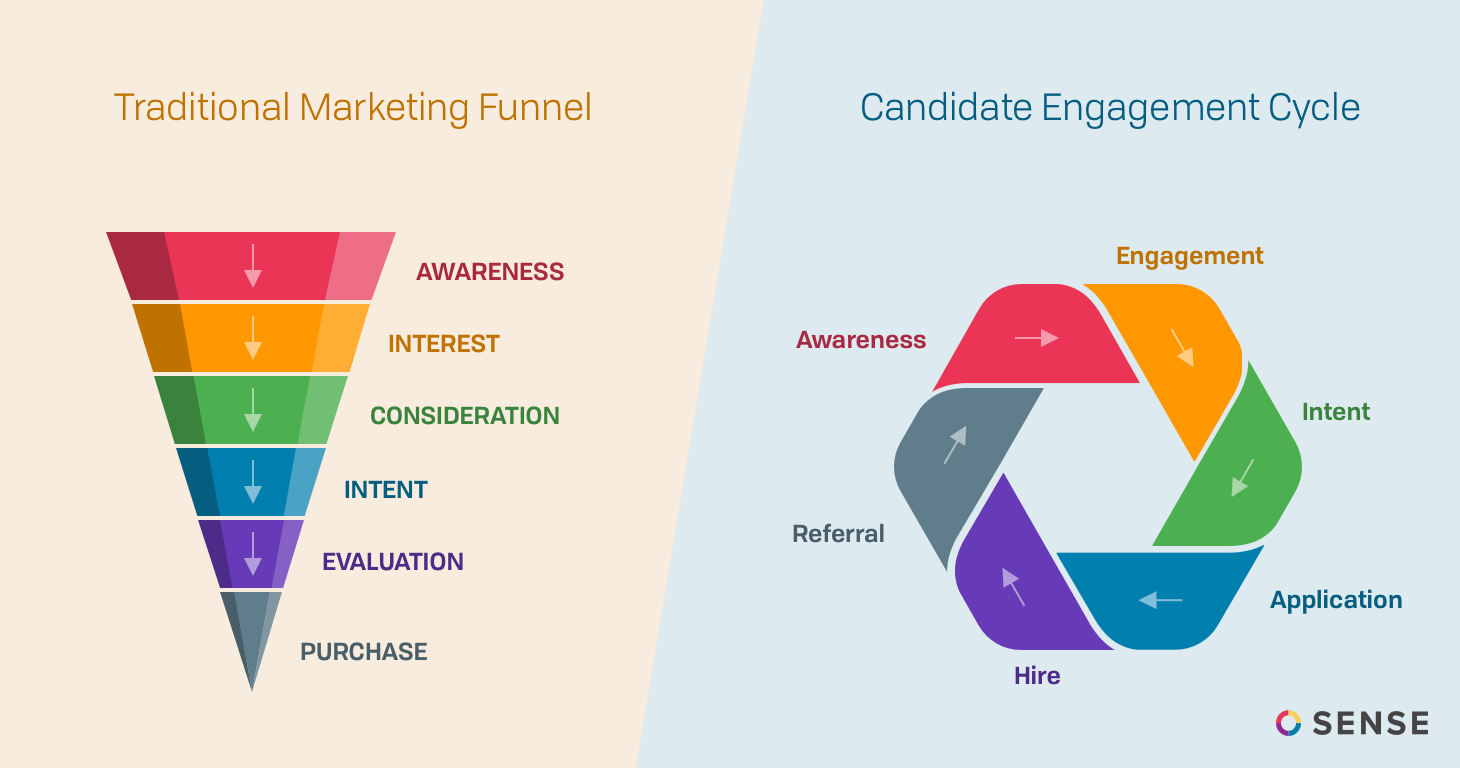 It's easy to map the marketing journey on the left-hand side, moving someone efficiently from unfamiliarity to purchase. And it's also very clear – you're either a customer, or you're not. You've either purchased, or you have not. Our world is a little bit different. And for contractors, being a candidate is an all-too-familiar, all-too-common process. For example, Jennifer, an IT consultant, could be enjoying her placement at ACME Industries, but knowing her contract is ending in 30 days, may already be looking for her next move. And that may not be with your firm.
At every stage of the candidate engagement cycle, we're interacting with our talent pool. And so is every other firm! What used to be a single job listing, and perhaps an ad in the paper with a website, has turned into a rich ecosystem of touchpoints between candidates and employers. From the simple Google search, to reading peer-driven Glassdoor reviews, from attending live events to following your Instagram on mobile, from traditional job boards to LinkedIn communities and custom landing pages, each and every one of these presents an opportunity to delight your talent and tell the story of your employer brand.
Sense supports your team through every of the candidate candidate experience. We know maintaining brand consistency across your team is difficult – especially when we're making many placements! Sense's engagement platform keeps your recruiters on brand and empowered with easy-to-use workflows triggered by an enriched database.
For our recruiting teams, these brand touchpoints don't just stop at the awareness stage. Timely follow-ups, open communication with recruiters, flexible scheduling and welcoming on-site interviews all live in the same ecosystem as these new interactions. Ensuring a positive candidate experience is everyone's job. And with Sense, your recruiters can stay on track with internal workflows and reminders, so they can focus on what's most important – the talent.
However, with the rise of the full-cycle candidate experience, as well as the democratization of information regarding employers and firms, maintaining a employer brand works both ways. With so much brand exposure, and candidates empowered to communicate and research across channels, a negative candidate experience can be extremely costly. 72% of candidates who experience a negative interview or application process will go on to leave a negative review or tell a friend. Can you really afford that sort of risk? Turning candidates into referrals and advocates for your brand should always weigh heavily in your candidate engagement strategies, whether or not they receive a placement.
Put people at the heart and center
Of course though, outreach to our candidates and talent communities with content, and texts and emails only works when the message is relevant. In this day and age, we have Facebook ads that recall our favorite shoe brand, and outdoor enthusiasts are retargeted by new camping gear before they've ever done a Google search. Personalization is key to creating intimate, loyal relationships with our base and, for staffing, maintaining that personalization at scale is a difficult challenge.

Well, for one, it's about segmenting your database. New candidates should be enrolled in workflows with different messaging and touchpoints than, for example, a candidate looking for redeployment. For those of us who serve multiple industries, our healthcare arms can send personalized texts about local hiring events at hospitals and clinics, while our IT teams release interview tips to your Java programmers. Some candidates may prefer phone calls, while other groups of talent may be easily reachable by SMS or LinkedIn.
With Sense, the power of personalization is right at your fingertips. Activate your ATS, like Bullhorn, to automatically enrich candidate profiles to make sure your segmentation is smart and personalized. We do the heavy lifting so that you can always trust your data. With our native ATS integrations, your ATS can work for you to keep in touch with candidates instantly, ensuring a warm and nurtured talent pool at all times.
79% of consumers say they are only likely to engage with content if it is personalized to reflect previous interactions with the brand. And that's just for consumers – we believe that number is even higher for our industry.
Learn More About Sense
It can be overwhelming to think about an end-to-end recruitment marketing strategy, especially if your agency deals with thousands of placements a year. We know it's challenging to stay personal, and stay productive. Automation is integral for operating efficiently as we scale, but maintaining brand and message consistency, and creating highly personalized content was nearly impossible before.
Platforms like Sense make it simple and easy for recruiters and contractor care teams to stay deeply and personally engaged with their talent pool, at every step of the candidate journey.

For example, with Sense, our native ATS integrations, like Bullhorn, allow you to drive a positive candidate experience by taking control of your brand with programs such as sourcing candidate feedback to calculate employer NPS. With tools such as email automation and smart workflows, and social nurturing, it's now easier than ever to hear directly from your candidates, and meet them where they are – even on mobile.
Sense Messaging by Sense also is the first business class two-way texting platform that was built for staffing. Text right from your ATS and keep your number –it's cannot get any more personal than that!
Sense is the only platform built not only to recruit and retain your consultants and contractors, but also to engage and redeploy your talent. Our powerful Analytics dashboard not only empowers engagement, but measures performance. Never before has there been an all-in-one solution for talent engagement and experience. Learn more on how Sense can help create and develop a personalized candidate journey every step of the way.

Subscribe to the Customer Blog
Subscribe for trends, tips, and insights delivered straight to your inbox.