Why Do You Need Staffing Software?
Staffing Software is an essential tool for your staffing firm. It allows you to build and maintain relationships with large pools of candidates and effectively manage the entire recruitment process. By utilizing specialized staffing agency software, your firm can eliminate manual data input and save essential time while still engaging with candidates. The leading systems, however, take a step further in that they automatically capture every interaction, every email conversation, store it, and organize it by client. With integrated staffing software, automation replaces your fingertips, saving you valuable time.
How to Choose the Best Staffing Software for Your Firm
Use the following three considerations to guide you forward in finding the best system for your recruiting needs:
Does the software simplify your current recruiting process?
The purpose of quality staffing agency software is to improve your staffing and recruiting processes, not to complicate them. Bringing on new technologies should allow you to centralize all of your data, from job requisitions to employee referrals, into one accessible location. It should also provide your candidates with an easy, efficient way of applying for different positions.
As you consider staffing software, it is important to find a system that can streamline and organize your recruiting workflow through automation, allowing you to handle a large volume of candidates without hefty amounts of paperwork. You should also ensure that its functionality will improve communication and foster a better alliance between your organization's recruiters, hiring managers, and prospective applicants.
Can the software be integrated with your website and all other recruiting platforms?
A crucial component of staffing software is its ability to integrate with your business platforms, including your website, email, and social media accounts. As a result, you want to ensure that your system can serve as a platform for mobile and cloud computing, unified communication, and social networking.
Social media has become an indispensable tool for recruiting firms. By having a system that can integrate with these accounts, you can better equip your firm to post jobs, source candidates, share content, engage followers, and build relationships through all outlets of communication and outreach.
Will the staffing software improve the candidate experience?
Much has been said within the industry about how fostering a positive applicant experience can lead to a higher caliber of candidate.  The best applicant tracking systems provide an easy-to-use platform for both the recruiter and the candidate.  Friendly front-end usability eliminates roadblocks between you and your candidates and improves the overall image of your employment brand.
Does the software provide scalability for the future?
Those who invest in staffing agency software and technologies benefit from a system that is built for the future.  When choosing the right solutions, you should focus on not only ensuring the system works for you in-the-moment but also on ensuring that it's flexible enough to accommodate unforeseen necessities down the road.  Customization and smooth integration offer built-in insurance so that whatever successes and growth you experience, your staffing software adapts to meet your needs.
Choosing the Right Strategic Partners
Being the owner of a staffing agency requires you to sacrifice your own time and risk your own money, which isn't easy. Sure, being your own boss is appealing ―you get to decide who's hired on your team and what hours you want to work ―but the role also comes with plenty of responsibility.
One inevitable challenge that all business owners must face is choosing the right strategic partners to keep the company running smoothly. This includes talent, investors, and even vendors that provide the products and services you need to compete in the market.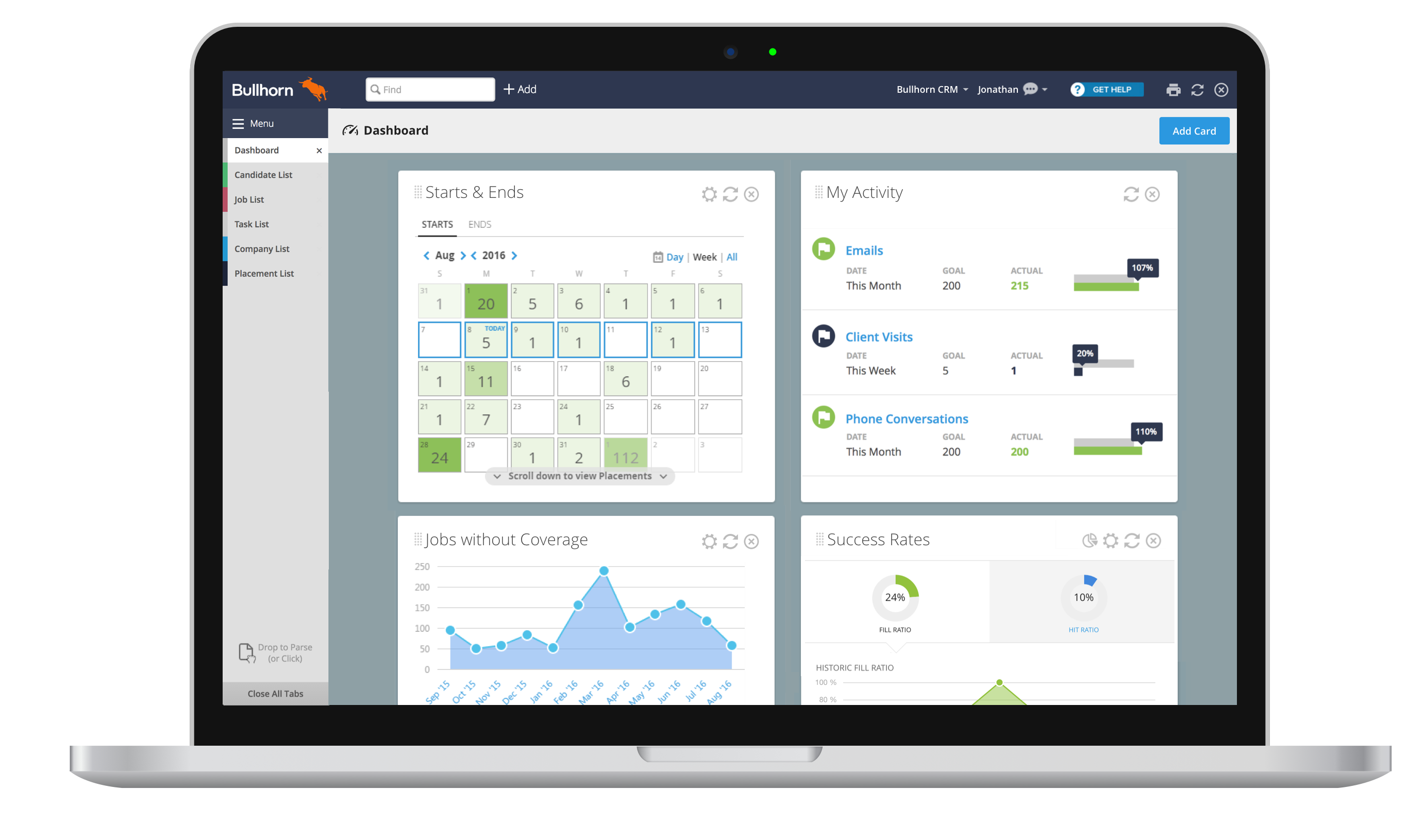 Staffing Software Through the Years
Software for staffing companies has come a long way over the past ten years. Once dominated by on-premise, custom, homegrown solutions, the recruiting software landscape has matured. Staffing companies have turned to cloud-based systems that provide more flexibility and speed.
Recruiters want to move fluidly through their recruiting system without losing their place as they go from candidate to candidate, candidate to client, and phone call to email, which requires a fully end-to-end solution with both an applicant tracking system and CRM solution.
Other features that might be included in an advanced staffing solution include a:
Back Office Solution ― A back office solution allows users to automate manual tasks such as time and expense submissions. Users can also send invoices on-the-go and get client approvals faster, while eliminating frustrating and expensive human errors.
Social Recruiting Tool ― Last year, Bullhorn's Staffing and Recruiting Trends report found that the greatest opportunity for recruiting firms was "access to passive candidates via social media." A social recruiting tool helps recruiters leverage their social networks to source candidates and identify potential movers more efficiently.
Mobile Recruiting Software ― Mobile recruiting software gives staffing firms further advantages by allowing them to enter data on the road and view client or candidate information before or during meetings, at their fingertips.
Reporting and Analytics ― Recruiting firms generate a ton of data every day, but the data alone isn't useful without a full analysis behind it to help provide your team with insight into which business processes are working and which aren't. A reporting and analytics tool can help improve data quality and give you a better understanding of your team's strengths and weaknesses so you can build a healthier business.
Staffing is an ultra-competitive industry. Choosing the right staffing software partner is like getting married. Does the vendor understand your business? Is the relationship going to make your business better? These are some of things you should ask yourself when evaluating staffing company software. If the vendor is not one to which you'd want to be married, then you probably shouldn't partner with them.
Today's staffing firms require innovative software that enables them to respond quickly to changing market conditions and new developments. Many of the applicant tracking systems (ATS) and recruitment CRM solutions that vendors offer are not built with an architecture that is flexible and powerful enough to support the agile framework staffing companies demand.
Multi-tenant architecture, which is widely used in cloud computing and software-as-a-service (SaaS) solutions, uses a single instance of software to serve multiple customers (tenants), while keeping each user's data separate, safe, and secure.
Staffing agency software solutions that do not use a multi-tenant architecture have separate instances of their application and data for each user, making it harder for the vendor to maintain and slower for them to update, which explains the growing popularity of cloud-based solutions.
Start Growing Your Business with Bullhorn Today