Bullhorn Acquires Erecruit to Help Staffing Businesses Accelerate Their Digital Transformation Journey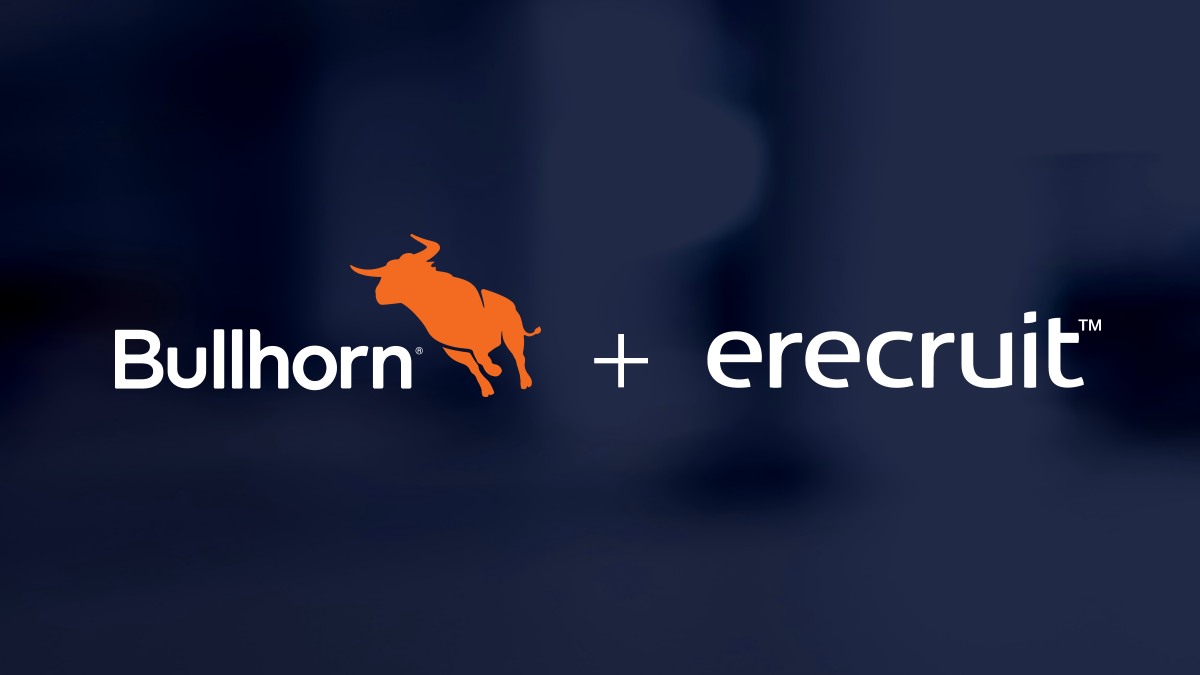 BOSTON – OCTOBER 1, 2019 – Bullhorn®, the cloud computing company that helps staffing and recruiting organizations transform their businesses, today announced that it has acquired Erecruit, a provider of applicant tracking and pay and bill solutions and a leader in candidate experience for the staffing and recruitment industry. Terms of the transaction will not be disclosed. Following the extremely successful June release of Bullhorn One – the first start-to-finish staffing solution – the acquisition of Erecruit is designed to help Bullhorn further enhance its vision of delivering a unified solution to firms looking to leverage the power of automation to streamline operations and drive business growth. 
The acquisition of Erecruit is a strategic investment in Bullhorn's vision to help staffing companies realize the promise of digital transformation in their businesses. Specifically, Bullhorn is excited about three strengths that the Erecruit team will provide. The first is intellectual property, which includes deep pay and bill, onboarding, and mobile candidate experience capabilities. The second is strong internal talent, comprising employees who have in-depth knowledge of the staffing industry, pay and bill processes, and large-scale pay and bill deployments. And the third is the Erecruit team's long-standing relationships with some of the leading staffing firms in the industry and experience in addressing their diverse needs. 
In the quest to integrate sales, recruiting, and finance operations, staffing companies of all sizes face numerous challenges, the primary of which centers on leveraging technology to eliminate the inefficiencies of manual data management at various stages of the recruitment lifecycle. Bullhorn has long been known for providing a single system in which recruiters and salespeople can "live," harnessing the power of the Bullhorn partner ecosystem, and managing recruiting delivery, sales, onboarding, VMS integration, and most recently, pay and bill processes in a unified platform. With the continued proliferation of temporary labor models as an attractive solution for the global talent shortage, the time has never been better for Bullhorn to further invest in its pay and bill solutions that underlie Bullhorn One. 
The acquisition of Erecruit will assist in furthering the already-significant market momentum of Bullhorn One and help the company drive greater productivity and results for customers of Bullhorn and Erecruit. Additionally, for Erecruit's customers, becoming part of the Bullhorn family means access to $40 million in annual R&D and technical operations expenditure, a strong delivery engine and experience delivering enterprise projects at scale, continued innovation (including investments in cutting-edge artificial intelligence research and technology), and unparalleled staffing expertise developed over twenty years. 
"We're excited to welcome Erecruit's diverse portfolio of customers into the Bullhorn family," said Art Papas, founder and CEO of Bullhorn. "Both companies have always shared a desire to serve the staffing and recruitment industry and help its constituents grow and achieve their business goals, and being able to do this as a collective unit is a privilege and affords a huge opportunity to advance the industry. Staffing firms face enormous pressures from investors, clients, candidates, and employees to digitize their businesses while simultaneously facing historically low unemployment. The timing has never been better for a unified team to address these challenges head-on for our customers."
"Bullhorn's commitment to delivering an incredible customer experience has long been an inspiration to its partners and peer technology providers to the staffing industry," said Dominic Gallello, CEO of Erecruit, "and we're looking forward to joining their team. We've always had ambitious goals that we're eager to bring to fruition, and with Bullhorn's resources and best practices powering us, we can deliver amazing ROI to our customers." 
Erecruit has been delivering innovative software that serves the entire recruitment lifecycle, with the goal of helping organizations of all sizes and scale grow and succeed. Erecruit's management team, including founders Judd Hoffman and Danko Fatovic, will join Bullhorn as crucial members of the extended leadership team to support and drive success for Erecruit customers.
Bullhorn was advised by District Capital Partners and Willkie Farr & Gallagher LLP on the transaction. Erecruit was advised by Paul Hastings on the transaction.
About Erecruit
Erecruit offers a comprehensive and innovative end-to-end staffing software platform designed to empower users to achieve exceptional results. The company serves the entire recruitment lifecycle with Erecruit Front Office, Middle Office, Credentialing, and VMS solutions for enterprise staffing firms; Adapt Front and Back Office software for newly formed to mid-sized firms; and eStaff365 Onboarding, TempBuddy temporary workforce management platform, and Innovantage for recruitment analytics and insights.
About Bullhorn
Bullhorn is the global leader in software for the staffing industry. More than 10,000 companies rely on Bullhorn's cloud-based platform to power their staffing processes from start to finish. Headquartered in Boston, with offices around the world, Bullhorn is founder-led and employs more than 950 people globally. To learn more, visit www.bullhorn.com or follow @Bullhorn on Twitter.
Media Contact
Vinda Souza
Vice President, Global Communications
Bullhorn
617-951-4319