Bullhorn Acquires Herefish to Help Accelerate Automation of Staffing Processes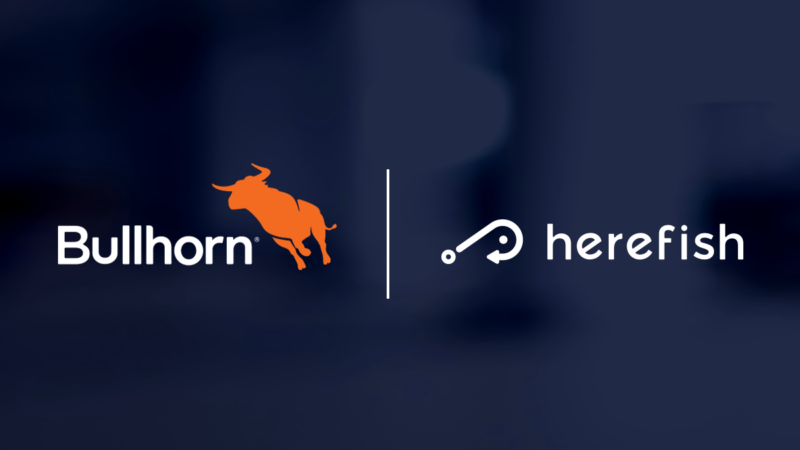 BOSTON – JANUARY 8, 2020 – Bullhorn®, the cloud computing company that helps staffing and recruiting organizations transform their businesses, today announced that it has acquired Herefish, a provider of automation solutions for staffing firms. As part of Bullhorn's goal to serve as a trusted partner to staffing businesses, the acquisition of Herefish will help firms accelerate their transformation journey by enabling companies to automate time-consuming and manual spreadsheet-based processes to improve bottom-line and top-line growth. 
Herefish, a longtime Bullhorn Marketplace partner, is one of the leading providers of staffing business process automation, and its solutions will help Bullhorn customers improve recruiter productivity, maintain higher data quality and accuracy, and improve communication between recruiters, colleagues, candidates, and customers. On average, Herefish automates 7.2 million actions per month and saves 2.55 hours per recruiter per day. As Herefish expands to support more use cases and works with more companies, these productivity enhancements will continue to grow.
As a leading Marketplace partner, Herefish helps staffing and recruiting firms automate many of the manual, time-consuming process and messaging tasks throughout the recruiting process so that their teams can focus on what's most important – building and nurturing human relationships. By eliminating error-prone manual tasks and maintaining completeness and accuracy of a firm's database, employees not only have more time in their day to focus on revenue-generating activities, but also produce better results because they're working with higher quality data. Herefish allows firms to effectively replicate their best employees by automating the ideal workflow across every employee – ensuring that everyone performs the right actions, every time – and subsequently allowing the entire team to benefit. 
"Staffing firms face numerous challenges across their businesses, but one thing is constant: all firms are looking to keep up with customer demands," said Art Papas, founder and CEO of Bullhorn. "Moving to a fully digitized infrastructure with automated processes will help these firms keep pace. Herefish provides critical building blocks to enable this transformation, so that our customers can reap the benefits from improved productivity and top-line growth."
"Automation is critical to the digital transformation of the staffing industry," said Jason Heilman, CEO of Herefish, "and we're excited to join the Bullhorn team and bring productivity and messaging efficiencies to the top staffing firms in the world. Bullhorn and Herefish have very customer-centric cultures and we cannot wait to help our customer base to prepare for the future and prepare to win."
Terms of the transaction will not be disclosed. 
About Herefish
Herefish is an automation platform technology that reduces busywork for fast-paced staffing and recruiting firms. By automating key activities throughout the recruiting cycle, Herefish customers can focus on driving new growth rather than worrying about repetitive, error-prone tasks. Herefish enables modern staffing firms to automate communication and processes to produce high-touch candidate, customer, and contractor experiences. To learn more, please visit https://herefish.com. 
About Bullhorn
Bullhorn is the global leader in software for the staffing industry. More than 10,000 companies rely on Bullhorn's cloud-based platform to power their staffing processes from start to finish. Headquartered in Boston, with offices around the world, Bullhorn is founder-led and employs more than 1,100 people globally. To learn more, visit www.bullhorn.com or follow @Bullhorn on Twitter.
Media Contact
Vinda Souza
Vice President, Global Communications
Bullhorn
617-951-4319