Bullhorn Enhances Onboarding with All New Updates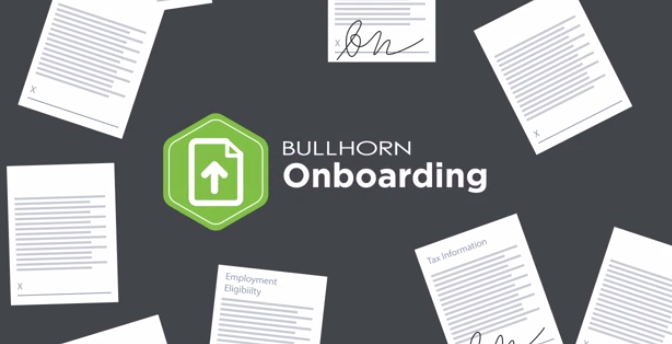 Bullhorn is pleased to announce onboarding enhancements that bring radical ease of use to staffing and recruiting firms. Companies that use Bullhorn CRM and ATS will now be able to automate the candidate documentation process from end to end with a single solution that improves recruiter productivity and enhances the candidate experience.
Bullhorn Onboarding allows recruiters to manage many new hire documents, from offer letters and direct deposit forms to tax documents and driver's licenses. With the ability to send, track, and update these documents from within Bullhorn, recruiters now have a single location from which they can keep track of candidate eligibility, monitor license expiration, and mitigate employer non-compliance that results from missing paperwork.
With Bullhorn Onboarding's new pre-hire functionality, recruiters can initiate new hire packages to candidates before they're even placed in a job. Recruiters can also configure new hire packages for specific positions or companies, helping to ensure that candidates receive all the forms and documents they need.
"One of the biggest pressures recruiting firms are facing right now is expanding recruiter productivity to meet business growth opportunities. Advanced technologies intended to drive productivity gains are no longer just nice to have – they're absolutely fundamental to ensuring higher volumes of successful placements," said Jonathan Novich, General Manager, Staffing Strategy at Bullhorn. "Reimagining onboarding in a way that fits naturally into a recruiter's workflow with the ATS will greatly improve efficiencies and return significant ROI for staffing and recruiting firms."
"We have such a growing demand to fill a job quickly with our qualified candidates," said Chrissy Tadlock, Office Manager at WAHVE. "Bullhorn understands these challenges, and with this expanded capability, my placement specialists can complete their onboarding tasks in as few steps as possible, saving a lot of time and improving our response times to candidates, which is a huge advantage in our market. It helps us do our jobs more efficiently and quickly to meet our commitment to our clients, while also providing a better experience for candidates."
To further enhance the candidate experience, Bullhorn provides firms with a secure, branded portal to keep track of required new hire forms and documents. After recruiters initiate a pre-hire or new hire package from within Bullhorn, candidates can sign in to the portal to complete documents, upload digital attachments, and provide electronic signatures. It's just one more way that Bullhorn strives to help its clients provide their customers with incredible experiences every day.
Click here to learn more about the new performance-boosting updates to Bullhorn Onboarding.
Subscribe to the Staffing Blog
Subscribe for trends, tips, and insights delivered straight to your inbox.