Engaging Talent: Key Takeaways from Engage 2018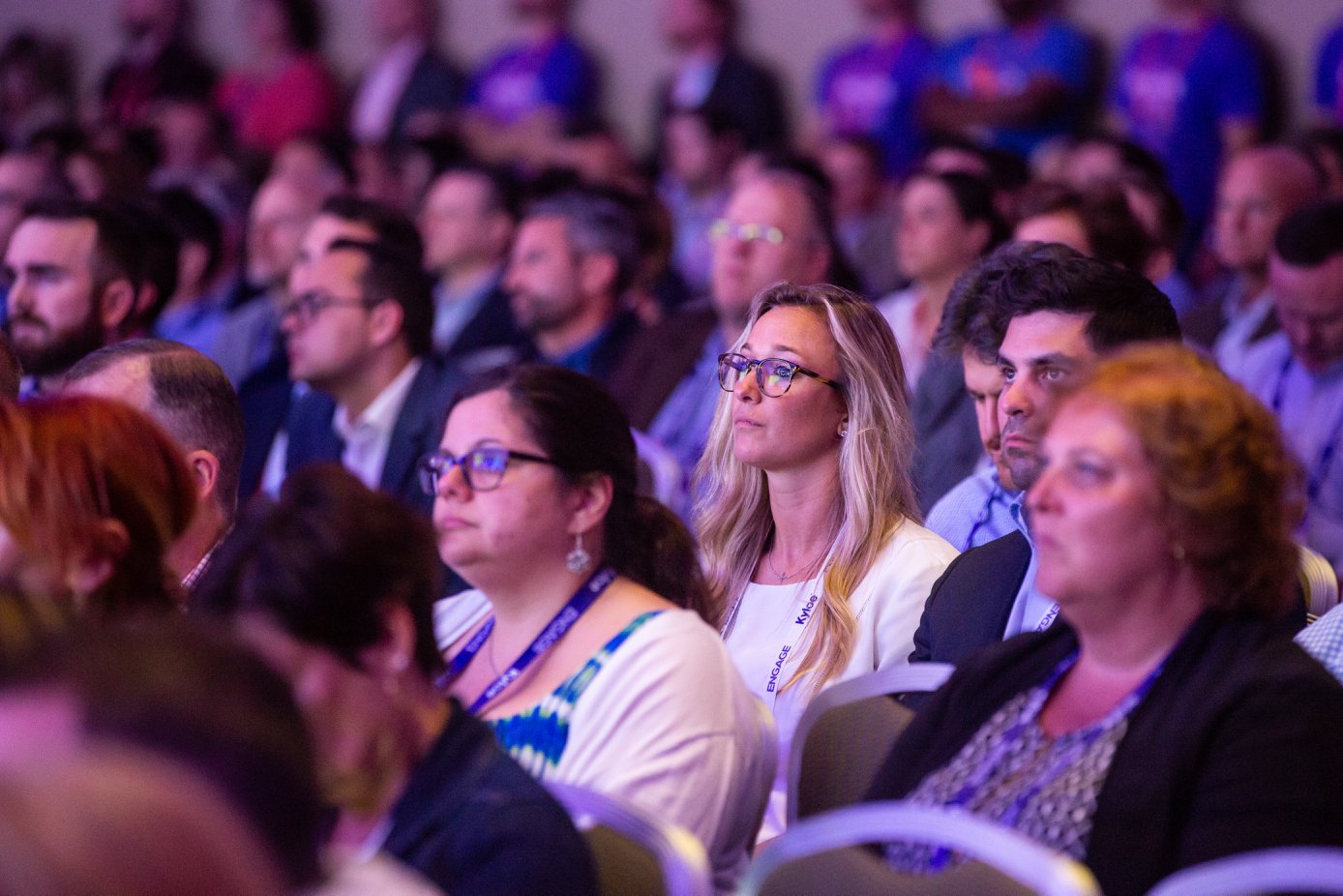 Another year, another hugely successful Bullhorn Engage conference in Boston, MA. Over the course of three days from June 13th to 15th, around 1000 attendees gained expert insight on engaging talent more effectively, becoming a leader in the recruiting industry, and staffing successfully into the future.           
With 'the power of people' as its theme, Engage 2018 saw industry veterans, disruptors and thought leaders offering their expertise on a variety of staffing topics.
But to those who couldn't attend – or indeed did attend, but didn't manage to see every discussion – you needn't fret; those nuggets of recruiting wisdom aren't lost. Let's take a look at some of the most insightful and exciting takeaways from the talent track of Engage 2018.
Understanding your audience
In a well-attended panel discussion titled Put Your Candidates First: A Programmatic Approach to Winning the Candidate Experience, speakers Leslie Vickrey, Adam Bleibtreu, Kyle Power and Gordon Burnes discussed the importance of understanding your candidates in order to best serve them.
Vickrey cited proper database segmentation as the foundation of a good candidate experience. "Try to segment your database by skill set, especially if you are servicing different industries," she instructed. "Don't send mass mail that isn't relevant to people. Take the time to clean up your data, and be mindful of what you are sending people so they don't get frustrated."
On the topic of tech, Bleibtreu recognized that automation can make many staffing tasks far easier – "yes, one piece of tech can do the work of many." But he went on to warn that said tech needs to be utilized correctly if it is to be effective from a customer experience point of view. "First and foremost, start with the persona of your target. Who is your candidate? And what type of experience do you want them to have?" This persona development will help to guide the rest of your candidate strategy.
In another panel discussion titled Pulse Check: How to Effectively Engage Candidates in Healthcare, Melissa Knybel points out how you make contact with your candidates is just as important as the message that you contact them with. She stated "Every persona is different. Some people like texting, some like email and some like to be called. Make sure you personalize that experience."
Building relationships
In her presentation Relationships Above All Else: Creating a Culture that Builds Long-Term Trust, Cindy Pasky walked attendees through the ways that her company, Strategic Staffing Solutions (S³), has built real and meaningful relationships with its candidates.
Founded in 1990, the company was built on what Pasky calls the four pillars of S³:
Create jobs.

Set a high bar for what a company should do.

Always retain community and charity work as a core part of the business.

Offer people an opportunity to succeed and change their lives.
The company's growth demonstrates that this social responsibility and inclusivity far from harms the bottom line – now boasting 31 branches spread across two continents, S³ employs over 3000 people, 56% of whom are veterans or military spouses. A doorless and animal-friendly office proudly displays the LGBTQ flag, as well as the flags of every country S³ operates in.
Pasky emphasized that this open, friendly and welcoming culture permeates everything that her company does, perhaps making itself most apparent in how her consultants build relationships with their candidates.
Candidates take pride of place at the very top of the S³ organizational chart, and all decisions are framed around them. While Pasky sees her competitors focusing on vanity metrics, she feels that her culture of connectedness and care will see her company pulling ahead in the long run.
"Because we focus on culture, our growth rate will proportionally blow other staffing firms out of the water. Our competitors can get a thousand more likes, but if we can get 50 more placements, who won at the end of the day?"
Re-engaging old talent
Most staffing firms have them lurking in the shadowy recesses of their database. 'Zombie candidates' – the individuals who haven't been contacted for 5+ years, but whose profiles remain steadfastly locked in the system.
As On Assignment's Chief Marketing Officer, Adam Bleibtreu knows the power of engaging with people. And he saw no reason that engagement couldn't be just as successful with zombie candidates as it could with those in constant contact. "We've run successful email campaigns to zombie candidates, often with great results. [In one campaign] 130 resumes showed up in 48 hours."
All you need to do is ask them something, suggested Bleibtreu. 'What's new in your life?' 'What has been your career trajectory since we last spoke?' You can even make it more succinct, and simply ask them for an updated resume.
He stressed, however, that there's a fine line between being succinct and being blunt – "most candidates are treated like dirt, and 90% of candidates are not satisfied." Vickery agreed, and highlighted the need to be genuine in this communication. "Be authentic. Be real. Ask them 'what is important to you?', and then market to them."
Automating key interactions
Are authenticity and automation mutually exclusive? Perhaps they once were, but not anymore said the Engage 2018 experts. When asked about the difference between marketing automation systems and traditional email, Bleibtreu was frank. "One (marketing automation) is effective, one (traditional email) is a waste of time."
Sitting on the same panel, Kyle Power noted that heads of marketing inevitably have backgrounds in marketing, not recruiting, and thus bring a different perspective to the industry. "They bring in these technologies and ask 'why aren't we already doing [automated] email marketing?'"
As one of those aforementioned heads of marketing in the recruiting space, Bleibtreu has lived exactly that. "You have a database with tens of thousands of candidates. Us traditional marketing people will say 'we've already paid to acquire them – let's open a dialogue and connect with them.'"
Marketing automation provider Herefish also offered their expertise, explaining that with today's technology, you can personalize at scale.
"There are thousands of candidates in an ATS, so manually sending email is a huge time waster. By leveraging marketing automation you can personalize to thousands and thousands of candidates. Personalization isn't just their name and email either, you can personalize jobs, or personalize based on their interactions with your company. Let's say you use it to send a happy birthday email to each candidate on his or her birthday; it's a simple (yet surprisingly effective) example, and offers just a glimpse of how powerful automating touchpoints can be."
Focusing on the talent you already have
In his presentation The Connected World: Macro-Trends in the Tech Sector, Mark Roberts cited the US unemployment rate – currently at 3.8%, one of its all-time lows – as the main reason that staffing firms need to take redeployment of talent seriously. By focusing on the talent you already have, you make the process of filling a position far more efficient.
"Firms can do better at redeployment," Roberts instructed. "Firms that make a concerted effort to redeploy talent are going to fare better in the current environment."
Very few staffing firms keep tabs on their redeployment metrics, but doing so represents a golden opportunity. Why? Because you've already spent time and money placing a candidate – letting them fade away and leave your firm for a competitor is simply bad business.
Once again, marketing automation technology can aid your efforts to retain and redeploy top talent. Automating interactions based on triggers like contract start dates and end dates can help to engage contractors on assignment, thus reducing your churn rate.
Wash, rinse, repeat
As part of the panel tackling Pulse Check: How to Effectively Engage Candidates in Healthcare, Buffy White expressed the challenges for staffing firms working within an industry that, like many others, is facing a severe talent shortage.
Her concerns were two-fold. "Are we giving the recruiters the right tools they need to be successful? Are we giving them too much admin work?"
The truth is that engaging with talent is an efficient, repeatable and effective process once it's set up and automated. The personalization is still there for your candidates, but it can be done at scale and in perpetuity. The right tools will do away with much of the admin, allowing recruiters to do what they do best – recruit.
Until we Engage again…
The speakers and the attendees of Engage 2018 made this year's theme particularly pertinent. The power of people within the staffing industry has never been better encapsulated. An industry so reliant on human interaction was beautifully epitomized over the course of the three days.
Those looking for more content from Engage 2018 can find it in our library of photos, videos, panel summaries and podcasts from this year's event.
And it's fair to say that after an Engage event that was as successful and insightful as any that have been held, the excitement is already beginning to build for Engage 2019.
---
About Jason: Jason is the Co-Founder of Herefish, a company dedicated to helping the staffing industry better engage with their candidates and contacts. Jason spends his days working with customers and the Herefish team, figuring out ways to build better relationships with candidates and potential clients. 
Before Herefish, he was with the software company Sendouts, then on to industry-leading Bullhorn where he continued to build cool products. Outside of work, being active, getting outside and spending time with his two sons.
---
Subscribe to the Staffing Blog
Subscribe for trends, tips, and insights delivered straight to your inbox.