Highlights from Day 1 of Engage Boston 2019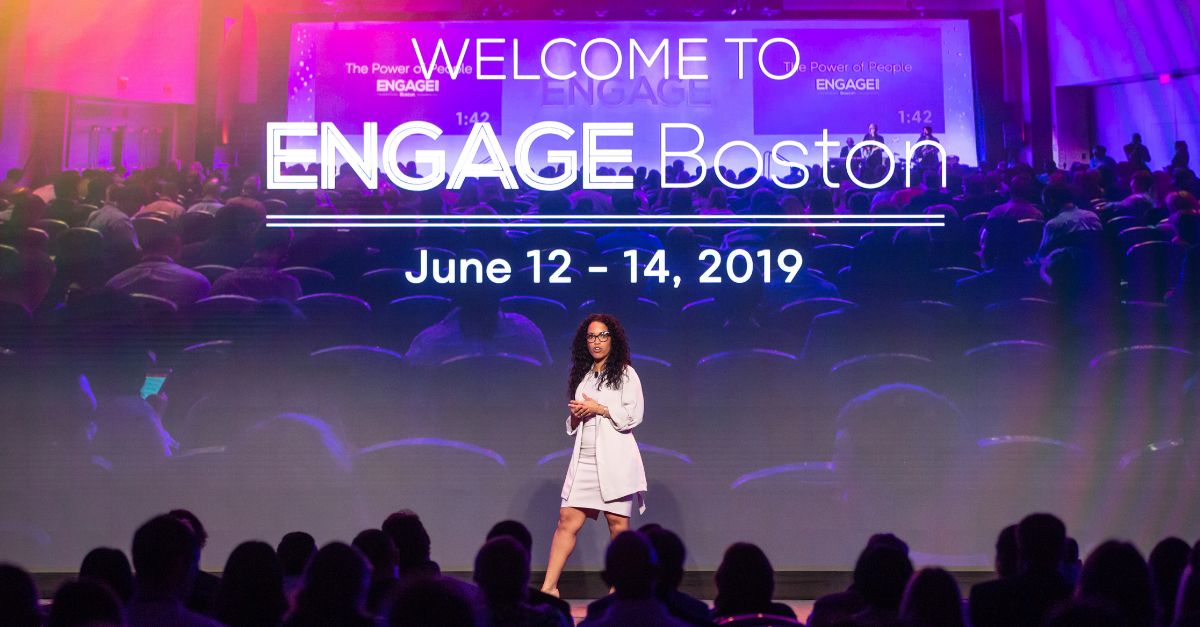 On the first day of
Engage Boston 2019
, recruiting and staffing pros came together in Boston to network, learn, and think about the power of people—how we connect people with opportunities, and how we can all harness our strengths to build better organizations. Read on for a recap of the major themes and conversations from Day 1 of Engage.
The Power of People
"#Staffing is all about the power of people." #BullhornEngage @KendraCato pic.twitter.com/cD3AmDbP3d

— Bullhorn (@Bullhorn) June 12, 2019
The recruitment industry puts three million people to work each week in North America alone, transforming lives every day. Staffing and recruiting professionals help people put food on the table, make dreams a reality, and create opportunities where none previously existed. The staffing industry is about so much more than filling open jobs. It is about helping people build fulfilling lives.
As Engage emcee Kendra Cato shared with the crowd of 1200+ staffing professionals, Engage Boston 2019 is all about helping staffing and recruiting professionals grow their businesses through a powerful combination of relationships and technology. Whether we're talking about reskilling workers to create new talent pools, overhauling your company culture to make a real impact on the community, or tapping into innovative technology to tackle the talent shortage, the sessions at Engage are unified by one theme: unlocking the full potential of the power of people.
Solving the Skills Gap Through Reskilling
Staffing professionals across the globe are in a similarly challenging position: the need for candidates is vast, unemployment is low, and there aren't enough human workers trained for the jobs we need to fill. One solution? Reskilling—the process of helping workers turn outmoded skills into ones that are highly applicable to the modern world.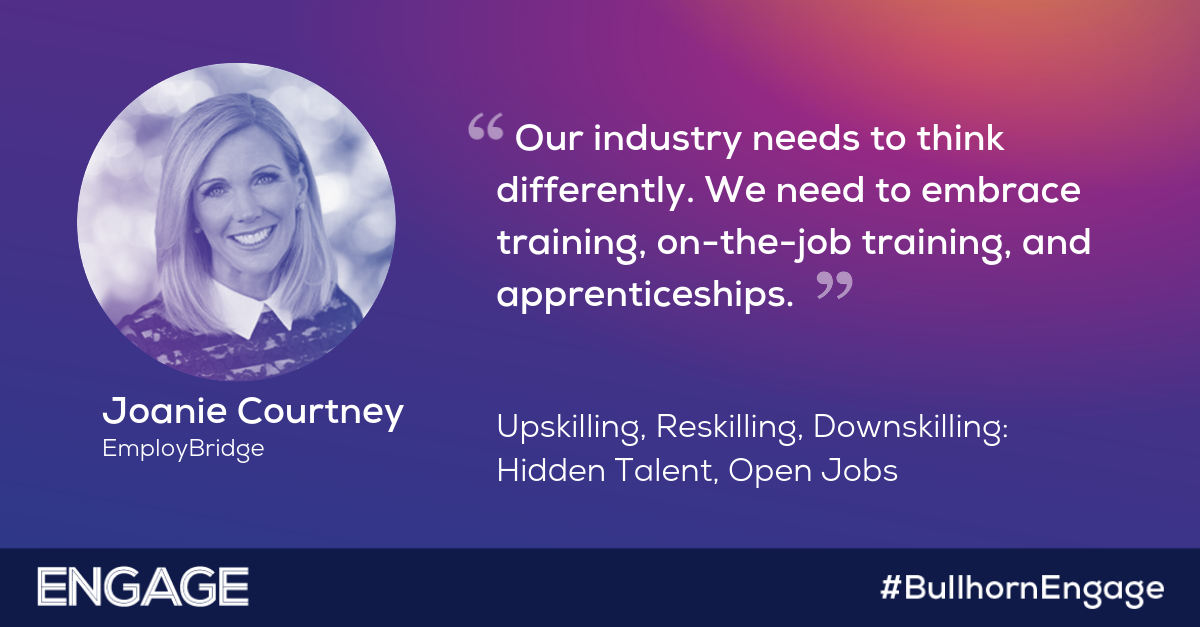 Bullhorn's Vinda Souza moderated a panel of staffing leaders who have experience upskilling, reskilling, and retraining workers. For Joanie Courtney of EmployBridge, the largest Light Industrial staffing firm in the US, reskilling made sense as a means of helping both their workforce and their clients. She found that their workers embraced the opportunity to change their lives for the better. "The best part about it is that the workers want to learn. They are willing to put in their own hours and their own time. We are committed to helping workers advance their careers and advance themselves." 
Bob Baer of Belflex Staffing Network noted that one way to tap into hidden talent pools is to not just focus on reskilling, but skilling, too. They put together a 10-week program free for students to equip them with job-ready skills. The program recently graduated their sixth set of students.
Though the panelists had different methods for addressing the skills gap, all were in agreement that the staffing industry is in a unique position to help tackle a very big and very real problem. "Our industry can make a big difference upskilling the American worker, creating new programs, and fixing labor participation," said Joanie Courtney. "Maybe if there were more training programs, we could get more people participating in the workforce."
Want to make reskilling a part of your staffing firm's strategy? Find our reskilling resource center here.
Marketplace Speed Pitch
Bullhorn is built around an open ecosystem, which means that you can customize your staffing solution to meet the specific needs of your firm. But what needs should you focus on? And which of Bullhorn's Marketplace Partners are a good fit for your firm's needs?  Every year, in one of our most attended and anticipated sessions, a handful of our partners provide a rapid-fire pitch explaining the value they provide to their customers. Here are some highlights, straight from our partners' mouths:
Bluevine has created a way for staffing firms to get additional financing through a fast, easy,  and totally online solution.
CareerBuilder serves 98 percent of the top 150 staffing and recruiting solutions and they provide labor market insights so you can have thoughtful conversations with your clients.
Checkr is a fully compliant modern background screening service that helps you to increase fill rates, improve productivity, and hire faster.
CloudCall is a unified communications platform that drives voice, text, and instant messaging through Bullhorn, enabling your recruiters to have quality conversations faster and your decisionmakers to better understand everything happening within your company.
Cube19 identifies actionable insights so that you can learn what your firm has done, what it hasn't done, and what it needs to do to be successful.
Daxtra increases recruiter productivity, lowers the cost of acquisition, and enables you to find the best and most relevant candidates quickly.
Dice connects high-quality, relevant tech candidates with the best opportunities and saves time and improves workflow.
Herefish is a recruitment automation platform that helps you to better engage and nurture candidates through the hiring cycle.
LinkedIn now has 50,000 skills that you can search for on their platform—that's more people than can fit in Fenway Park.
Monster is revolutionizing the way you can connect with candidates and how they can engage with you.
Mya helps you automate your staffing business and scale your talent ecosystem through the power of AI.
Penn Foster helps staffing companies help expand their access to talent and helps candidates develop skills that will help them land incredible job opportunities.
Sense is an automated recruitment platform that helps you ensure that your workers are engaged and ready for future redeployment.
SourceBreaker helps recruiters spend more time engaging with clients and less time finding them. 
TextKernel helps your recruiters find the right candidate with the click of a button, by allowing you to match open job roles with candidates in your database.
TextUs provides text messaging services to the staffing industry and can help you combine authentic communication with immediate outreach.
The Power of Emotional Intelligence in Recruiting
New York Times bestselling author and leadership coach Tim Sanders delivered the opening keynote, expounding the importance of emotional intelligence in the staffing industry.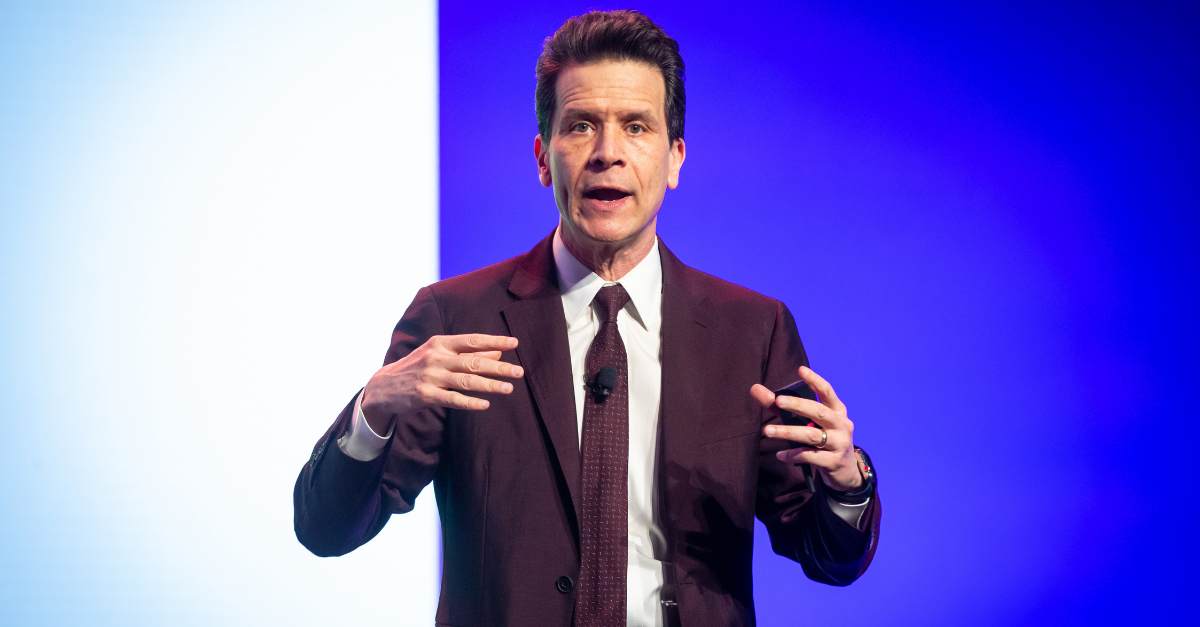 Why Does Emotional Intelligence Matter in Staffing?
In the fast-paced, competitive world of staffing, emotional intelligence (EQ) isn't just nice to have, it's imperative to the success of your firm. As Sanders explained, businesses and leaders that prioritize EQ are more productive and more profitable. Hiring managers have noticed: 95 percent say it's important for staff to have high emotional intelligence. Thirty percent feel most employers put too little emphasis on emotional intelligence during the hiring process. 
"Your ability to read other people makes you the smartest person in the room." – @sanderssays at #BullhornEngage

— Tom Bennett (@_TomBennett) June 12, 2019
Additionally, the historic talent shortage has caused the value of EQ to rise even further. Workers with high EQ are a great fit for complex roles and make excellent candidates for reskilling and upskilling. Firms that can identify workers with emotional intelligence will be in a great position to fill even the most challenging roles.
Identifying Candidates with High Emotional Intelligence
How can you tell if a candidate (or a prospective internal hire for your team) has emotional intelligence?  Sanders suggests using the interview process to ask questions that reveal a candidate's self-awareness, self-leadership, social awareness, and relationship management. Here are some sample questions to consider asking:
What gets you in a good mood?
What triggers you into a bad mood?
What's your tendency when upset?
Tell me about a stressful situation you did well in. What was your secret?
Tell me about a stressful situation you wish you did better in. Where did it go wrong?
Tell me about your last manager and help me understand why it didn't work out.
The foundation of #EQ is self-awareness: Knowing your mood in real time, the triggers that set off emotions and tendencies you have to react to them. With commitment, you can greatly increase this, as well as your performance. #BullhornEngage pic.twitter.com/ypQbQQA7Ar

— Tim Sanders (@sanderssays) June 12, 2019
These questions help you understand if a prospective candidate has strong emotional intelligence, and they can help you determine areas of improvement so that you can coach them and help them improve their EQ.
Improving Your EQ
Thankfully, EQ isn't fixed—you can improve your emotional intelligence through a committed effort. Sanders shared some tips with the audience for improving emotional intelligence. The first step towards raising your EQ is to increase your self-awareness. Sanders asked the audience to consider four to five triggers. What gets you worked up? How do you react when you get flustered or upset? By understanding your triggers, you'll be better positioned to self-regulate.
Another way to improve EQ is to develop your social awareness. Do you recognize when a peer, colleague, or candidate is distressed, overwhelmed, or upset? As Sanders noted, "emotional intelligence is the ability to read people well." If you invest in learning how to read others, you'll become a more empathetic and persuasive leader.
Want to develop your EQ and learn how to use EQ to inform your candidate sourcing strategy? You can access all the stats, resources, and actionable items from Sanders' opening keynote here.
---
Engage Boston 2019 is just getting started. Stay tuned for our fireside chat with Earvin "Magic" Johnson, an industry keynote from Bullhorn CEO & Founder Art Papas, the Bullseye Awards, and so much more! Explore the full agenda here.
Subscribe to the Staffing Blog
Subscribe for trends, tips, and insights delivered straight to your inbox.