I have a new staffing agency, where do I start? 5 ways to get new clients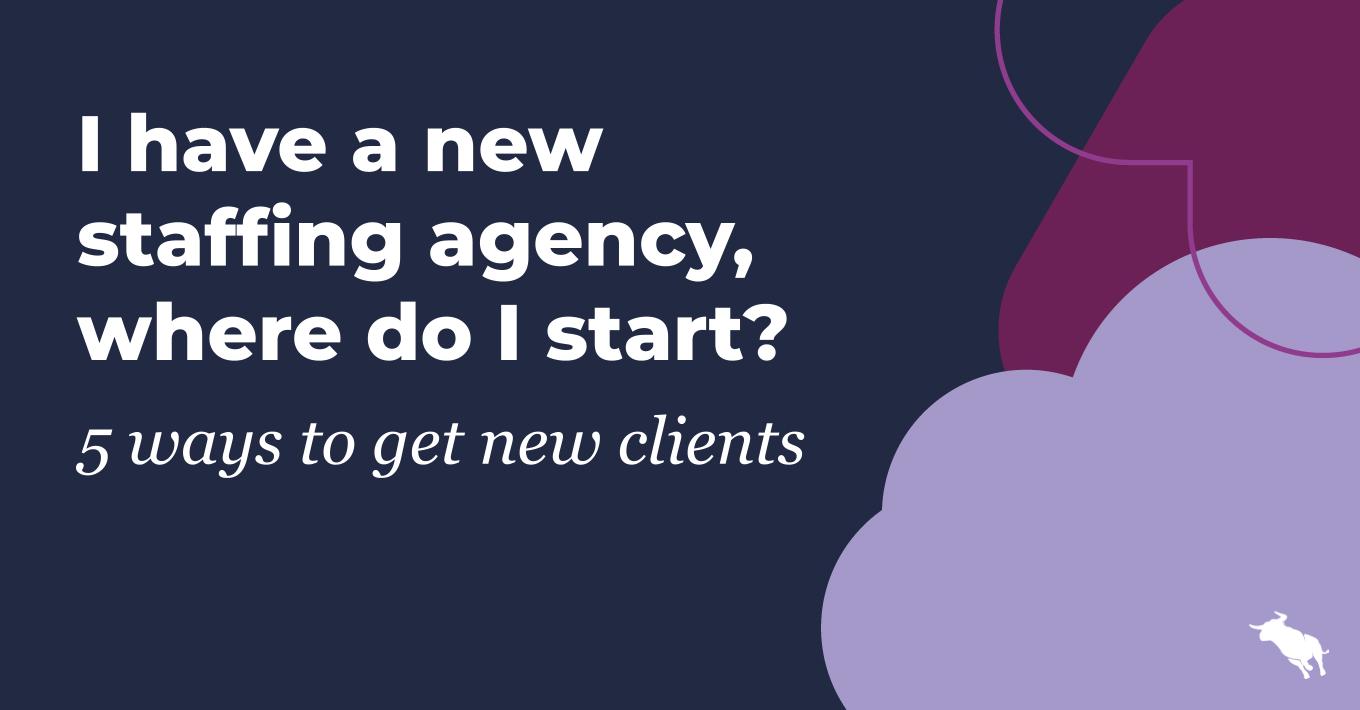 The staffing industry is built on relationships, literally and figuratively. Many new business owners get up and running by building relationships with a few tried and true clients. But how can you identify new partnerships and get new clients for your staffing agency?
It's a struggle that faces new and tenured staffing firms. Wherever your business is on its journey, prospecting new clients is essential for finding and maintaining success. Here are five ways to prospect and get new clients for your staffing agency, helping you build lasting relationships.
1. Leverage Candidate Relationships
You can't meet your clients' hiring needs without qualified candidates. Likewise, building strong client relationships is difficult if you haven't built great relationships with your candidates.  When you work with a new candidate, always ask if they have worked with a recruiter before and if a recruiter had ever placed them at one of their previous positions. This can help in a few ways: it sets the expectation of how your partnership will help them in their job search, and it will help you identify businesses that work with staffing companies. If you know that Candidate A was placed at XYZ company by a competing staffing firm, this gives you a potential lead with a new prospective client. You now know they are open to working with staffing and recruitment companies.
2. Utilize Job Boards
Job boards are not just for candidates anymore.  They also help recruiting and staffing firms find new business.
When recruiting companies post positions on their websites or public job boards, they aren't altering the published job description very much. Run a search on the entirety or a portion of a posting, and you may find results leading you directly to the end client—a new potential lead for you! 
Explore the Bullhorn Marketplace's Job Board Integrations
3. Ask for Referrals
Sales can live or die by your willingness to ask for referrals from previous clients. Don't necessarily focus on the "successfully sold" clients you have in your Rolodex to ask for these referrals.
Think about clients you have worked with who didn't buy but with whom you had formulated a good relationship.  These potential clients weren't able to move forward just to timing, approvals, or budget.
Think about points of contact who've recently transitioned to a new company but can provide insight into the right person to contact at their new or former company.
Consider going old school and sending out handwritten thank you notes to your clients with a few copies of your business card—one for them and one to pass on to a friend. These personalized touches can go a long way in an increasingly digital world.
4. Research
Research your competition. Look at their websites for testimonials from clients or logos of their partnerships.
Not many companies have exclusive contracts with one recruiting or staffing firm anymore and will sign multiple contracts to increase the probability of filling their vacancies. Even though they may have an existing partnership with your competition, they may still be looking for additional firms to work with.
5. Network
Leverage your network—through previous client relationships, connections on LinkedIn, or even that guy you knew from your Senior Capstone project in college who happens to work for ABC Company. These connections are always an excellent resource for finding new business.
No matter how distant it might be, having a connection can be the difference between getting tossed into the pile with the other 300 staffing firms and being put through to the COO.
---
Want more insight and tips on how to get new clients for your staffing agency?  Check out Toolkit: Resources to Grow Your Staffing Firm from the Ground Up for useful tools and tips you can use to better your firm.
Subscribe to the Staffing Blog
Subscribe for trends, tips, and insights delivered straight to your inbox.