Downtime: Recruiting Agencies' Dirty Word
Are your firm's inefficient recruiting processes causing downtime?
There's a word in the recruiting and staffing industry that nobody likes. No one wants to think about it, no one likes to talk about it, and no one really knows a good way to deal with it: downtime. Agency downtime is one of the biggest money-wasters in an organization: it's those few seconds or minutes lost between tasks, the time it takes your computer to boot when the system crashes, and the time spent running the same candidate search week after week. It might not sound like much, but seconds turn into minutes which turn into hours that can quickly add up, especially across larger organizations where it's a pervasive problem instead of being limited to just one area or division of the company. The majority of downtime can be classified under three broad umbrellas: lack of automation, inefficient processes, and archaic systems.
Lack of Automation: The majority of perm placement recruiters will tell you that the mechanics of what they do aren't rocket science: you bring on a client, get a job requisition, post said requisition, find a pool of suitable applicants, submit said applicants to client, and cross your fingers that the stars have aligned and client and candidate match up. But many firms don't have the tools to automate this process – smaller staffing agencies may use Excel to store their data. Other agencies may have an ATS but still require candidates to fill out paper forms with their resume information and then manually enter that data into their system. If you crunch the numbers: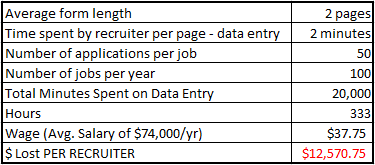 These are conservative numbers. For any firm with more 10 recruiters, all this time equates to hundreds of thousands of dollars lost per year on simple data entry alone. Additionally, agencies that specialize in temp and contract placements can be missing out on major opportunities at the other end of the automation spectrum: many firms are ignoring a huge revenue source because they don't have access to job requisitions through Vendor Management Systems (VMS). A VMS automates hiring companies' process of procuring contingent staffing labor, enabling them to post a high volume of temp and contract reqs to numerous staffing agencies, who can compete to fill them. A VMS integration solution that connects VMS solutions to staffing agency Recruitment CRM systems automatically alerts recruiters to new and updated job orders in the VMS, which reduces the time spent looking for jobs and cutting and pasting information into the CRM. Bullhorn already offers solutions to each of these problems:
Electronic Submission and Resume Parsing – by allowing candidates to submit their resumes in an electronic format (i.e. Word, PDF, Note), Bullhorn's electronic submission and resume parsing functionality eliminates the need for recruiters to manually re-enter candidate resume data (and, as a happy byproduct, gets rid of any human error in trying to misinterpret messy handwriting or keying in info incorrectly).
LinkedIn Integration – this enables Bullhorn Applicant Tracking System and CRM users (who also use LinkedIn Recruiter Corporate or Professional Services editions) to view candidates' or contacts' LinkedIn records within Bullhorn. This streamlines the workflow between the product and the platform and reduces the need to shuffle from window to window while maximizing the time spent finding the perfect candidate.
Bullhorn VMS Access – this integrates job order data from VMS systems directly into Bullhorn's instance, so temp and contract staffing recruiters can spend their time filling jobs instead of cutting and pasting VMS req info. This is a hugely beneficial solution because 70% of large buyers of temporary labor already leverage VMS solutions today, according to Staffing Industry Analysts.
Inefficient Processes: Processes can vary from firm to firm, but there is one thing every single agency does on a repeated basis – run searches for candidates. Recruiters will often run the same candidate search day after day, week after week, looking for the specific skills and requirements for job postings. Many recruiters don't have a tool that allows them to save searches or customize and modify their searches easily, so therefore they have to run the exact same search with the exact same parameters every time, costing them valuable minutes for each iteration. A simple illustration using conservative estimates: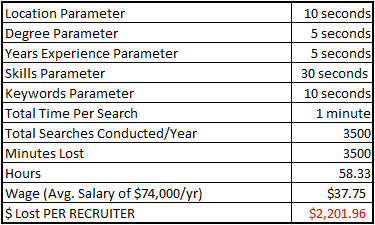 The Bullhorn ATS solution easily facilitates fast and intuitive candidate searches through:
Any identifying criteria – the Bullhorn ATS can search off of keywords, zip, city, state, phone numbers, name, skills, degree, schools attended, languages spoken, etc.
Saved searches – recruiters can save searches based off of their specific parameters, which can be run again with the click of a button
Partial word/digit search – the Bullhorn ATS can conduct a full database search off of any partial term (name, place, skill, etc.) or digits (phone number, zip code, etc.)
Archaic Systems: It's hard to believe that in 2014 there are systems and tools out there that crash, have limited functionality and customization, and require costly and time-consuming upgrades. One last look at what an outdated system could be costing:

This amount looks minimal but across larger organizations, this means thousands of dollars lost and doesn't even factor in the money, time, and energy it takes to go through a system upgrade. The beauty of working in the cloud is that it virtually eliminates any system crashes (Bullhorn S Release is up and running 99.99% of the time) and enables automatic systems updates on a regular basis without the need for software upgrades or new servers.
The Bottom Line:
Agency downtime is one of the leading causes of dollars lost in an organization:

Why waste another unnecessary minute? Contact Bullhorn today so you can stop losing money to downtime – make that 'dirty word' a thing of the past.
Subscribe to the Staffing Blog
Subscribe for trends, tips, and insights delivered straight to your inbox.