Top Staffing and Recruiting Trends for 2020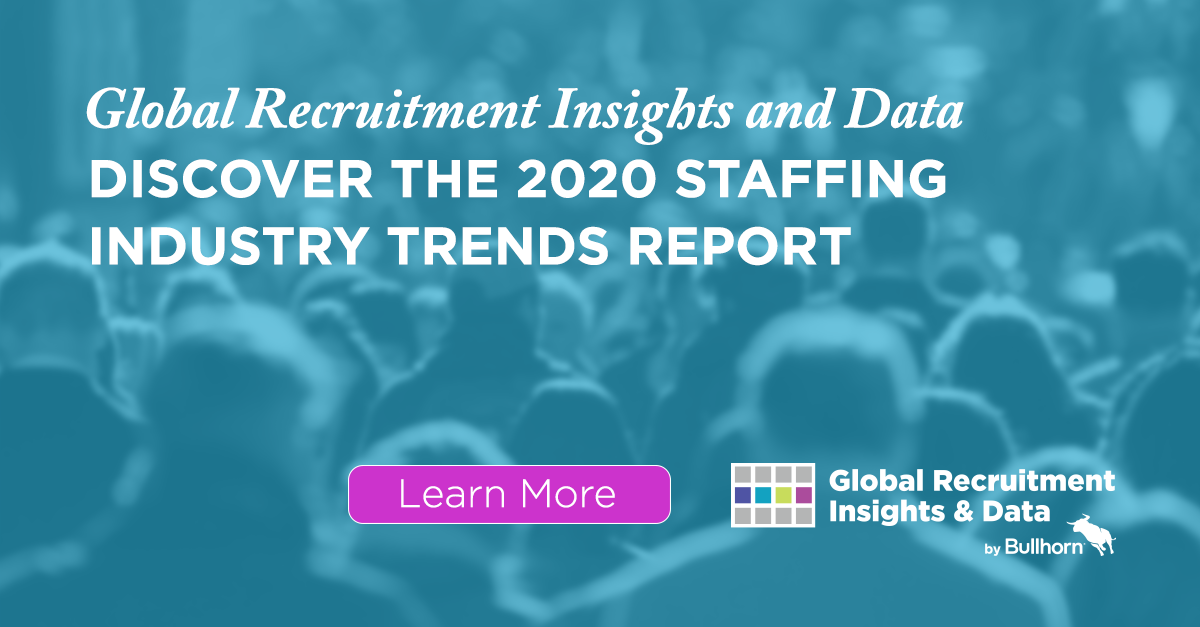 What do staffing and recruiting professionals care about in 2020? More than 2,200 industry professionals worldwide weighed in with their thoughts on the top priorities, challenges, and issues that will be top of mind in the coming year.
There are so many compelling findings to share, we couldn't possibly fit them all into one article. You can explore the top staffing and recruiting trends in detail on the Global Recruitment Insights and Data (GRID) site. Find everything you want to know about staffing and recruiting in the year ahead in one easy place.
Interested in the top priorities for staffing firms? Check out this deep-dive

article

on the site.

Want to see a visual representation of the top trends? Check out these downloadable slides.

Want to explore an in-depth overview of top staffing industry trends? Visit the

key findings

 
Discover Top Staffing and Recruiting Trends for 2020 at the GRID
We've curated some of the top trends and takeaways from the GRID site here. Read on below for some of the top insights from this year's survey.
Staffing industry outlook: cautious optimism

Expectations for 2020 are largely positive but are more modest than in years past. Seventy-one percent expect to increase revenue in the year ahead—an eight percent drop from last year's revenue expectations. This is likely connected to economic uncertainty: 45 percent expect a recession in 2020, compared to just 30 percent heading into 2019.
Top priorities for staffing firms in 2020
What are firms prioritizing in 2020? Staffing priorities for 2020 represent the most wide-open field in the history of this survey, suggesting that firms are adopting different approaches to grow and thrive in 2020.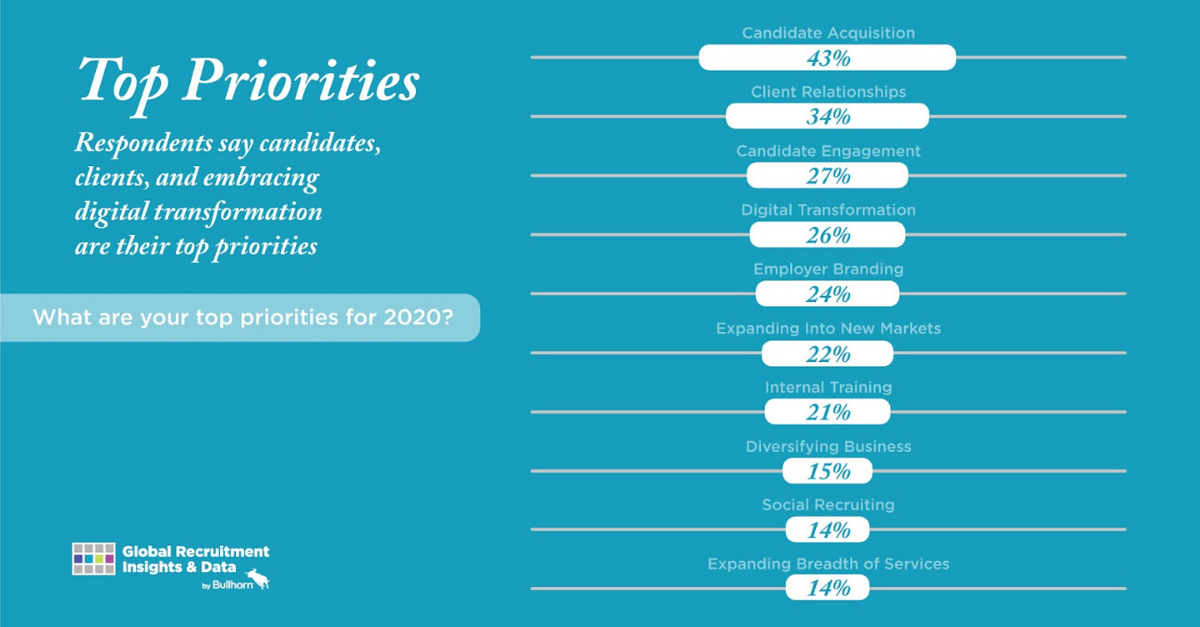 Candidate Acquisition (43%)

With no end in sight for the talent shortage, it's no surprise that talent is considered the most precious resource in today's competitive landscape. North American, Benelux, and DACH respondents cited candidate acquisition as their top overall priority, as did small firms (1-50 employees).

Client Relationships (34%)

In a people-centric industry like staffing, it should come as no surprise that improving client relationships is a top priority for most staffing firms. Staffing and recruitment C-suite executives and practitioners (recruiters and salespeople) alike cited it in their top three priorities.

Candidate Engagement (27%)

Notably, firms are markedly more interested in placing candidates than they are in engaging with them.

Given the value of redeploying workers and the importance of a firm's reputation to attract candidates, agencies that put all their efforts into placing candidates at the expense of providing a good experience risk damaging their candidate acquisition efforts in the long run.

Digital Transformation (26%)

While some firms have already adopted some automation and AI-influenced technology to run their businesses, most agencies have yet to make this leap wholesale. The findings reveal a major variance in the interest level in digital transformation depending on company size and role.

Employer Branding (24%)

Staffing and recruitment professionals in healthcare, IT, sales/marketing, and light/industrial all valued employment brand development and marketing as one of their top five priorities in 2020. While investing in marketing leadership can be expensive, a cohesive marketing vision is incredibly beneficial to the long term success of a firm.
Top recruiting challenges for 2020
Respondents were asked to cite their top hiring challenges, operational challenges, and macroeconomic challenges for the year ahead. Economic uncertainty and the skills shortage headline the top challenges facing staffing and recruitment agencies in 2020.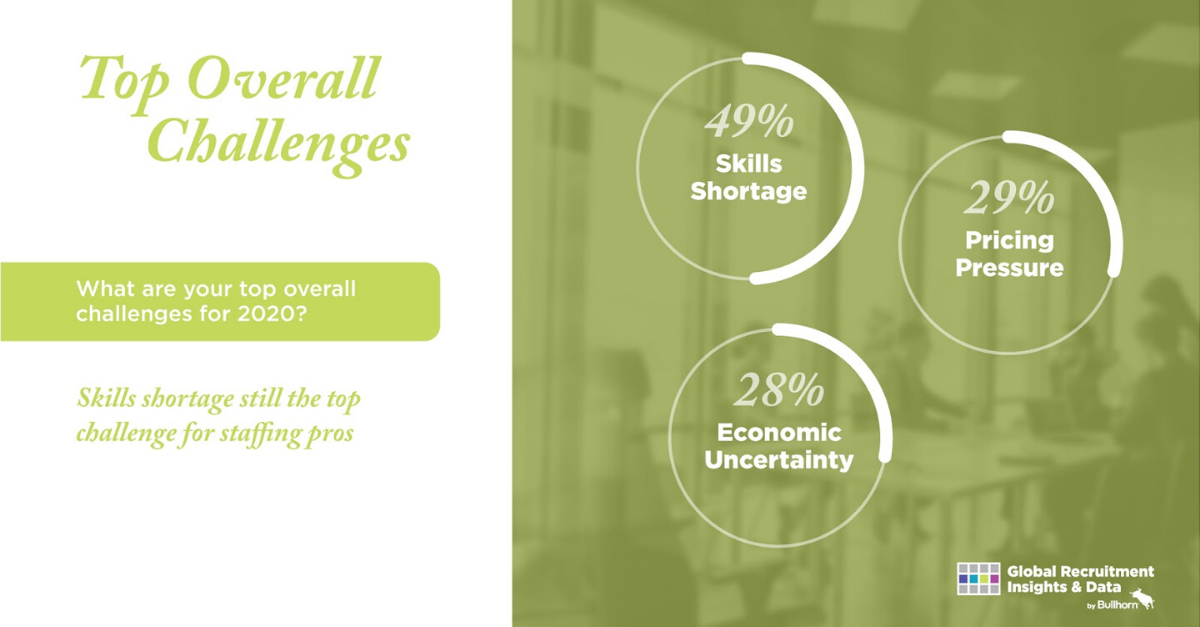 Skills shortage (49%)

The skills shortage is once again the top challenge for 2020, and respondents seem even more concerned than they were last year. Seventy-seven percent of respondents cited it as the top hiring challenge, compared to 73 percent from last year.

Pricing Pressure (29%)

Recruitment professionals are feeling the crunch from increased competition and shrinking margins. Various factors contribute to this challenge: varying temporary wages (including the upward pressure on wages), worker's comp, state unemployment insurance and other benefit costs, and direct expenses, such as administrative fees to a VMS.

Economic Uncertainty (28%)

While the overall global economy remained strong in 2019 and a recession remains a fear rather than a reality at the start of 2020, staffing firms overwhelmingly name uncertainty over the economy as their top challenge (64 percent). C-level executives are even more cautious (75 percent).
Top staffing trends to watch in 2020
What are some of the emerging trends to pay attention to in 2020? Here are some of the top themes from this year's report.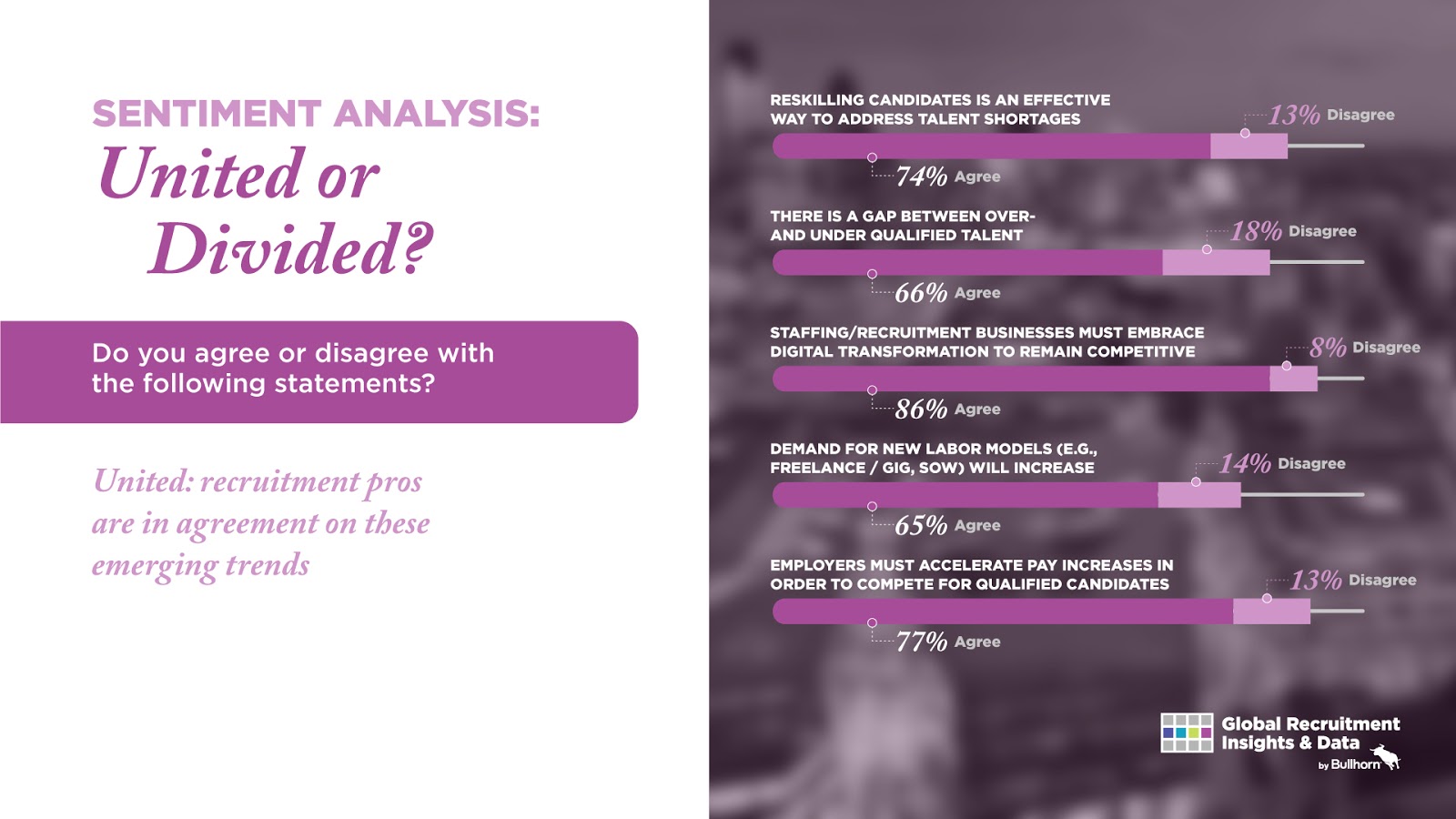 Reskilling is key in combatting the talent shortage.

Staffing pros are in agreement on reskilling,

the process of helping workers transform outdated skills into skills in-demand in the modern world. Sev

enty-four percent cite it as an effective way to address talent shortages.

Excitement for AI is high, understanding is low.

Respondents cited AI as the top trend to watch in 2020, and the majority believe that AI will have a positive impact on candidates and clients. Despite this enthusiasm, 75 percent of respondents report limited or no understanding of AI and machine learning.

Staffing firms haven't figured out technology adoption.

Only 18 percent of respondents report the full adoption of their staffing technology. The top reason recruiters aren't using their staffing software? Limited training resources. Consider investing in a solution with robust training to get the most out of your solution.
---
Interested in learning more about the challenges, opportunities, and ideas that will shape the staffing industry in the year ahead? There's so much more waiting for you at the Global Recruitment Insights and Data site, like key findings and spotlights on top trends, as well as resources designed to help you be a trendsetter like free PowerPoint slides.

Subscribe to the Staffing Blog
Subscribe for trends, tips, and insights delivered straight to your inbox.